Best Designer Swimsuit Brand
Designer swimsuits have everything that a tankini or bikini has with so much more to offer besides. The slimming aspect is one of the most obvious and it's an aspect of design that becomes more and more prominent each season. So many designers are adding slimming effects into their swimsuits these days. It used to be that shaping swimsuits were very uncomfortable and constrictive, but with so much investment in ths type of swimsuit, there are far better designs available today that are just as good at shaping your figure and yet they are ten times more comfortable than they used to be. Some designers making shaping swimsuits today have collection that are just as fashionable and stylish as any of their seasonal wear and they make you look a size smaller too, without you feeling any discomfort at all.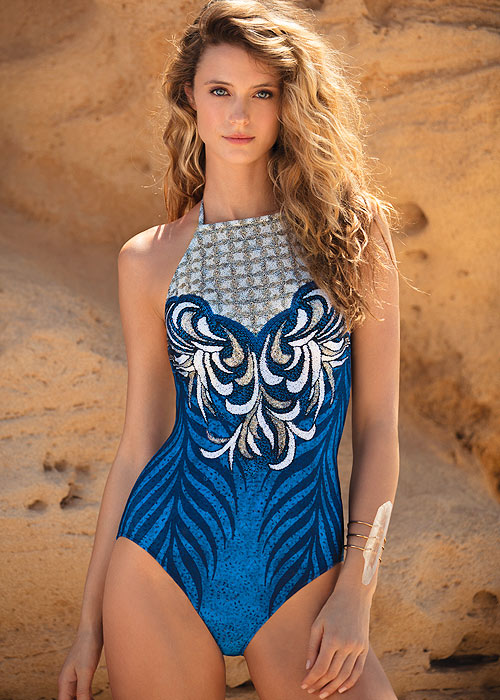 Designer Swimsuits
Speaking of fashion, there are so many designers that previously made two piece items only with patterns and motifs, but today there are so many fashion swimsuits out there. It is possible that we have more fashion swimsuits that we do bikinis right now. The reason is that with more material, designers are able to get more and more into each design. The difference is a great one, as you can imagine. Think of painting figurines versus painting on a canvas. With the former you have to be very intricate, but with the latter you can create something expansive as well as detailed. Swimsuits have this advantage and fashion swimsuits are particularly great for this sort of thing. They allow you to show off huge flourishing motifs and really make the most of the space on your midriff, turning your body into a moving work of art. Colours are more vibrant when you have a full body garment to show them off and patterns get to be more intricate than ever. Imagine a cocktail dress versus a maxi dress in terms of colour and in terms of their wow factor and you'll see that swimsuits offer something similar compared to bikinis. Fashion swimsuits are truly some of the versatile types of clothing in the world.
Swimsuit Brands
If you normally prefer other types of swimwear and you haven't tried many swimwear brands, we have a few to recommend.
Roidal swimsuits
are some of the best quality in the world and make some of the best coloured swimsuits in the world.
Gottex
though are the best designer swimwear brand, just look at the range we carry. Their work being some of the most dazzling and jaw dropping in the industry today. There are so many
swimsuits
to choose from and so much scope in colour, pattern and design that it is impossible not to find something beautiful and amazing to be taken by. So try a few of these brands or any on our site, for that matter. Each designer has its own history and a description of the
swimsuits
they make on the brand's page, so take a look and we just know that you'll something you adore in no time.
Click here to see all our amazing
designer swimwear brands