Featured In
All About UK Swimwear
UK Swimwear was born on 6th May 2008, originally called UK Beachwear. Following the success of our first site, UK Tights, both my husband Jonathan and I believed that there was a gap in the market for a good online reseller who sold quality products to both men and women of all shapes and sizes. The gap was widened by the fact that customer service was not seen to an important factor when dealing with customers. We believed that this was what would set us apart from our competitors and to this day it still does. We will always go that extra mile to help our customers.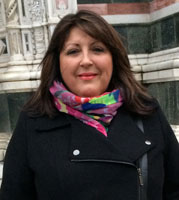 Dawn Barber
Since we started our site, UK Swimwear has grown considerably and is now one of the world's leading swimwear sites. I am the buyer for the company, choosing all of the new fashion ranges with my assistant Georgina. We travel the world in search of beautiful swimsuit, bikinis, kaftans and all the other amazing things to give you a wonderful swimwear wardrobe. We want our customers to have the widest choice available.
Jonathan and I have 4 children. We have 3 wonderful sons and a gorgeous daughter. Our eldest son Kyle has worked with us from the very beginning and is a vital member of our team. Kyle is our Marketing and Operations Manager and spends time between making sure the warehouse runs smoothly and writing new content for the site.
Georgina is our Design Manager, handling all of our photoshop and image manipulation. She also helps to spot new trends and order new items for the site.
Keri is our Customer Services Manager. She handles all of our interactions between you and us, whether it is by email or by phone. If you have any questions or need help at all, she will be the one you can rely on to help you out.
Dave is our Warehouse Manager. He handles the physical side of the warehouse, picking, packing and dispatching items as you order them.
Callum is our Export Executive. He handles all the interpretation and is currently translating our site into several European languages.
Alexander is the Digital Marketing Executive. He is our most recent addition to the company. He's going to learn a bit about everything and will then have a broad based knowledge of the workings of UK Tights.
You can read more about all these guys by clicking on their individual biographies and hear a little bit more about their personal stories. It's been a pleasure writing this for you and it is, of course, a pleasure running such a wonderful company. UK Swimwear is an incredible achievement. I'm immensely proud of this and it's you, our wonderful customers, who have made it what it is today.
All the very best and thank you for the business, it's much appreciated!

Warmest regards

Dawn
UK Swimwear