All About Gusy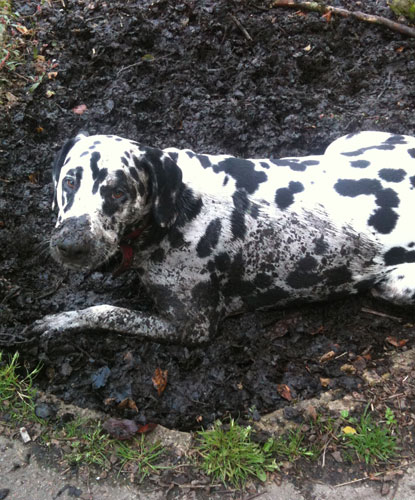 Gusy
Hi
I'm Gus.
I'm the UK Swimwear mascot and I belong to Dawn, Jonathan and the family. I've been with them now for quite some time and I'd just like to explain a few things about why I'm on the website. I'm totally food obsessed. I can be seen eating everything and anything in site either at home or at the warehouse. I love being with people so each day Jonathan takes me to work in the back of the car. This is after I have had my breakfast, followed by a run in the park and again eaten everything I can find. I then make my way around the warehouse mooching as I go. If anyone has food in their bags or they leave their lunch on their desk there's a good chance it will disappear without a trace, wrapper and all.
At lunch time I sit at the table with everyone and put on my I'm starving face. This usually gets me a few scraps. I tend to enjoy stuff like apple cores, oranges, banana's, veg and salad, favourites being cucumber and tomatoes. I then get another walk around the car park so I can go and powder my nose so to speak. Not long ago, I was returning to work across the car park when a young man, who worked in the next building, had carefully laid out his lunch on the wall. Imagine my surprise to see a warm meat and potato pie sat there just waiting to be eaten. Imagine his surprise when he returned from his bag to see it had gone!
Yes, I'm food obsessed but I'm loveable. I love being with my family and work colleagues and being a part of UK Swimwear. If we are lucky enough to get visitors I love sitting with them whilst they stroke me and give me biscuits and things.
Most nights we get Royal Mail to collect our parcels. The posties usually have a biscuit or two for me as well. Oh the life of hound.
Anyway, I must be off now as I've things to do such as hunting down food and playing and sleeping. Enjoy the site and we hope to see you back again soon.
Woof woof xx