The A to Z Of The Best Swimsuit And Bikini Brands
3 July 2018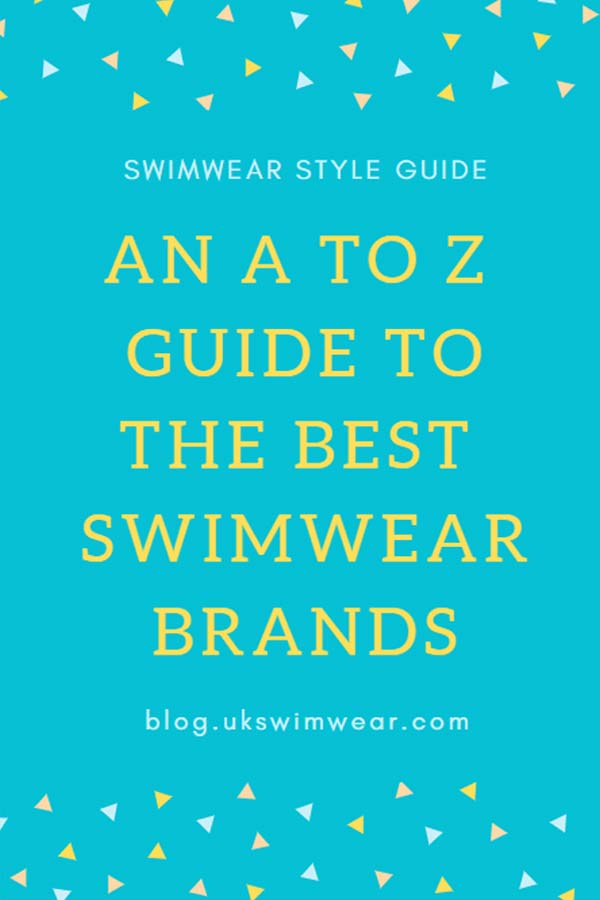 We, at UK Swimwear, stock over 60 swimwear brands, from designer swimwear brands like Gottex or Forever Unique, to affordable but cute swim brands, such as Piha or Pour Moi. We have a huge selection of bikinis, swimsuits and, of course, matching beach cover ups. So, what are the best swimwear brands?
The answer is as simple as this: The best swimwear brand is the brand that has whatever is that you need. Are you looking for something exclusive? Then we have a few amazing bikini and swimsuit brands for you. Looking for a cheap bikini, tummy control swimwear or just beachwear brands? Keep reading to find your right swimwear brand! We have ordered them alphabetically so that you can scroll down if you just want some info about one of these brands.
Acqua & Sale Swimwear And Beachwear
Acqua & Sale is the name of one of our best-selling Italian swimwear brands. It translates to water and salt and it's full of lovely floral prints and bright tones. Having matching printed sun dresses, Acqua & Sale is a very popular option among the ladies who want classic but colourful styles. Size-wise, bikinis and swimsuits go up to DD+ cup and sun dresses up to UK 22.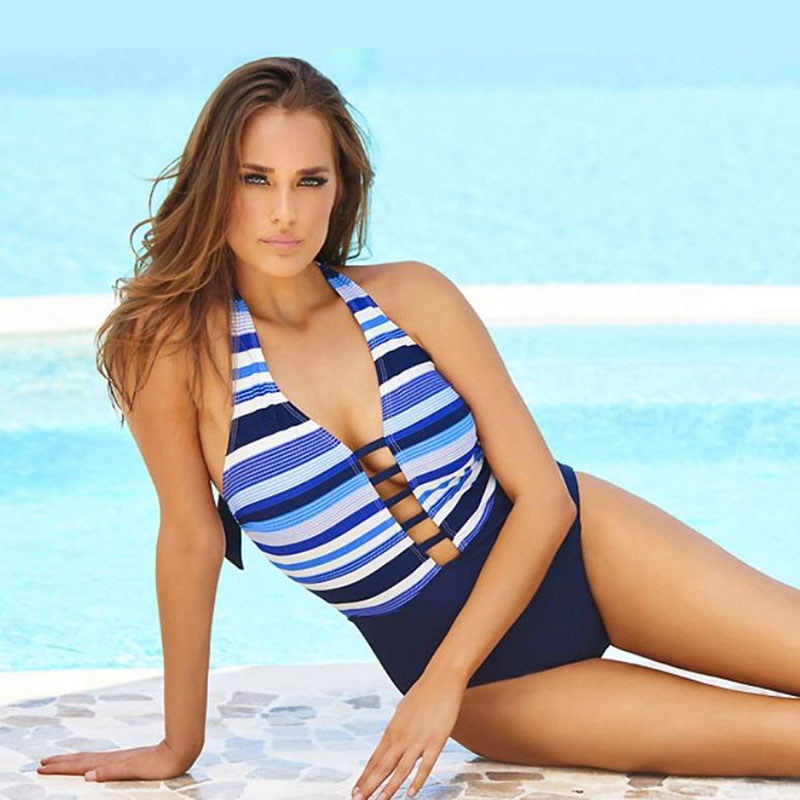 Amoressa Swimwear
The best shaping swimwear technology of Miraclesuit, with a minimal modern finish. Amoressa swimsuits have quickly risen to the top positions in our list of best swimwear brands, especially recommended for those who are after tummy control swimwear. We love Amoressa's plunge necklines and keyhole details. So on trend!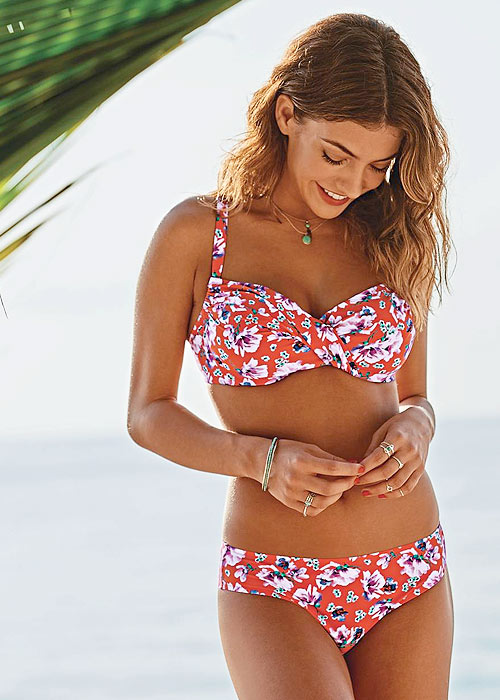 Anita Swimwear
Anita is one of the best swimwear brands from Germany and one of the most complete, too. This brand has been designing swimwear for over 130 years, so, as you can imagine, they know what they do!
Rosa Faia is the name of Anita's most colourful range, although most of its beautiful swimsuits are available in its other two labels: Anita Care (for post-mastectomy swimwear) and Anita Comfort (ideal for larger sizes).
We always say that Anita swimwear is a hidden gem, as it isn't one of the best-known women's swimwear brands in the UK. Still, it's a great brand, with a generous fitting and availability in DD+ cups and curvy sizes.
Aspiga Beachwear
We love the ethically-sourced brand of beachwear Aspiga. It has the cutest boho-inspired cotton kaftans and jute beach bags. If you have a few minutes to spare, you can also read Aspiga's inspirational story.
Aubade Swimwear
One of our newest acquisitions, Aubade swimwear has an absolutely luxury finish and it's ideal for those looking for elegant seductive swimwear. With separate bikini tops and briefs, they're a great choice for good-fitting bikinis. From metallic prints to bright florals and plain blocked colours; we really have a little bit of everything here. Why not give it a try?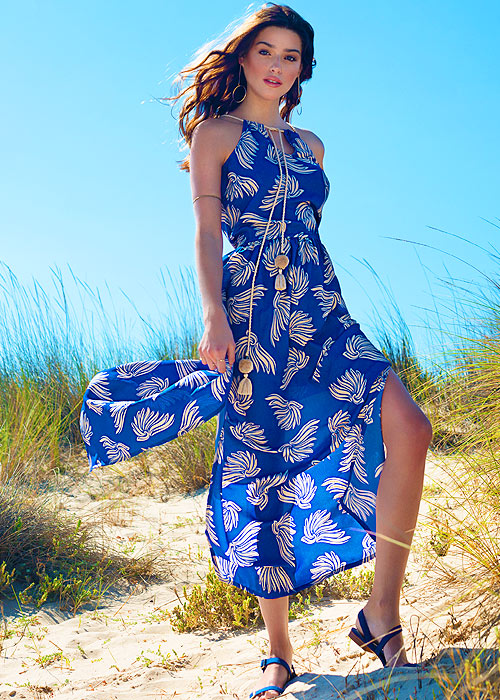 Bacirubati Bikinis & Beachwear
Italian swimwear brands tend to have a smaller fit, which makes them ideal for petite sizes, but not exclusive to them, of course.
Bacirubati is Italian for stolen kiss. With a high-quality finish and stunning prints, it puts together elegance and amazing decorative details and prints.
Just look at the picture on the right. Isn't this maxi dress just stunning?
If you like what you see, you should know that the matching triangle bikini, a shorter kaftan and, even, a cute mini skirt, are ready to purchase, too.
Read more: All the new swimwear brands to follow in 2018/19
Bahama Swim
Other of our newest additions, too, Bahama swimwear is a great plus size brand. With a classic design, it seems perfect for a sunny break in the Mediterranean coast, right? Styles range from UK12 to UK26.
Clover Lewis Mastectomy Swimwear
If we talk about the best swimwear brands for post-mastectomy, Clover Lewis has to be the first option. Her creator, a cancer survivor, designed gorgeous minimal-inspired bathing suits to prove that women should be able to wear beautiful luxury mastectomy swimwear. You can read her story here.
David Swimwear & Beachwear
David is an Italian swimwear brand, hence it runs smaller. However, you shouldn't let this puts you off from trying it out! David's lovely floral prints are nothing but stunning and the quality of the fabrics and finish are truly remarkable.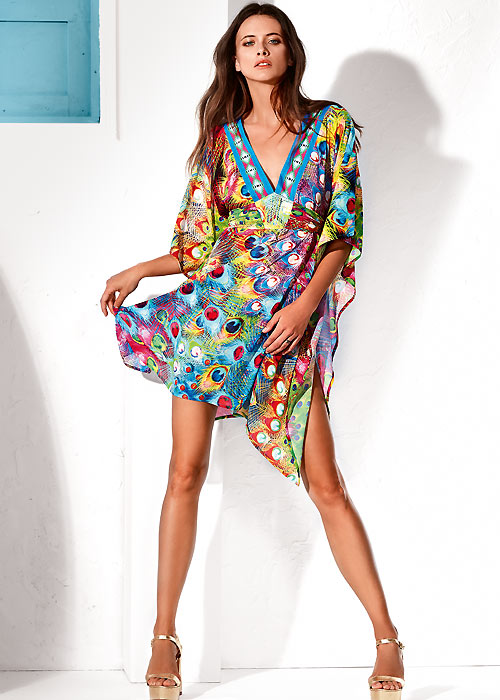 Dolores Cortes Swimwear & Beachwear
Dolores Cortes is one of the top names of designer swimwear in Spain and UK Swimwear is lucky to be the first swimwear retailer to stock it in Great Britain. How awesome is it! As you can expect from a Spanish swim label, Dolores Cortes swimsuits are beautifully-printed with florals and peacock feathers, like the kaftan in the picture. If you're trying on Dolores Cortes for the first time, bear in mind that this brand runs small for the size so you may want to add a size larger than usual to the basket just to make sure.
Fantasie Swimwear
Looking for an affordable brand of DD+ Swimwear? Fantasie Swimwear is a great option. Fantasie bikini tops and bottoms are ideal to mix and match. Available in E to GG Cup sizes, Fantasie is a to-go option for larger busts, especially if you are after a black timeless look or a classic leopard print. You can always buy some items from the Fantasie collection to wear with other printed swimwear and beachwear styles and extend your beach wardrobe.
Feraud Paris Swimwear & Beachwear
Feraud had always been a brand for women over 40, but things have changed a lot in the last two seasons. Feraud Paris swimwear puts together classic designs and sophisticated prints, including florals, abstract prints and, even, animal prints. Feraud swimwear seems perfect for a cruise, as it comes with matching beachwear. Who can say no?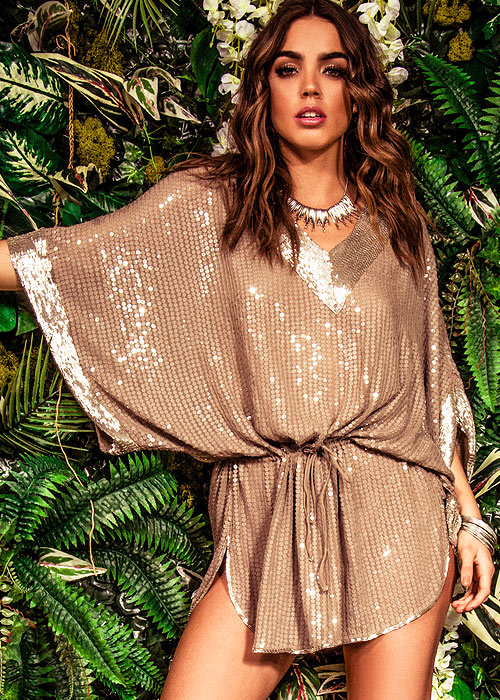 Forever Unique Swimwear & Beachwear
Forever Unique swimwear is gorgeous, but it's its beachwear what takes our breath away. How can they do to create such stunning kaftans and sun dresses?
Being a young brand, they have soon consolidated as one of the best swimwear brands in the UK and, certainly, the most luxurious one!
We cannot recommend enough Forever Unique Beachwear!
Listen to our advice and treat yourself with one of their exclusive beach styles to find out what does it feel like wearing luxury designer swimwear brands.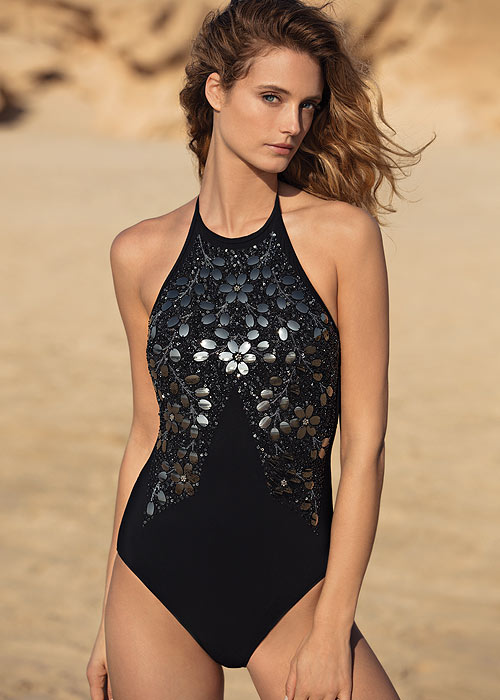 Gottex Swimwear & Beachwear
Have we ever said we just LOVE Gottex before? Sure we have! Every time we look at the catalogues for the next season, we fall in love a little more. The reason? Just look at this picture… what's there not to love?
Gottex Couture is the exclusive luxury label of Gottex, which includes truly unique swimsuits, bikinis and, of course, matching beachwear. These are the kind of styles you are very unlikely to see anywhere else on holidays. Some of these styles are like little jewels and, indeed, before the Couture range, Gottex launched a Jewel collection to celebrate its 6Oth anniversary.
Gottex Cruise is the name of Gottex's main collection, which includes a large number of printed swimsuits, like these beautiful floral printed one-piece swimsuits we swear for! Some of Gottex styles have light tummy-control, that's why Gottex calls them "Contour".
Furthermore, Gottex always designs a capsule collection at the end of the season with new refreshing styles, as if we didn't have enough with its amazing spring-summer collections! Obviously, our Gottex 2018 Capsule collection is ready to shop!
Quality on a budget: If you want to experience what wearing Gottex feels like, but you have a limited budget, you should try Gottex Profile. For the fans of water sports, Profile Sport by Gottex is your to-go brand of luxury sports swimwear.  
Iconique Beachwear
If you are a fan of colourful beachwear, stop everything and take a close look at our Iconique beachwear collection, including beautiful ponchos, kaftans and beach cover-ups for all tastes and ages. Ideal to wear while enjoying a cocktail by the beach or walking around the shops around the beach. Some of Iconique's signature styles are boho-inspired, but others are really elegant, so you'll have to check them all to find your true style.
Liberti Swimwear
Although Liberti swimwear is designed in Italy, size is more accurate than other Italian swimwear brands, which is something we love in Liberti. This is a truly classic brand of swimwear, but full of lovely prints, which bring us back to the beautiful landscapes of the Amalfitan coast. Liberti may not be our first option when talking about luxury swimwear, but, oh yeah, they are certainly an option you cannot dismiss!
LingaDore Swimwear
LingaDore is a boho-inspired brand of swimwear for women. Oh, and it also has amazing loungewear, ideal for those quiet days of holidays when all you have to do is relaxing and enjoying the dolce-fare-niente. Whether you are going to spend some days sailing in the Mediterraneo sea or you're planning a trip to Goa or Thailand, you check out LingaDore bikinis before packing your stuff. Psss… Psss… all our LingaDore bikinis are on sale at the moment!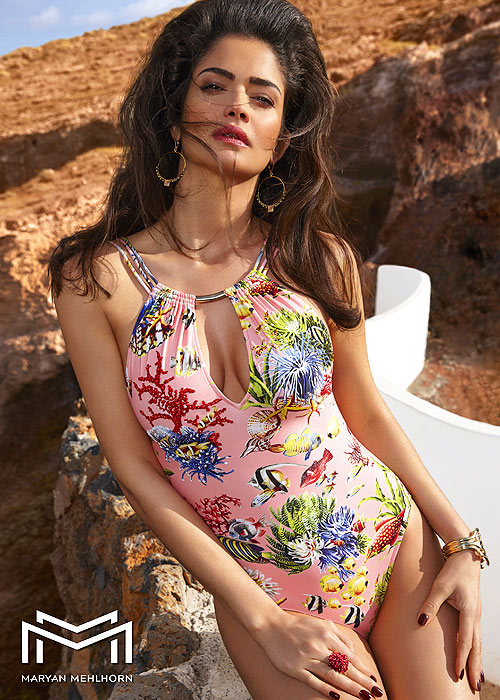 Maryan Mehlhorn Swimwear
Few pieces out there have the quality of Maryan Melhorn swimsuits. Not only are the stunning, but also extremely well-finished. When you have one of them in your hands, you can really tell the difference with other budget styles. Every seam is well finished, every rouching detail is just perfect. Maryan Mehlhorn breathes glamour.
Sizing is quite generous, according to our customers' feedback, and they seem to fit well with taller women, too. The price tag, though, is inconvenient for many. If you can afford one of these beautiful bikinis and swimsuits, we'd advise you go for it, because it's worth the money.
Even more, if you can get yourself one of their matching kaftans or maxi pareos, you'll get to feel in your own skin how good it feels when you wear something unique and glamorous. Is this the most perfect luxury swimwear brand to take on a luxury cruise?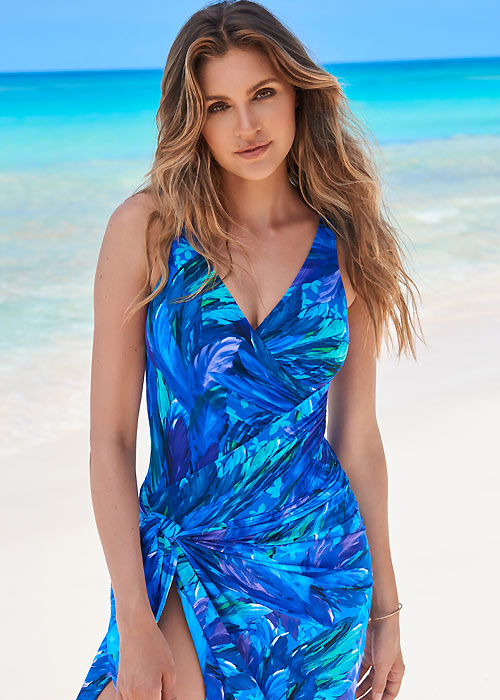 Miraclesuit Swimsuits & Beachwear
What can we tell you about Miraclesuit swimwear that we haven't said before here, talking about its 2018 collection, or here, talking about tummy-control swimsuits?
We are huge fans of Miraclesuit shapewear swimsuits and that's something you can tell, as we have a huge collection of styles! We also have matching kaftans and little pareos, for those of you who, just like us, can't have enough of Miraclesuit!
As from 2017, Miraclesuit has a new range of swimwear, with a little softer tummy support, called Miradonna. The first two Miradonna by Miraclesuit collections have been a total success and we hope they keep designing new Miradonna swimsuits, because we definitely want to buy them all!
You may have already heard that Miraclesuit is super flattering, but you may not know that many of its styles are available in plus sizes. At the moment of writing this post, we stock up to UK 22 size, but we can order swimsuits in larger sizes on request if the style is manufactured in that size. You can contact us to request more information if you need to.
Miss Matisse Sun Dresses
This Italian beachwear brand is ideal for those ladies who want to look ideal going away on holiday no matter the age or the size (items go up to UK 22 size). Miss Matisse doesn't have sexy sun dresses or plunge necklines, like other beachwear brands. On the contrary, styles are classic and comfortable, yet quite smart. The kind of dress you can wear for a lunch at the restaurant and for a walk in the evening when you are away enjoying your holidays.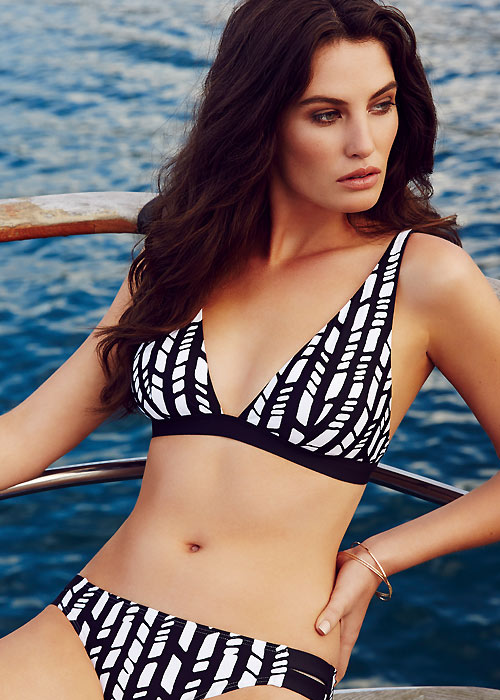 Moontide Swimwear
Moontide is one of the best-know New Zealander swimwear brands in the UK and, why not saying it, one of the best swimwear brands price-wise.
Styles are quite minimal and have a lovely retro-inspiration you can particularly tell in Moontide swimsuits. Designers at Moontide admit they have a tiny obsession with good-fitting swimwear, so they do everything in their hands to provide great-fitting styles, even for bustier women.
We love the modern and chic essence in Moontide styles, so we always recommend them for women in their 20s and 30s. Of course, it doesn't mean you can rock one of these if you are a 40-year-old. After all, swimwear has no age!
Oroblu Swimwear
Oroblu is an Italian swimwear brand, best know for its hosiery than its swimwear. Still, they do amazing swimwear, lingerie and clothing. Everything they design, they do it with passion. Quality is amazing, too. However, (there had to be a "but") sizes are slightly smaller than UK Swimwear brands. We'd suggest you try out this brand if you are petite or you need smaller sizes. We know it isn't always easy to find beautiful swimwear when you are short or finding the right bikini brief for small hips, so we think petite women would appreciate knowing that there're brands for them as well. Even more, if they're as cute as Oroblu!
Palm Beach Swimsuits
Being a German brand, you'll find Palm Beach swimsuits bigger for the size. In the past, Palm Beach was the to-go brand for ladies, as swimsuits go up to size UK 26. However, last seasons they have introduced more sophisticated prints, including flattering geometric shapes and beautiful florals. If you thought Pam Beach was for older ladies, think again!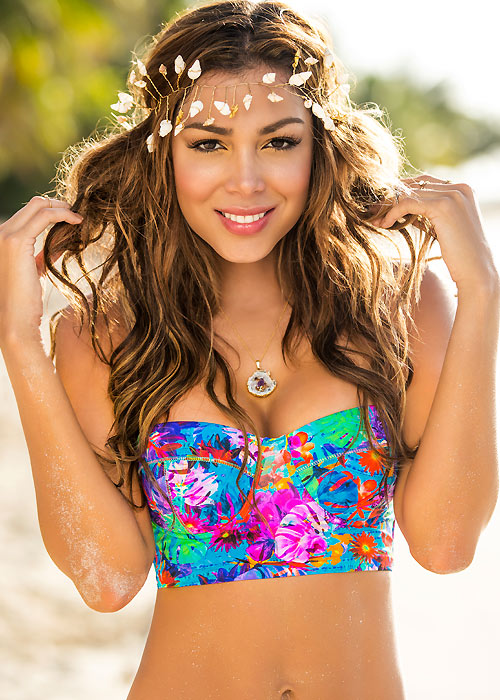 Phax Swimwear & Beach Cover-Ups
The colours and nature of Colombia inspire the bikinis and swimsuits of Colombian swimwear brand Phax. With a range of bright tones and some florals and animal prints, this is one of the most refreshing swimwear brands out there.
With loads of triangle bikinis and strapless bikinis to choose from and an affordable price range, Phax is a favourite of women in their 20s. After all, you can get a designer bikini for less than £50, which isn't usual for designer items.
Phax beachwear is boho-inspired, which makes it perfect for an Ibiza getaway or a holiday retreat in the Greek islands. Our customers tell us that they've worn Phax sun dresses and kaftans for a music festival. They had loads of compliments, of course!
Pia Rossini Beachwear & Beach Accessories
One of the youngest names in the British swimwear world, but one of the best-known, Pia Rossini kaftans are absolutely gorgeous. This brand is great for those of you who like following the top fashion trends, as they cover the main trends of the season. For instance, this season Pia Rossini beachwear is all about the floral prints and the mesh panels, just like fashion catwalks! Pia Rossini jewellery and headwear is the cutest, too!
Pierre Mantoux Beachwear
It may sound like a French brand, but Pierre Mantoux is actually one of the top brands of intimates in Italy. We are lucky to stock a few selected pieces of beachwear designed in the North of Italy. The family behind this company is originally from France, hence the name. If you've never heard of this brand before, you should spare a couple of minutes looking at its amazing designs. They are so beautiful!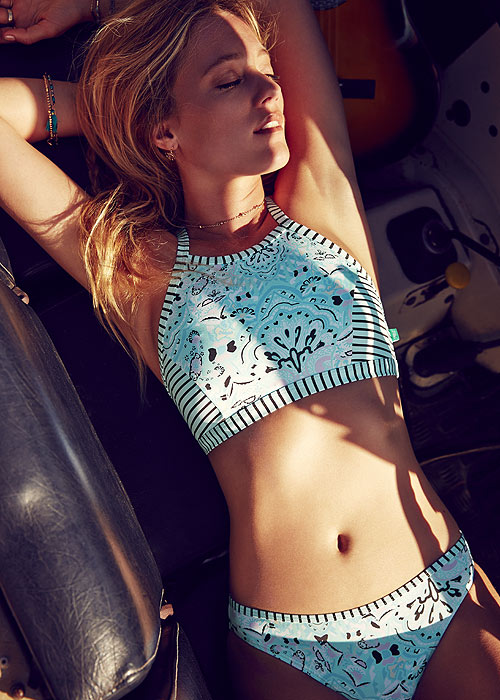 Piha Swimwear
We love how modern and trendy are the Piha bikinis and swimsuits. The brand is new to us, but we couldn't be happier with this first collection. Just look at the picture on the left or, even better, if you have the time, check out our whole Piha swimwear collection, where you'll find a few amazing styles.
Women in their 20s love this brand, although, of course, it isn't exclusive for this age range. The reason, besides its unbeatable price, is clear: Piha bikinis are just on trend!
Take the example of this vertical-striped swimsuit with low back (so hot this summer!) or this palm-printed bikini we love so much. If you are looking for inexpensive swimwear with modern designs and chic prints, Piha should be your No.1 choice.
Pour Moi Swimwear & Beachwear
Pour Moi is the No.1 swimwear brand for busty women by far. We have loads of styles and we just don't seem to be able to keep them in stock, as they always sell out quick! Dress sizes go from UK 8 to UK 22, but, the best of this brand is the cup sizes, which go up to H cup. This is precisely what makes Pour Moi swimwear so special; the fact that you can combine a bikini top in one size with a bikini bottom in another size. If you have big hips, you must be really excited about reading this. Yes, finally a bikini that fits like perfection! This season we have included a few beach cover-ups to match our Pour Moi swim styles, which are absolutely gorgeous!
PrimaDonna DD+ Swimwear
Another great brand of fuller bust swimwear and… what a brand it is! PrimaDonna is one of the most-flattering brands of intimates. Not only PrimaDonna Swim looks very stylish and luxury but, also, feels truly comfortable. Ideal for all of you who need additional support in the bust area and don't mind paying a little bit more to get that perfect fit.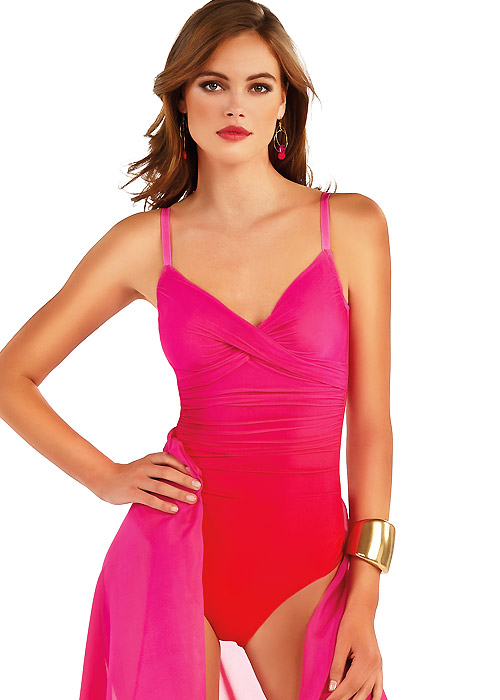 Roidal Swimwear & Beachwear
It's well known that Roidal has been one of our best swimwear brands for years. Nothing new here. What you may not know is that UK Swimwear was indeed one of the first stockists to sell Roidal swimwear in the UK. So, we could say that the brand Roidal has grown as we have, hand in hand. How great is that!
With the years, the family company from Spain has grown to become one of the leading brands for luxury swimwear in Europe, with beautiful floral printed and animal-printed swimwear styles, as well as their popular range of timeless swimsuits and bikinis.
Roidal's ombre-effect swimsuits, like the one in the picture, are the most-demanded style by women going away on cruises, as they are easy to combine with beachwear and accessories and never go out of fashion. They are really flattering, especially when combined with the matching pareo, and they fit up to size 22, with several cup size options available, too.
Rosch Swimwear & Beachwear
You can tell Rosch is doing well their job, as its beautiful printed styles are as gorgeous as ever, all of them with the lovely matching sun dresses. Ideal for ladies who want something elegant, but slightly less expensive than other luxury brands (Roidal, Gottex, Maryan Mehlhorn…). Designs are simple but flattering and size is a little more generous than we're used in the UK. We currently stock Rosch swimsuits and matching beach cover-ups up to UK 24 size.
Seaspray Swimsuits
Seaspray is new to UK Swimwear, but it has soon become one of our best-selling swimwear brands. The reasons? First of all, prices are great for the quality. But, more important, Seaspray's swimsuit for taller women are simply brilliant! We can't recommend enough this brand for taller women!
Sie Lei Mare Swimwear
This Italian swimwear brand has really cute bikinis, although they are a little smaller, compared to the average sizes in the UK, so bear that in mind when buying any Sie Lei Mare bikinis. Also, have we mentioned that we have all these itsy-bitsy bikinis on sale, with some prices starting from as little as £12.95?
Speedo Swimming Costumes
Few words are needed to describe the swimwear brand Speedo. You, most likely, have already heard of how resistant and comfy are the Speedo swimming costumes, right? Speedo swimsuits are specially designed to resist the chlorine and the activity. Furthermore, they are moving towards more fashionable styles.
Sunflair Swimsuits
Sunflair's collection of tankinis and swimsuits are a favourite of women over 40, as they are well made and super comfortable. If you had the idea of Sunflair swimsuits being for old people, you had it all wrong. Some of its styles are full of colours and fit really well! Sizes go up to UK 24 and they tend to be larger for the size.
Vacanze Italiane Swimwear
Do you holiday in Italy? If your answer was yes, you need to check out this Italian brand. Vacanze Italiane creates seductive bikinis and swimsuits like no other, although, unfortunately, its styles are slightly smaller to the British standards. Good news to petite women, though, as this size is perfect for them! This brand happens to be a bloggers' favourite!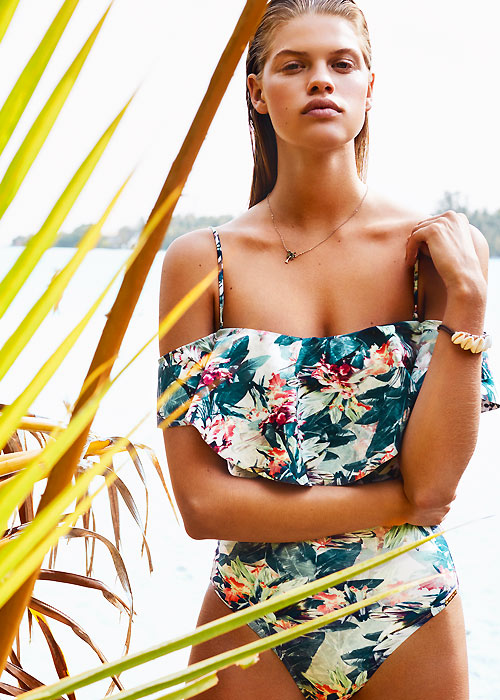 Watercult Swimwear & Beachwear
We can't help ourselves loving every single design Watercult creates. Sorry–not-so-sorry!
Every bandeau bikini Watercult creates seems even more beautiful and, also important when we talk about luxury swimwear, very well done! After all, you get what you pay and, when you buy Watercult, you are getting a top quality product.
This year we stock more Watercult styles than ever before and so different one to each other, too! We have some lovely floral prints, like the style on the picture, some geometric-inspired prints and loads of boho-chic bikinis.
Of course, we also stock matching beachwear, in case you have also lost it, like us, and a single bikini won't be enough for you. After all, there isn't such thing of too much beachwear!
Zoggs Swimming Costumes
Last but not least, a cool brand of affordable swimming costumes. Zoggs is the largest and best-known of the Australian swimwear brands and we happen to have some of its items discounted.
Do you have further questions? Is there anything else you need to know about these brands? We have only included our largest or newest brands, but here you have a few more you could consider when buying your next piece of swimwear.
You May Also Like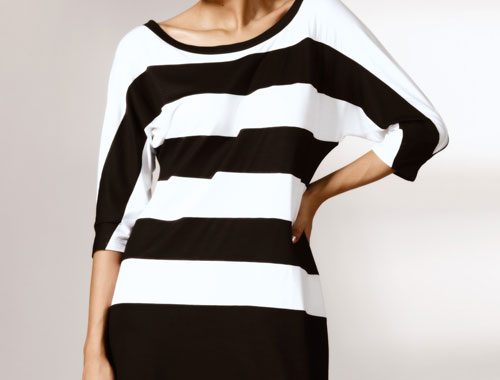 11 July 2013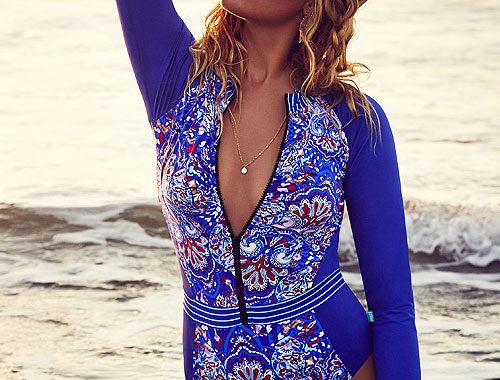 25 September 2018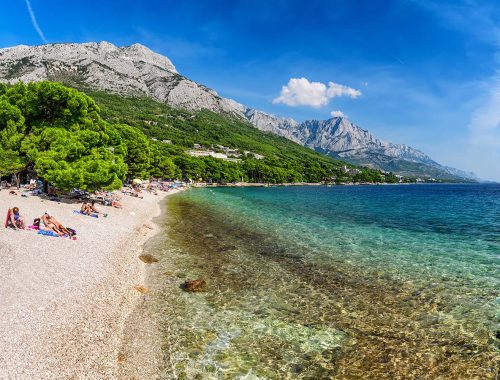 30 July 2021