2019 Swimwear Trends As Seen At Moda Calida Swim Show
26 June 2018
It has only been a couple of days since we had the chance to see what are the 2019 swimwear trends and we are already loving them! One more year, we have analysed every single swimwear and beachwear style at Moda Calida Swimwear Show to bring you the latest news on what swimwear trends we'll be seen in 2019. Because it's never too early to think of what you'll be wearing to the beach next year, right?
Even more when two of our favourite brands of swimwear were introducing their new collections. Do you want to see before anyone else how are Gottex 2019 Swimwear and Dolores Cortes 2019 collection like? Keep reading!
2019 Swimwear Trends are 80's-inspired
Yes, that's it. You'll be going from the beach, back to the 80's soon. Do you remember what was hot in the 1980's? Psicodellic bright colours, geometric prints, influenced by the Pop culture, but also loads of colourful floral prints, which somehow put together the modernity of that time with nature.
Let's see some great examples we spotted at Gran Canaria Moda Calida, the only European swimwear catwalk, based in Canary Islands, Spain.
The floral-printed swimsuit has come to stay!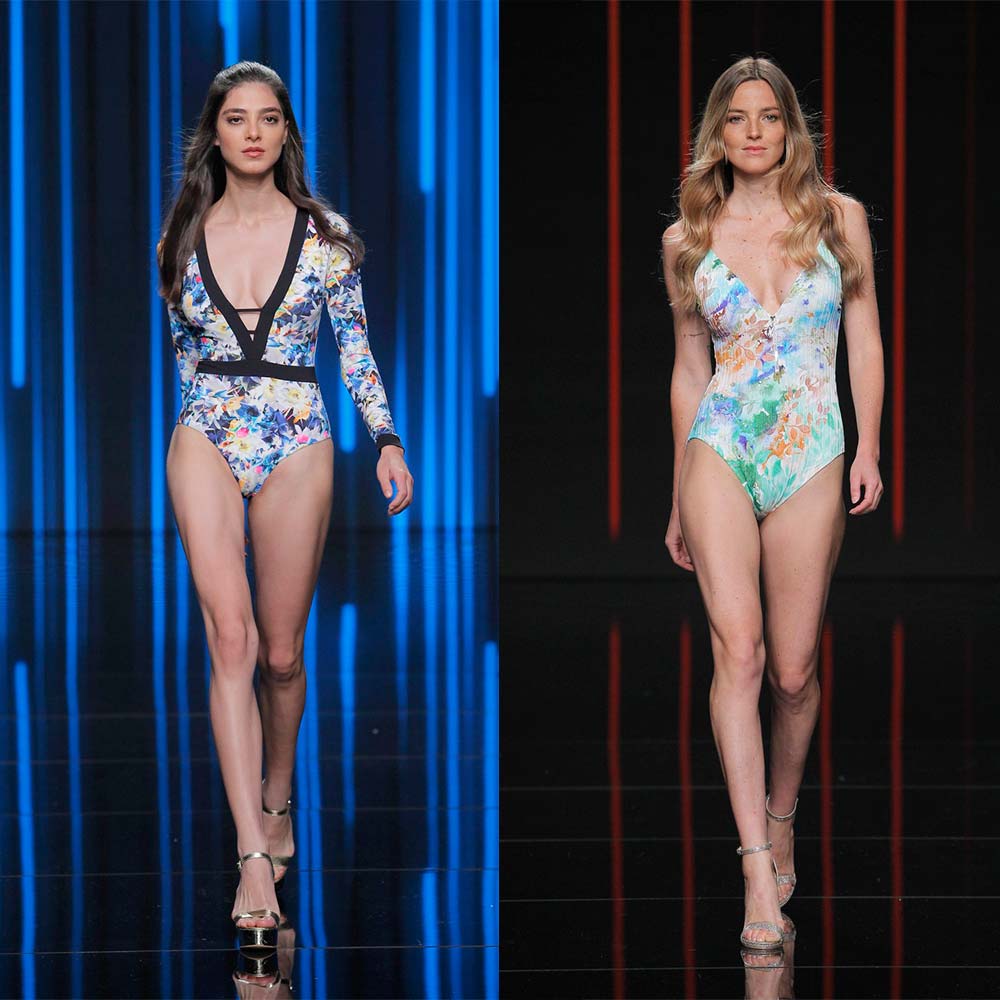 The floral printed swimsuit has come to stay and we couldn't be happier about it. Do you remember how much we loved Gottex floral prints in the 2018 season? We just love a good print, but especially if it's a floral one. You must have seen floral prints out there in dresses and skirts this year, too. Beachwear and swimwear couldn't be the exceptions, as you can see above, in Dolores Cortes 2019 (left) and Gottex 2019 (right) collections.
Pop and geometric prints hit the beach!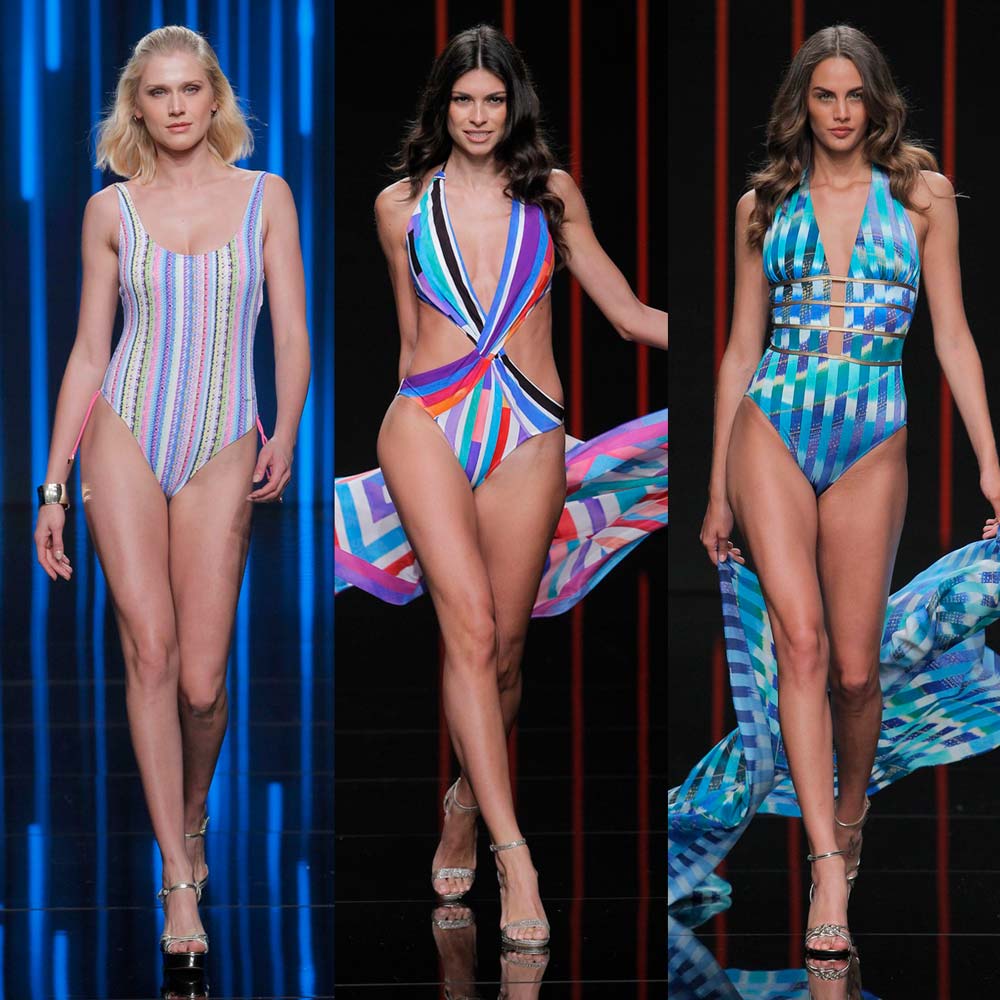 We don't know if you have noticed, but striped swimwear is right on trend at the moment. Take the example of this striped Watercult swimsuit, this vertical-striped swimsuit by Piha or this elegant monochrome striped swimsuit. The best thing about the striped swimwear is how flattering it can be. Just look at these styles above. Don't they look fab?
For 2019, striped swimsuits get more colourful, maybe influenced by the pop prints of the 80's. Who's ready to flaunt her curves in the beach with a geometric-printed swimsuit in bright colours? We know we are!
And if you fancy a tribal print…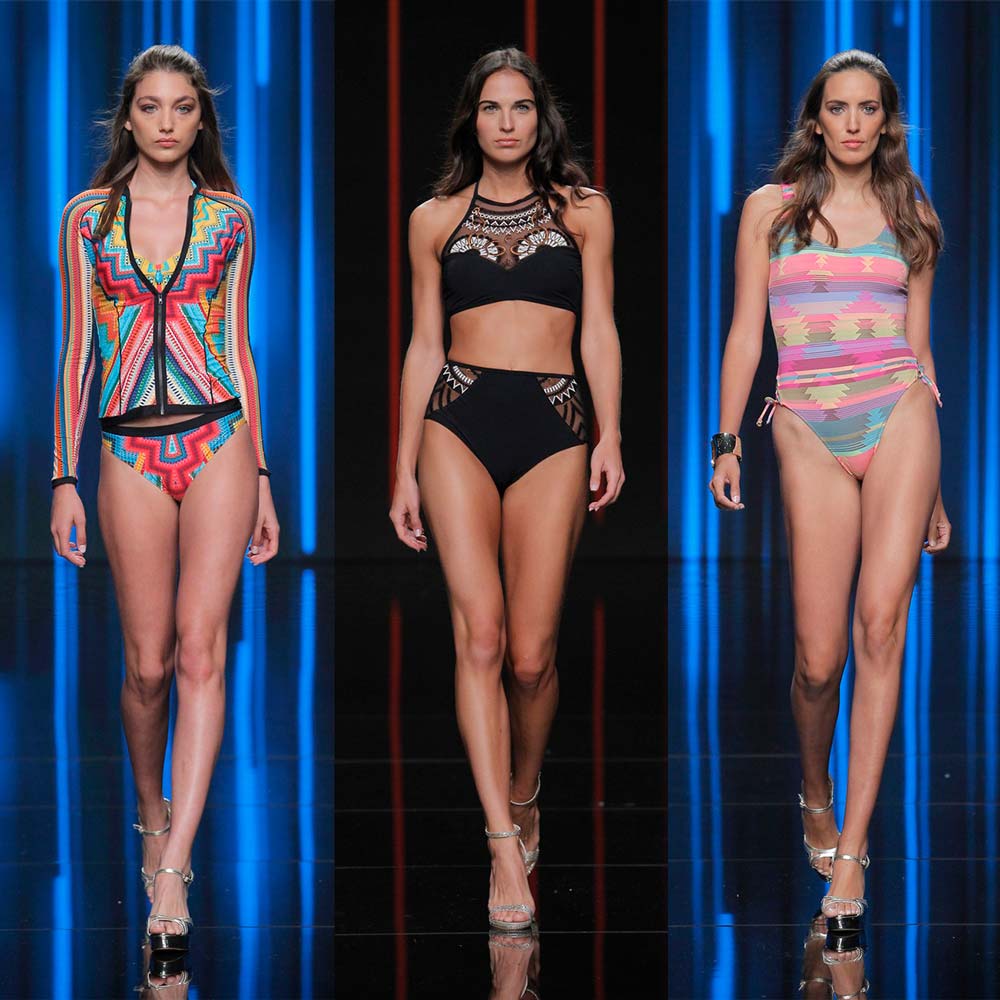 Bright colourful geometric prints merge together with the tribal trend, so popular this season! 2019 Swimwear trends leave behind animal prints with tribal adornments and move towards minimal plain swimsuits or geometric-inspired prints. If you love Aztec symbols, you'll love the 2019 tribal swimwear collections.
Plain swimwear: Simplicity and sophistication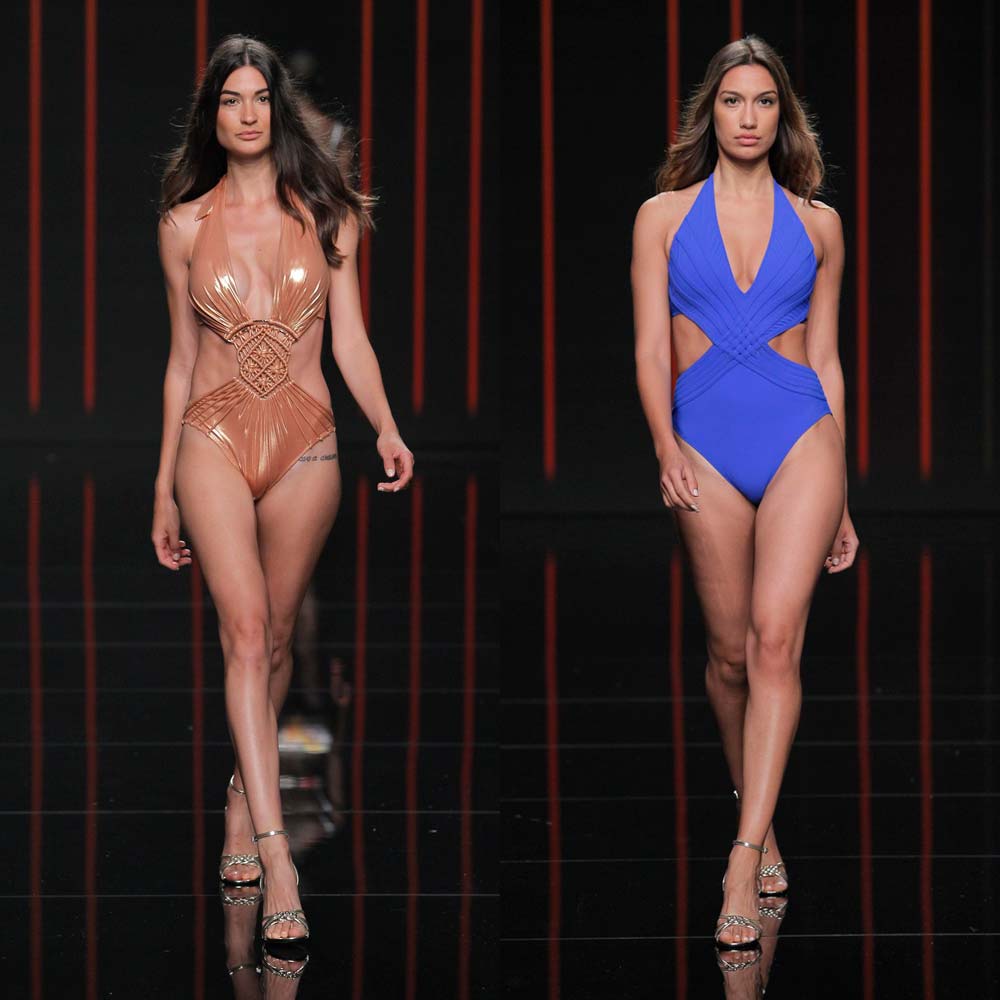 Plain swimsuits are hot, too! On the one hand, we have some stunning plain styles with great designs, like these beautiful cut-out swimsuits above. What's not to love in a cut out swimsuit? Monokinis are also on trend in 2019, just like this season.
Looking at the styles in Canarias Moda Calida swim show, you can notice a rise of simple, yet super stylish plain swimsuits. We found many swimwear styles in earthy colours: brown, beige, oranges… as well as a few pastel tones. Not everything is about the pop-bright colours!
Sometimes the most simple swimsuits are the most elegant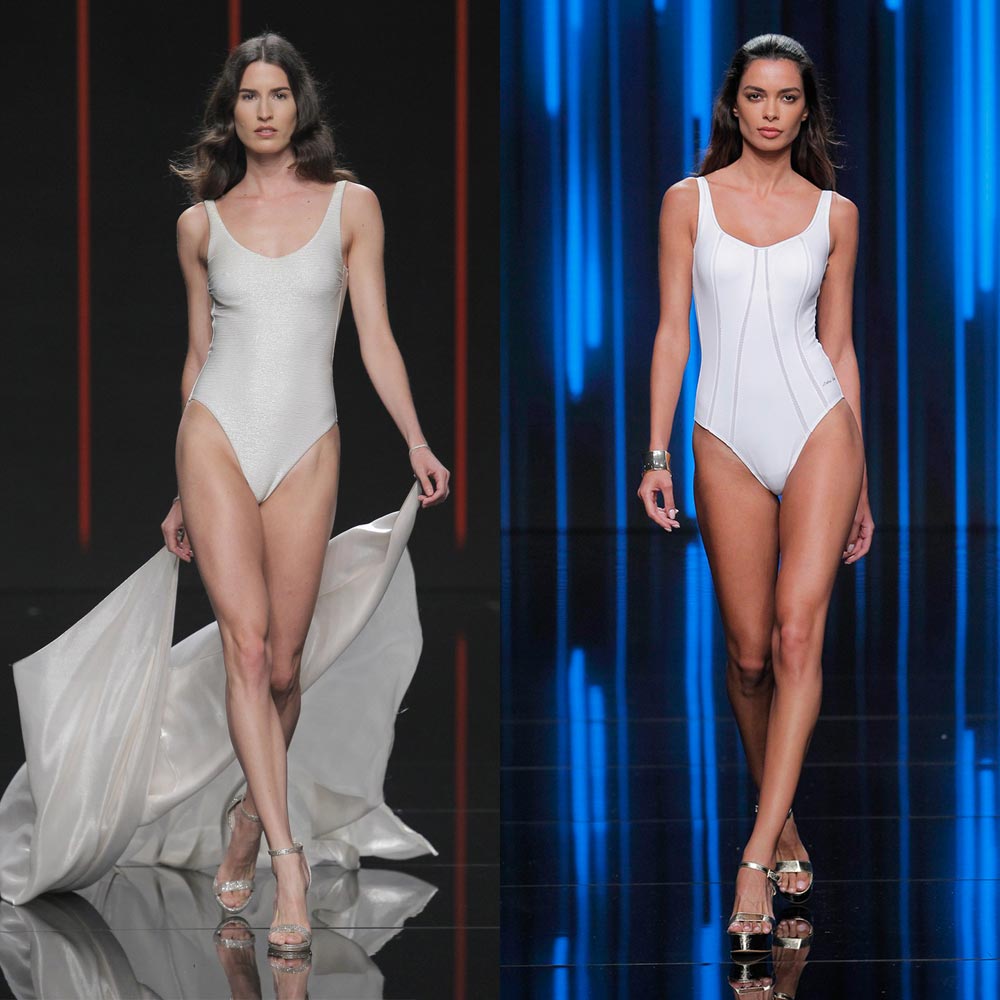 Simplicity and sophistication come hand-to-hand in Gottex and Dolores Cortes swimwear and beachwear. In fact, this last white swimsuit is featured in Harper's Bazaar's list for the ten best swimwear styles seen in the catwalk.
Would you wear your swimwear as outwear?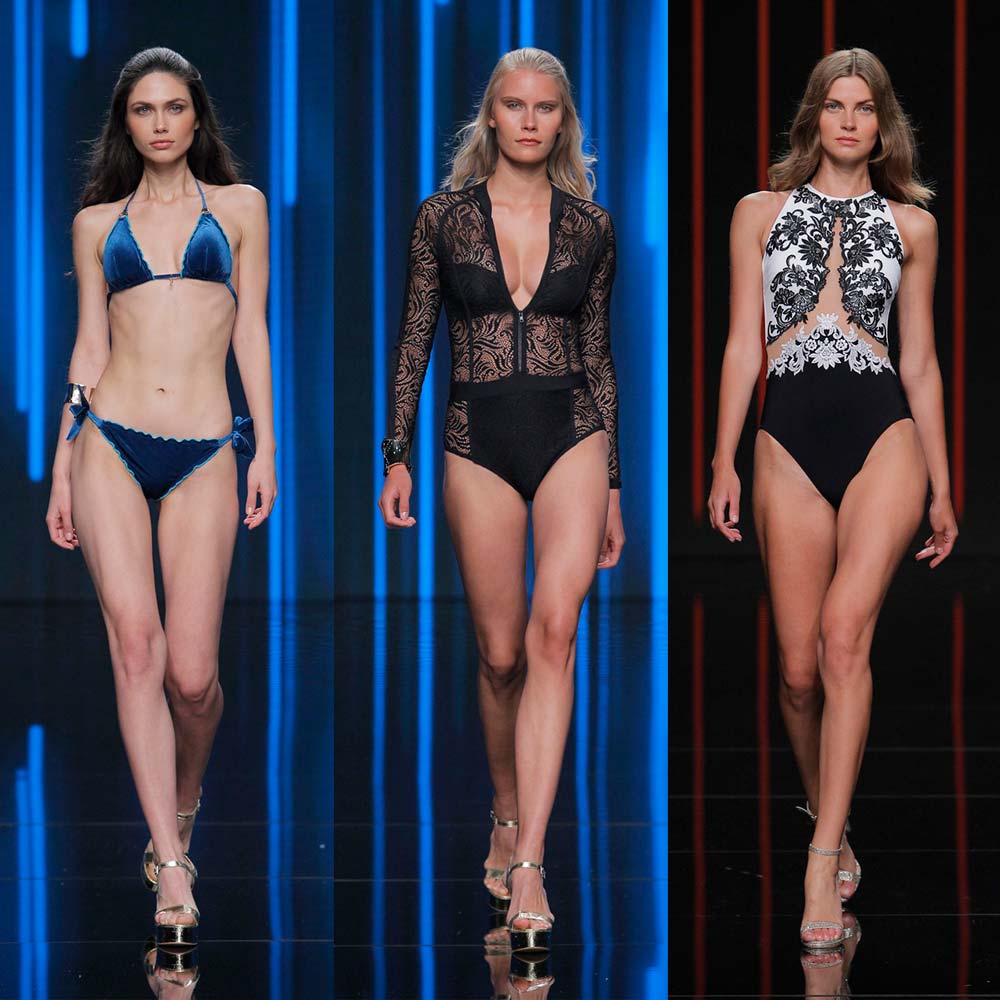 Would you wear your swimsuit outside of the beach as a swimsuit? And your bikini under a sheer top, just like you'd do with a bralette? These cute swim styles are design so that you can do so. Some of you have told us how you wore your Gottex Couture swimsuits as bodysuits. To be fair, these two swimsuits in the picture above have to look amazing with your fancy clothes for a night out.
Which 2019 Swimwear trends are you ready to flaunt from now on? Browse our new swimwear ranges for extra inspiration!
All image credits: Gran Canaria Moda Calida
You May Also Like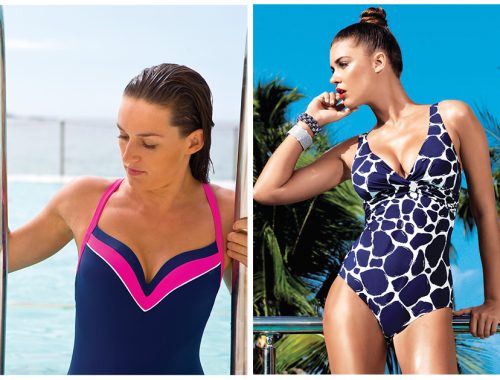 17 September 2015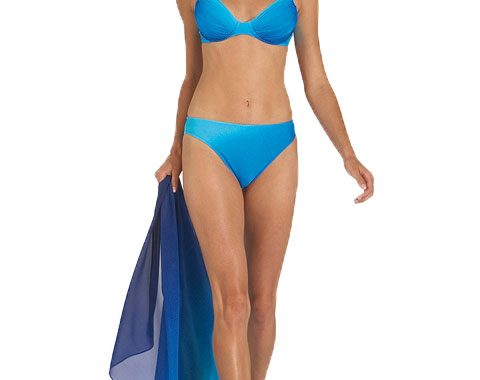 4 October 2013