What are the hottest bikini colours this season?
10 July 2018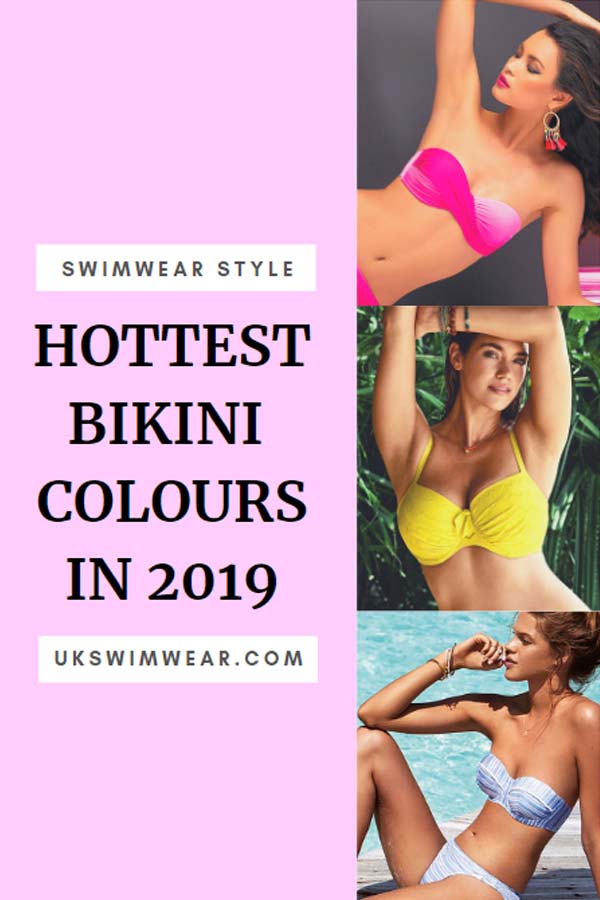 Are you one of those women who go on holiday with a different bikini for each day? Well, we always say that there isn't such thing as too many bikinis, so we totally see you. When one of us goes on holidays, we always make sure to pack with a wide range of bikini colours. Yes, we also compulsively take snaps of everything we do when we go away on holidays and spam our friends and relatives with pictures of us on the beach. After all, you really need a large collection of bikinis, in all shapes, styles and, of course, colours, to perfect our Instagram-like pictures.
Of course, it's all about swimwear trends for us, so we don't forget to check before buying what are the hottest bikini colours of the season. One of our girls at the office is going away on holiday soon, so our fashion team has done deep research to find out what bikini colours you should be wearing in 2019. Ready?
The Pink Bikini is super hot!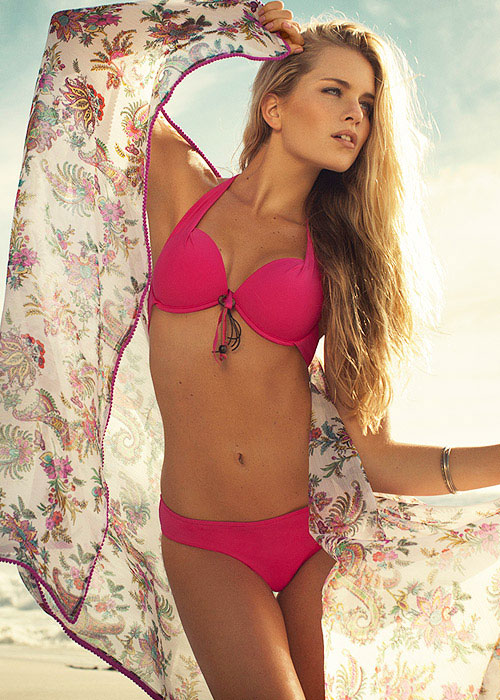 There's something in a pink bikini that reminds us of Summer colours, floral patterns and warm days by the beach.
The Barbie pink walked its way into fashion after Moschino launched an all-pink collection based in the popular doll's brand. It's been four years since that historic catwalk, but pink has stayed strong in fashion.
For 2018 and the year to come, the fuchsia pink bikini convives with the pastel-coloured pink bikini. 
HOW TO WEAR A PINK BIKINI: 
The best thing about pink bikinis is how versatile they are. It doesn't really matter the colour of your skin. It looks equally amazing in fair skins and dark skins. Furthermore, pink works really well for pink floral prints, paired with white, black and notes of red and green. You can't really go wrong with a pink bikini. 
The ideal bikini for tanned skins: The white bikini, the orange bikini and the white bikini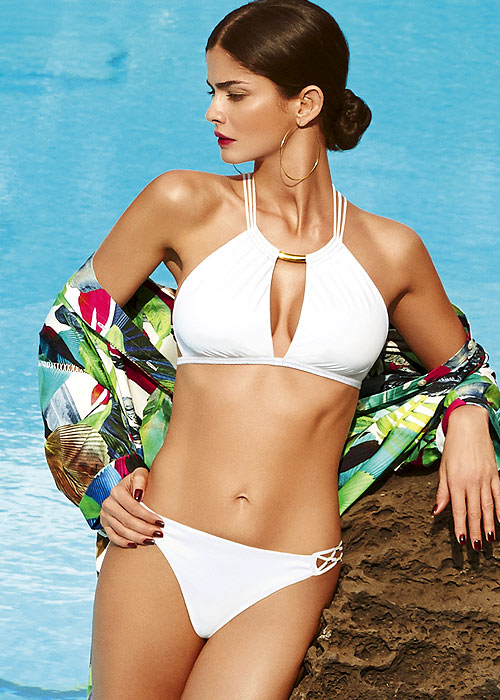 What is it that makes a white bikini the must-have bikini every woman should own at least once in her life? We love a good white bikini, but we have to admit it, a white bikini always seems to be more flattering over darker skins. If your skin is pale, maybe choose to wear your white bikini in the last days of holidays, when your skin has already turned darker. If your skin is dark, you can get crazy with the white bikini tops.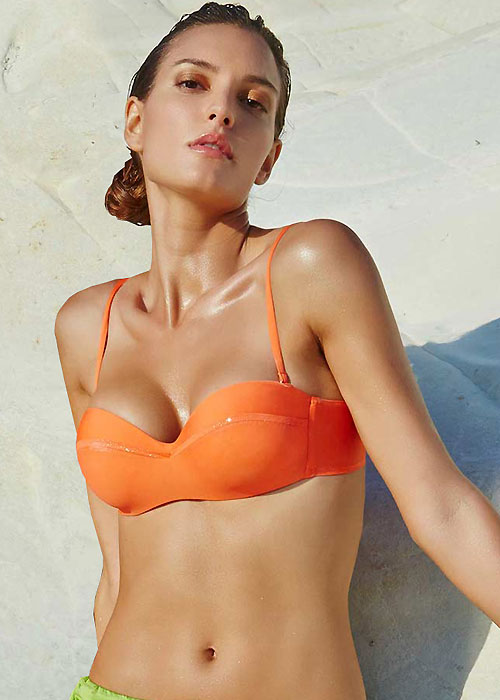 COLOUR BLOCKING: 
Mix and match your white bikini with other colours to create a contrast. White bikini bottoms are perfect to combine with bikini tops in cobalt blue, ruby red or emerald green. Orange bikini tops, like the one on this picture, look amazing with black or navy bikini bottoms, too.
The Block-coloured-bikini is a hot trend as well and it's a great idea to expand your bikini wardrobe, as you can invest in some good quality bikini sets you really love and, at the same time, buy cheap bikinis with subtle prints or no prints at all to mix and match. After all, we cannot really think of any bikini top you shouldn't wear with some black bikini bottoms.
We said before that a white, a yellow or an orange bikini are more flattering for darker skins, but, if your skin is fair and you want to rock one of these colours, who are we to judge? Maybe, if your skin tone is quite fair, avoid pastel tones and go for brighter ones. Maybe you should also leave the neon orange bikinis for very few occasions, such as a trip to Miami or a beach disco in Ibiza.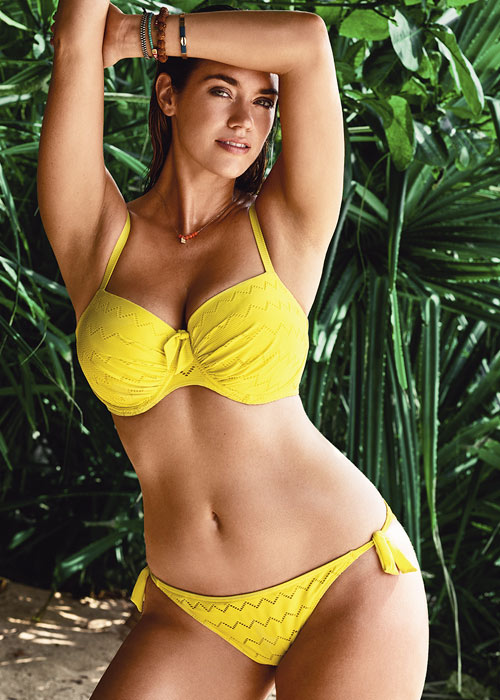 A yellow bikini we love is this PrimaDonna style above, which is a stunning colour for Summer. Note that this yellow shade is going to be really hot in 2019, too! And, if you are looking for a bargain, this cheap bikini in yellow is ideal and it's 40% off right now.
Right on the spot: The Emerald Green Bikini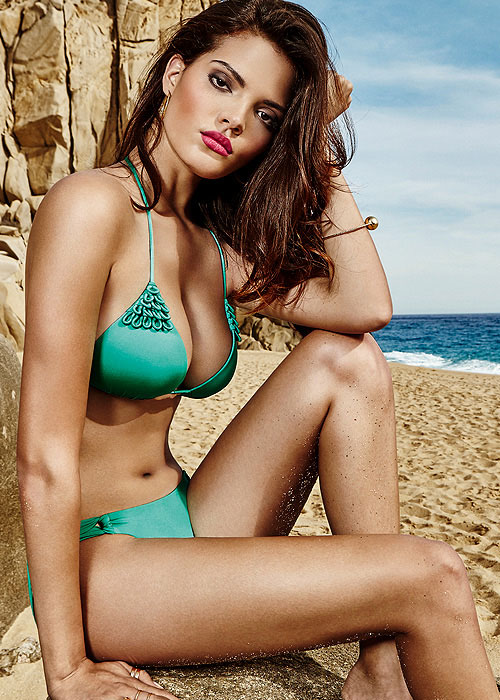 If you are looking for a green bikini this season, make it an Emerald green one. This on the picture is absolutely gorgeous and this forest-printed green bikini is to die for. You really cannot get it wrong with any of these two.
Now that you know what bikini colours are hot this season and which of them would better suit you, it's time to choose your right two-piece swim style from our bikini collection. Happy shopping!
PIN ME FOR LATER!
You May Also Like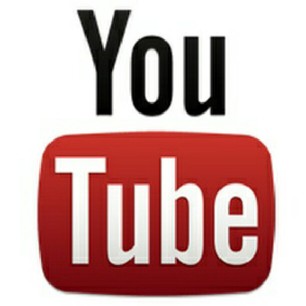 28 September 2012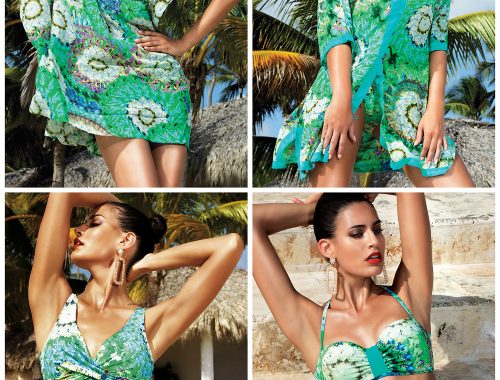 25 April 2015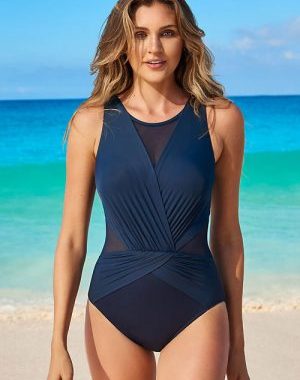 15 December 2020