A Complete Guide To Swimwear Styles
22 August 2018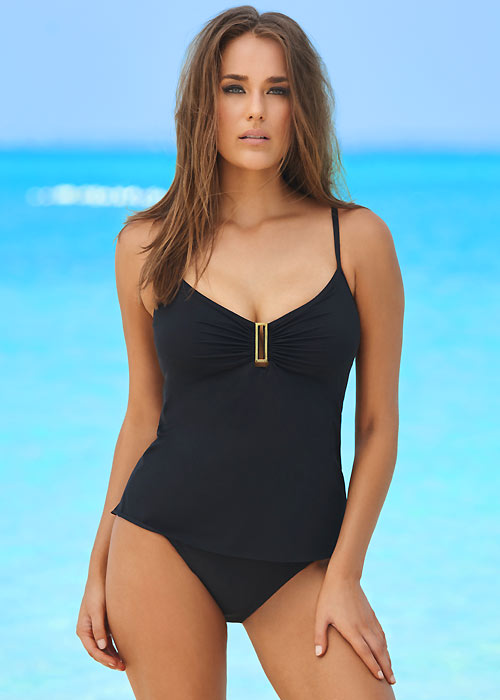 As Summer approaches, it's time to plan your holidays by the sea: the flights, the hotel, the beaches and hot spots… and the swimwear, of course! Some lucky people out there may be going on holiday in Spring, to avoid big the big crowds of high season. Lucky you! We want to answer any questions you may have about what is what in the swimwear world. To do so, we have created this complete guide to swimwear styles. Ready to learn from the beginning? Let's start with the basics then.
Swimwear Styles 101: The Swimsuit, the Bikini… Wait, What is a Trikini?
Let's start with the swimsuit or one-piece, as called in the US. Most people use the word bikini for two-piece swimwear styles, although our friends in the States sometimes refer to two-piece-swimsuits instead of bikinis. We'll go for the traditional way: swimsuit when it's a sole garment; bikini when you have a top and a bottom. So far so good.
Things get a little bit complicated here, though.
We have the swimsuit and the bikini, but also the tankini, the skirtini, the swim dress (which has nothing to do with a beach dress, as we'll explain later ), etc.
What is a bikini and what is a tankini? 
Bikini bottoms and tankini bottoms are the exact same thing. The difference here is in the top piece. While bikini tops are similar to a bra (or, even, a bralette or a bustier), tankini tops look more like a vest. Basically, if you took a swimsuit and cut it in half around the hip area, you'll have a tankini top and a brief. So, you could get yourself some bikini tops and tankini tops and mix and match each item in your tankini set and bikini set. Or you can buy additional bikini tops and create new tankini sets.
Why wear a tankini instead of a bikini or a swimsuit? 
Many women don't find swimsuits comfortable enough but, still, prefer to wear swimwear that covers the belly area. Tankinis are very popular in Centre and East European countries. They're very flattering, so body shape isn't a big deal when buying tankinis.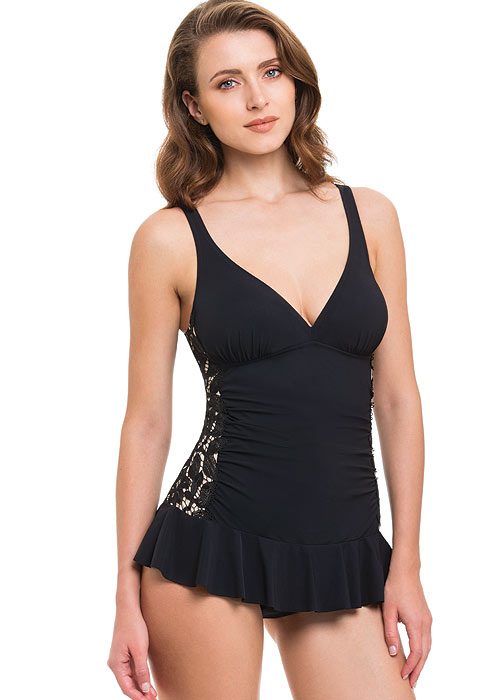 Skirtini = Skirted swimsuit
Skirtinis? Swim dresses? What's the difference?
Simple: None!
Skirtini is the name many people give to a skirted swimsuit. So, it's as simple as a swimsuit that incorporates ruffles to create the effect of wearing a skirt over your swimsuit. And yes, a skirted swimsuit or skirtini is the exact same thing as a swim dress.
Note that some people also defines as skirtinis any bikini set with a swim skirt.
Skirtinis are one of our most best-selling styles, especially for women over 40. We sell them in all sizes and colours and we believe the reason for this popularity can be found in its fitting.
Skirted swimsuits are very flattering. They make your torso look longer and they draw an hour-glass shape in rectangular bodies.
Just remember a swim dress is totally different from a sun dress. While swim dresses are a swimsuit you can swim in, a sun dress is a dress. We bet swimming in a sun dress is everything but comfortable!
And the trikini? What is a trikini?
The trikini is a combination of a bikini and a swimsuit. It's also called monokini in the UK because it's a one-piece swimsuit, even if it looks almost like a two-piece style. Many cut-out swimsuits have are practically trikinis.
Now that you know the basics of swimwear, let's move with the swimwear styles.
All the swimwear styles explained:
When we look at women's swimwear, we look at a range of features: neckline shape, back shape and height, leg length, as well as specific aspects in the style that define that piece of design.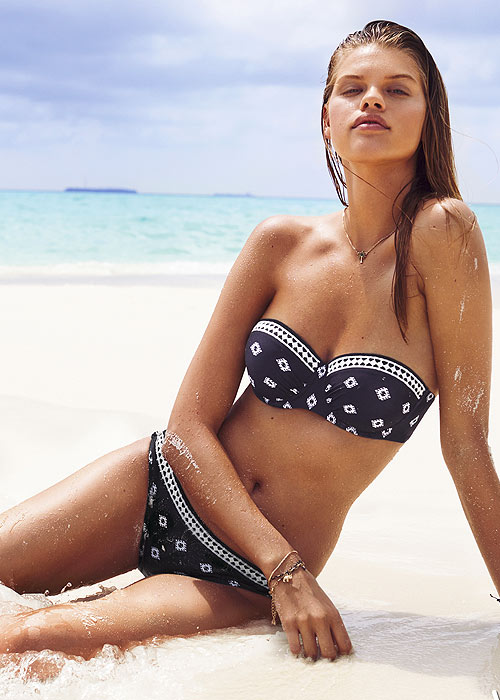 A quick guide to neckline swimwear styles:
There are a number of neckline swimwear styles, but there has always been a favourite one for most women: the bandeau swimwear. Bandeau neckline means strapless, of course. While not the most comfortable, bandeau swimsuits and bikinis are ideal to wear on the beach for a straight reason: you get a strapless tan, free from tan lines. That's the ideal, right?
This is the main reason bandeau bikinis are really popular these days, but also because bandeau bikinis look absolutely gorgeous. Take a look at our most recent post about bandeau bikinis, featuring the prettiest bandeau bikinis of the season.
Some strapless bikinis have a flat line, but some other have lovely heart-shaped necklines, which look really cute and feel lovely no matter your cup size.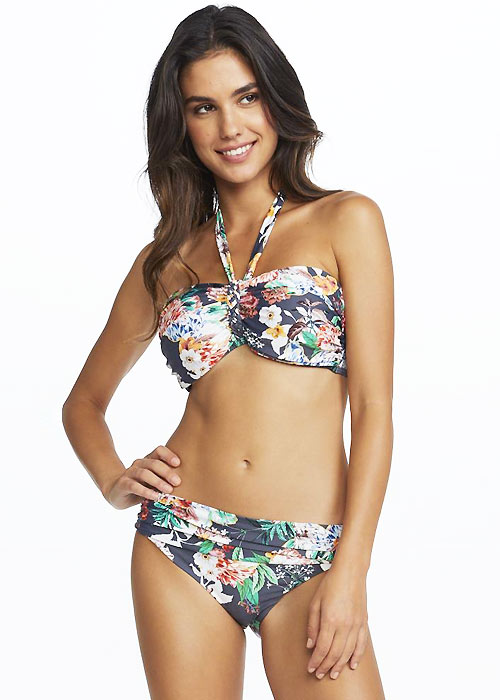 What do you mean by convertible swimwear?
Most bandeau bikinis and swimsuits come with attachable straps. This way, you can choose to wear them with or without the straps. In this case, we can also define them as Convertible swimsuits or bikinis.
Quite often, too these straps can be worn in several positions: as a regular bikini top (just like a bra), crossed in the back and a halter neck (with only one strap).
Some convertible bikinis come with a thicker strap, that can be attached in the centre of the bikini top (right in between the cups). This converts a strapless bikini into a halter neck one, just like this Moontide's floral bikini on the right.
And talking about halter necklines… did you know a halter neck swimsuit can be really flattering? You must certainly have heard of it or, at least, notice how flattering they can look. Halter neck bikinis are the top option for larger busts, too, even if they can feel a little heavier in the neck after a long day.
Both halter neck bikinis and triangle bikinis tie on the neck, the difference being the second ones, the triangle bikinis, have triangle-shaped cups. Triangle bikinis are perfect for smaller busts and athletic body shapes. If you usually wear padded bras and going for a non-padded bikini top isn't an option you are keen on, you can always get padded triangle bikini tops, which are really flattering.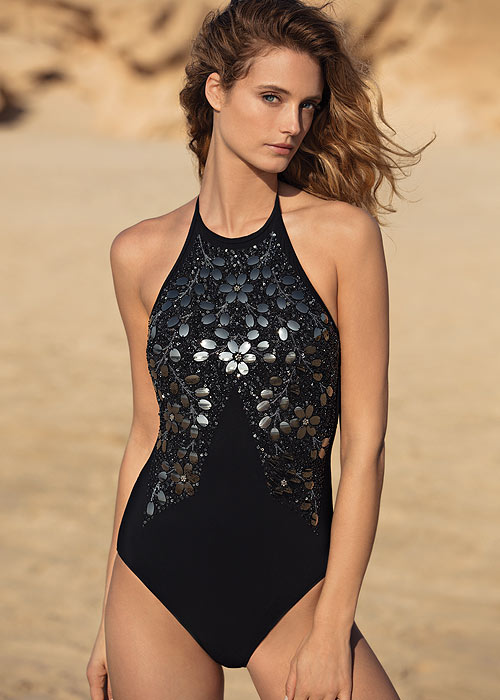 High neckline Vs Plunge neckline
One of the top trends of the moment is the high neck swimwear. Celebrities all over the Internet are spotted wearing high neck bikinis, sometimes with pretty racerback details, such as a crocheted back detail or a multi-strapped back detail. High neck swimsuits often combine a halter neck and open back, which steals the show.
Also very popular, the plunge neckline swimwear has raised popularity in the last two or three years. The traditional V neckline, (which is super flattering already), has gone deeper and deeper to help you show off cleavage.
Plunged swimwear is no longer a style exclusive to Victoria's Secret's models and other celebrities; it's for every woman who feels like wearing it. There's a hybrid style, which is a combination of both high neck and plunge neck. Swimsuits and bikinis with a keyhole neck detail are a hit this summer.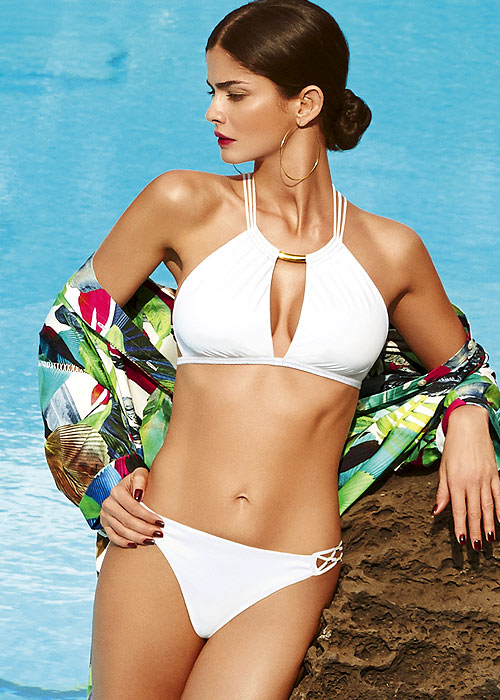 Cup styles in women's swimwear:
Guys have it easy when buying swimwear. Women's swimwear, however, is a little bit more complicated. You have to tick all the boxes to find the perfect-fitting swimwear. Cup-wise, it's similar to buying lingerie. You have to look at the following types of cups: Moulded cups, padded cups (this including push-up cups), soft non-padded cups, underwired cups or non-wired swimwear cups.
Moulded cups have pre-formed shaped cups. Fabric in moulded cups often has a fine foam layer, which holds the spheric shape of the cups. You can see here some fine examples of moulded bikini tops.
If the foam is thicker, we call them padded cups. We stock both padded bikinis and padded swimsuits, the first being more popular.
When the cups have additional foam padding in the lower part of the cups, this pads pushes-up your boobs, boosting your cleavage and the shape of your whole bust. This is the reason why push-up bikinis are one of our best-selling styles!  
Soft cups are just the opposite: non-padded, often with a simple second underlayer, acting as a lining.
Many swimsuits are non-wired, but you can also buy women's swimwear with underwired cups. In fact, most women prefer to wear underwired bikinis to non-wired ones. Underwired swimsuits are ideal for larger cup sizes, as they offer extra support and comfort. The underwired swimsuit is indeed one of the best-selling styles here, at UK Swimwear. h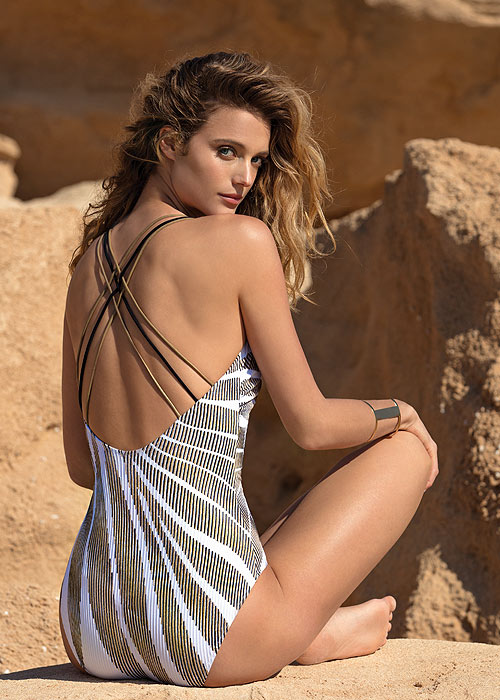 Looking at the back: High, medium or low
Is the back of a swimsuit really important? If you are a newbie to the swimwear world, you may be asking this to yourself. Our answer is… Yes, of course, it is!
This season (and surely the next one), the demand for low-back swimsuits has grown. Needless to say that an open-back style looks absolutely gorgeous, but it isn't for everyone. Many women prefer to go for a more-comfortable medium back swimsuit, which feels more supportive.
What about high back swimsuits? 
There are three main swimwear styles including high back swimsuits:
Bandeau swimsuits with a high back, to offer greater support.
Post-mastectomy swimsuits with a high back, also because they offer a greater support, but, at the same time, to protect any scars and sensitive areas. Note also that mastectomy swimsuits are just like regular swimwear, except in the bust area. Here, swimwear designers make sure all fabrics and seams are suitable for the most delicate skins. Cups are pocketed, to facilitate the insertion of a bra insert when necessary.
Tummy-control swimsuits often have a high back for an overall slimming effect.
What about the waist and the leg?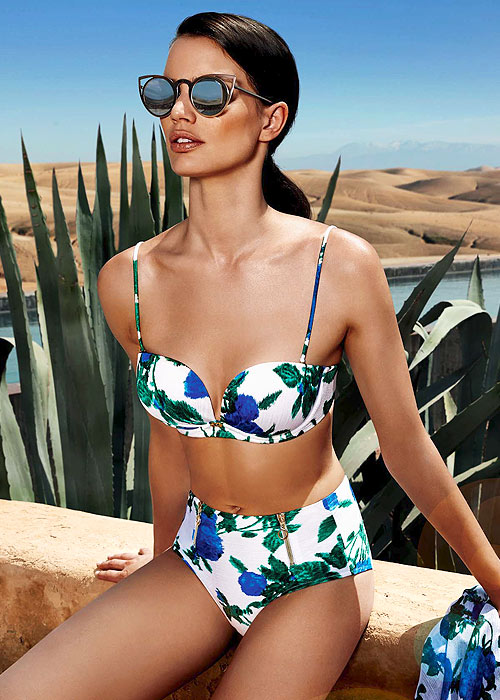 We usually talk of high-waisted bikini (with a retro-looking brief that goes over the hips), regular bikini briefs or low-waisted bikini briefs, also known as hipster bikini briefs. Another area to look at is the leg, which can be low leg (as in the picture above) or high leg.
If you follow the celebrity buzz news, you may have noticed many celebrities are going for high-waisted bikini briefs this summer and the Kardashian-Jenner clan cannot go on a beach break without a high leg swimsuit. They both are really hot these days. Another trend everyone is talking about is the cut-out swimsuit, which is a swimsuit open on the sides, almost like a trikini. 
Well, we think that's all for now. Do you have any more questions? Leave a comment and we'll answer any doubts you may have. If you want to keep reading about swimwear styles, check out more swimwear guides.

You May Also Like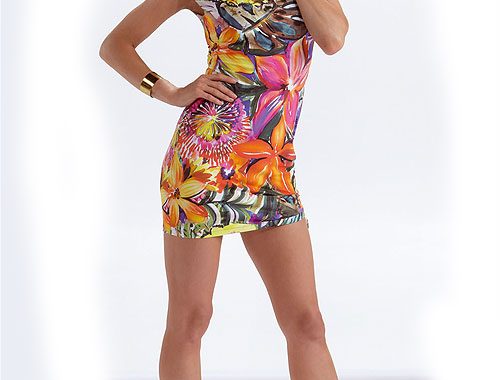 22 March 2013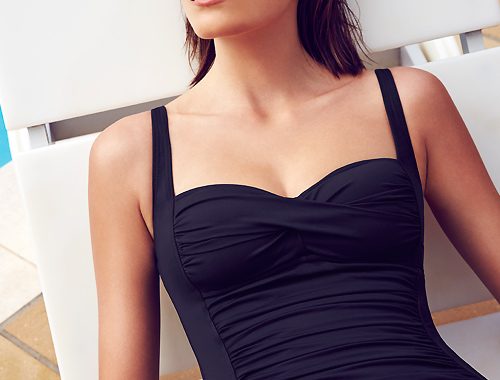 13 July 2016