Most Flattering Swimsuits To Suit Your Shape
27 July 2017
Hit the beach in a swimsuit that suits your body shape. We're not just talking about being beach ready here, we are meaning getting swimwear that provides you with the best fit. A fit that complements and feels great, as opposed to the obvious flaws and glitches as looking great's one thing but you need to feel it too.
Do you know your shape?
Knowing your body shape is imperative and let's face it, we are all unique in terms of shape, length and size.
There are, generally, body shapes that are common and apply to the overall majority. But this doesn't mean there are swimsuits, bikinis or other beachwear items that answer the common body shape. Though certain body shapes can be common this doesn't mean there's a bikini that will look great on all people with a common body shape. This is because of other factors, such as wide shoulders, or an hourglass waist. These factors can make or break a swimsuit look, plus there are other body shape factors to take into consideration too, we'll discuss these later.
Swimsuits for every body shape…
So, here we've drawn upon the most common body shapes and married these up with what we think are the most suitable bikinis, along with other swimwear items. And when we say suitable we mean a fit that fits comfortably without losing any of the styles that comes with the swimsuits or bikinis we sell.
The ultimate shapewear guides!
We've tried to create the ultimate guide to covering all common body types with suitable swimwear outfits. The aim is to show the most suitable as well as the most stylish looks, for the beach this year, that complement your body type.
Rectangle Body Shape (Square; no waist)
A recent survey conducted in the UK by a leading university revealed that the most common body type in the UK is rectangular.
The rectangle body shape lacks curvature from the hips to the chest, including bottom and waist too.
If you are unsure if you qualify as having one of the most common body types in the UK, look at the below list.
The defining parts of the rectangular body shape consist of –
Flat bum & hips
Top and bottom take the same size for clothes
Small bust & waist
Average tummy size
Straight shoulder line and rib cage
Best swimsuits for the rectangular shaped body
Create an hourglass look with a cut-out swimsuit, we've talked about this before and still think it's one of the best, as well as simplest, looks you can attain and carry off. Cut-out swimsuits are still a fashionable look for the beach and there are some great designs available as fashion houses continue to pump these out, for beachgoers across the globe.
Check out our collection of fashionable cut-out swimsuits here.
Rectangular shape body options
Ever considered a front tie bikini? If you don't want to go for the swimsuit then a bikini with a front tie makes a lot of difference to your look. The style of front tie bikinis is numerous and we have a vast selection for you to pick and choose from. Look at this fabulous piece from David.
Again, lay emphasis on the centre area of your body with subtle design enhancements, front tie bikinis offer this fashionable enhancement. So, you'll be able to add an extra, stylish, dimension to your beachwear with one of the many front tie bikinis we have available.
Want more than just a front tie bikini? If you're not convinced about our front-tie bikini promo, then there is another style type you may prefer; stringed bikini bottom briefs are wonderful for enhancing the hips of any rectangular shaped body.
Another look that works wonders for the rectangle body shape is halter neck swimsuits. We've got a fantastic selection of swimsuits in a range of styles, select the Halter option within the Style navigation menu to view our latest range, or just follow the link.
Colour and swimsuit psychologies
Fancy an animal print swimsuit? We still think it's best to go for a centred print that draws the eye, along with angled stripes that can further enhance the bust giving a narrow waist effect. It's all about creating the illusion of a fantastic waist and we've some great one-piece swimsuits that do just that.
Best prints we've seen for the rectangular body shape must be that of floral. These pieces from our Maryan Mehlhorn range look gorgeous and in no way, lose any stylish elements.
What to avoid
If you are one of the many who has been blessed with the rectangle body shape then ensure you at lease avoid the below if you can't manage the above tips:
Don't go for a square neck; don't emphasise the brick shape that's already there, it'll do nothing for your look.
Avoid the bandeau; even with a sensational print the shape and how the bandeau wraps won't complement the rectangular shaped body.
As we've previously stated, it's the most common body shape in the UK. Here are others with the rectangle body shape and look how they handle swimsuits and bikinis – Cameron Diaz, Sarah Jessica Parker, Kate Middleton, Kate Moss, Nicole Ritchie, Anne Hathaway, Uma Thurman all have a rectangle body shape in common. Their well-proportioned bodies, straight waist, lean limbs and small chest make them look like athletes without even trying.
Enhance your rectangular body shape and utilise our tips to achieve a great beach or poolside look this summer.
Round (apple)
To make the most of your circular shape you need a swimsuit that's going to complement your curves whilst cutting in so to enhance a look of definition.
A less defined waist with the weight carried on the bust and stomach epitomises the apple shaped body profile. The right swimwear will enhance the apple shaped body highlighting features that may otherwise go unnoticed.
The main elements that make up the apple shaped body:
Hips that are narrow
A waist with little definition
Broad shoulders
Large busted area
The perfect bikini or swimsuit for the apple shaped body should complement by pulling away attention from certain areas, whilst drawing the eye toward other areas of the body, to do this well you need to understand your body shape. The apple shape needs a swimsuit or bikini that creates a balance that naturally takes emphasis away from the bust, shoulders and stomach and draws the eye to the bottom half of the body.
Best swimwear for the Apple shaped body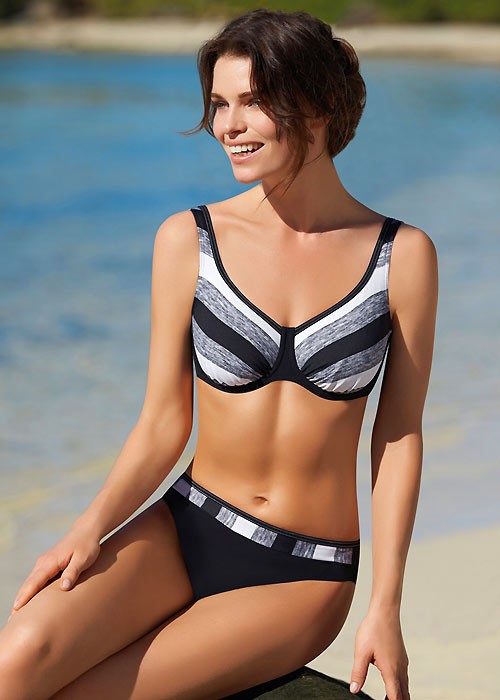 If you fit the criteria for the apple body shape and are set on a bikini, then first consider the straps. You'll need ample support so a bikini with thick straps is a must, this will also complement your shoulders by making them appear smaller. Ensure you go with an underwired bikini top too; a lift is always good and good support essential. Your matching bikini bottoms should not match, well, not entirely. They should draw the eye, so go for more of a pattern in the bottoms, brighter colours and consider sashes or side ties.
Want a swimsuit
Same principles apply to the swimsuit; go for wider straps, stomach support and go for the non-padded inner bust. Same with the design too, keep it busy below so to draw the attention away.
We have a great selection of swimsuits and bikinis that tick all the boxes of suitability for the apple-shaped amongst us. Take a browse through our site, our personal recommendation would be the range offered by Pour Moi, what do you think?
Inverted Triangle (top heavy)
Not so much an equilateral triangle, but triangle in 'nature', or imagine a carrot. Funny eh, but bear with us. Now, just imagine wide at the top but gets slimmer as you move downwards… That's the Inverted Triangle body shape, or top heavy, carrot, just call it what you will. Some even refer to it as Strawberry, some even call it the "inverted triangle". Do you fit the bill? There are a few options but generally, you're slightly heavier on top.
So, if you're blessed with narrow hips, smaller waist with a larger top area then welcome to the class of inverted triangle shape.
Best swimwear for the inverted triangle shape
Pieces for the triangular shaped body usually focus on enhancing the existing curves whilst playing down the stronger shoulder area.
We've some marvellous pieces that do this beautifully, like these halter-style tops.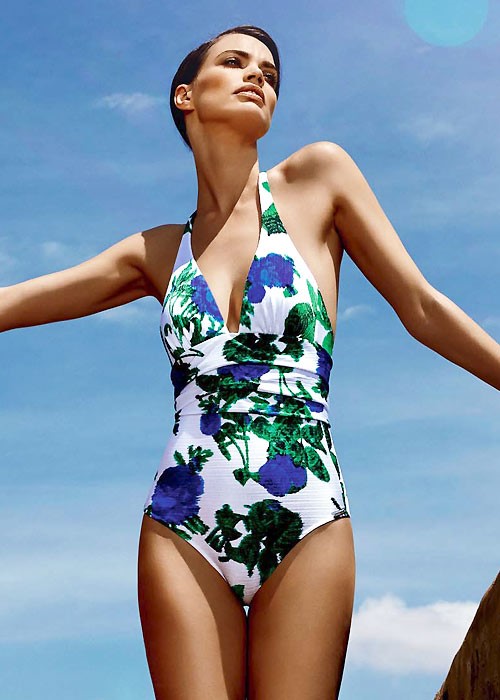 Go for styles that can be tied back over the neck and around the waist, the triangular shaped among us can usually allow for the occasional alteration. Another flattering style for the inverted triangle is the plunge neckline. Deep necklines make your torso look longer.
Hour Glass
Referred to by many as the perfect body shape the hourglass figure commonly features shoulders that are in line with the hips.
More common features that comfortably place you within the hourglass shape feature:
A clear definition of a defined bust and waist.
An obvious curvature of the bottom
Feel the benefit of most fitted styles.
Go slightly larger on top to accommodate the bust.
There are steps you can take to give your body the look of an hourglass shape; crossover wraps are common amongst many who almost have the hourglass look.
The hourglass-shaped lady will look their best in wearing fitted and shaped lined swimsuits, and they're perfect for a bikini set. Rouching effects also help but don't overdo it. Beware of anything that will add any extra volume to your waist; it's just not needed. Your balanced curves should look enhanced and even more voluptuous if bold colours are thrown in to mix too. So, don't be afraid or put off with anything that looks too bright or bold in colour, try them out.
Best swimwear for the hourglass shape
If you're blessed with an hourglass shape the best complementary swimsuits are those that show off your body type. The best types we've in stock are these halter necks with plain lines and simple frills.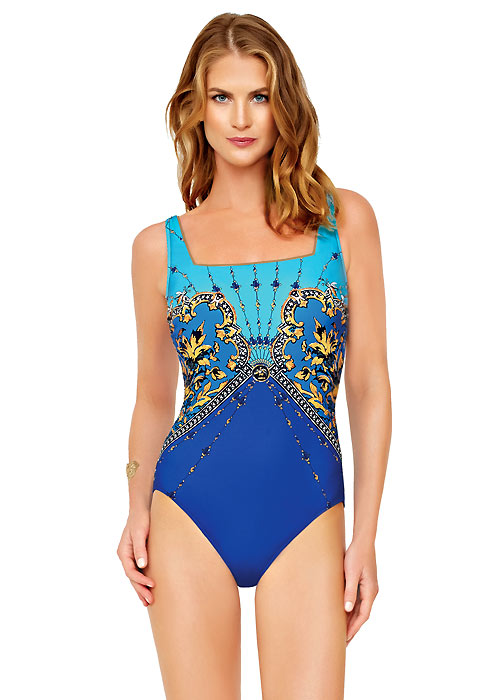 So, show off your eye-catching silhouette shape with one of the Gottex pieces, we've several dozens just like this, which enhance the hourglass-shaped body.
Or, flaunt your desirable hourglass shape with one these fantastic bikini sets from Acqua & Sale.
There are several other styles that match the hourglass shape too; consider thicker strapped bikini tops or swimsuits, especially if you're a bit heavy up top, as you may need the extra support.
Pear Shaped
We think Beyoncé whenever we hear the Pear-Shaped body term. It's an honour, we think, to have the pear-shaped body, shared with some of the best movers and shakers in the land.
So, are you a real pear shape?
If you are then you'll have focused weight on around your central areas, mainly the hips, bum and thigh region, topped by a slender top half culminating in narrower shoulders and a smaller bust.
The common features of a pear-shaped body consist of:
Shoulders that are narrower than the hips.
Your waist is clearly defined.
You carry some weight on your hips and thigh areas.
Sizes on the top half are smaller than on the bottom.
When choosing swimwear for the pear-shaped lady don't forget about body balance. Consider items that will flatten out your body shape, whilst not forget about proportions.
Best swimwear for the pear
Weight, on the pear-shaped body, tends to focus on the lower half, around the hips and thighs. So, the focus should target the upper area of the body by making use of pretty, fun and maybe even daring detail. The bottom half of the body should be darkened and a high-legged brief to give the impression of a leaner and longer leg. Remember the detail; darkened colour and images minimise attention (the bottom half) whilst patterns and colours draw attention (upper half).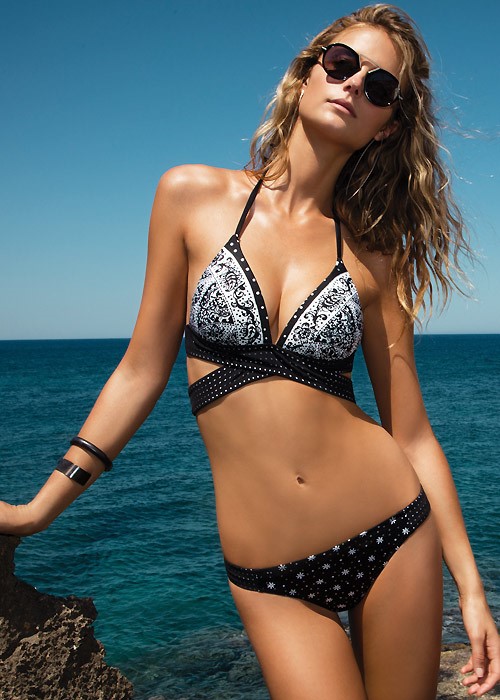 With some pear-shaped bodies, a bit of experimentation may be involved. If your top and bottom size are mixed then don't be afraid to mix sizes to ensure you get the perfect fit. Try out a push-up or padded bikini, this will add to your cleavage if required.
Balance out your proportions using colours and patterns; go for a plain darker column bikini brief or bottoms, complement this with a patterned bikini top or top half. Keep your bikini brief bottoms at a low leg cut, avoid high-cut styles as these will cut into your thighs. You can also try wearing pareos and sarongs in plain colours or a blend of colours, contrasting with your bikini top or swimsuit.
Concluding
We believe we've managed to cover off most of the lady's body shapes, if you possess an athletic and well-toned body then congratulations, you'll look great across an entire range of various swimwear products.
What do you think? What body shape are you and what do you go for when heading off to the beach.
You May Also Like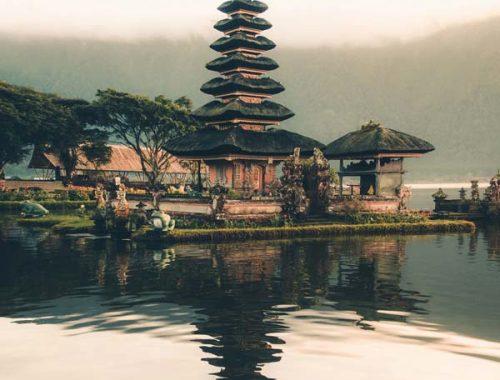 25 July 2019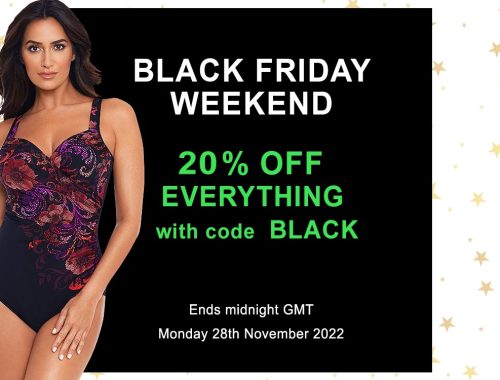 25 November 2022