What Are The Most Flattering Bikini Tops?
7 August 2018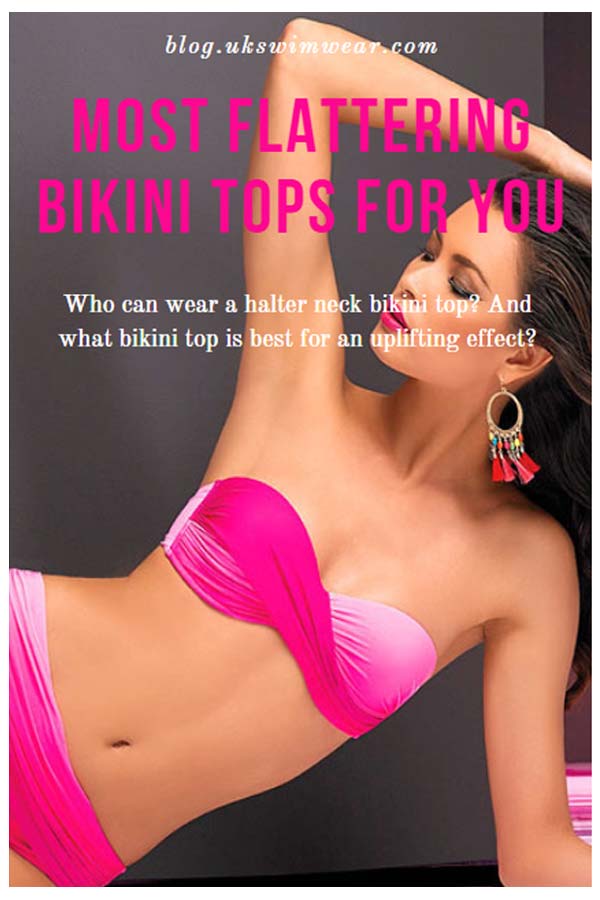 Finding the most flattering bikini tops for you shouldn't be difficult. On the contrary, it shouldn't take any of your time. All you need to know is what suits your body type or, rather, your cup size. As everything in life, personal taste should be the preference. However, some colours and styles always seem to be more flattering than others.
Rather than sizing, finding flattering bikini tops should be all about your shape and about your back size and cup size. For good or for worse, your bust, this is, the size of your bust, is the main factor to account for. This factor is especially relevant for some bikini tops styles, such as the strapless bikini tops. 
Other factors are the activity you're planning on doing. You shouldn't really wear a strapless bandeau or a plunged bikini top if you like a good swim, as these aren't the most comfortable styles for this activity. On the contrary, if all you're planning is lying down and sunbathing, these two should be at the top of your list. 
Who can wear a halter neck bikini?
Halter neck bikini tops tie up on your back. They are ideal for regular to large busts, so it's one of the most flattering styles for women who wear DD+ bikini styles. On the one hand, a halterneck bikini feels supportive and, visually, it feels almost like you had some hands holding your bust.
On the other hand, it can hurt your neck if you have a big bust and it feels loose on the band, so, make sure you get the right back size. Remember: it's the band, with the wires, what holds the weight of your bust, so it's important to get it right. 
For larger cups, an underwired halterneck bikini is always a greater option than a non-wired one.  
Halter neck bikini tops are usually soft-cup, but still can find some styles with light moulded cups, with a very light padding, which will look better in regular to smaller. 
Smaller cup sizes aren't the most flattering option for halterneck bikinis, but you can always get a halter neck push-up bikini (UK Swimwear has a few!), a convertible bikini top (bandeau and halterneck bikini 2 in 1) or a high neck bikini top with a keyhole, so on trend this season! 
What about triangle bikinis? 
Triangle bikinis are similar to the halter neck bikini tops, but the shape of the cup covers less and has a triangle shape. Triangle bikinis look amazing in smaller cup sizes, so they are the perfect alternative to the halter neck for smaller busts. You can even get flattering push-up triangle bikinis, like this Maryan Mehlhorn below!
If you have an athletic shape, you'll do the best of your shape with a triangle bikini top. Mos of our triangle bikinis have moulded cups and many also have padded cups.
Should I wear a strapless bikini?
Sure, why not? You can go for a cute bandeau bikini top or a convertible bikini, which can be worn as a halterneck, too. Most strapless bikinis come with some attachable straps, too.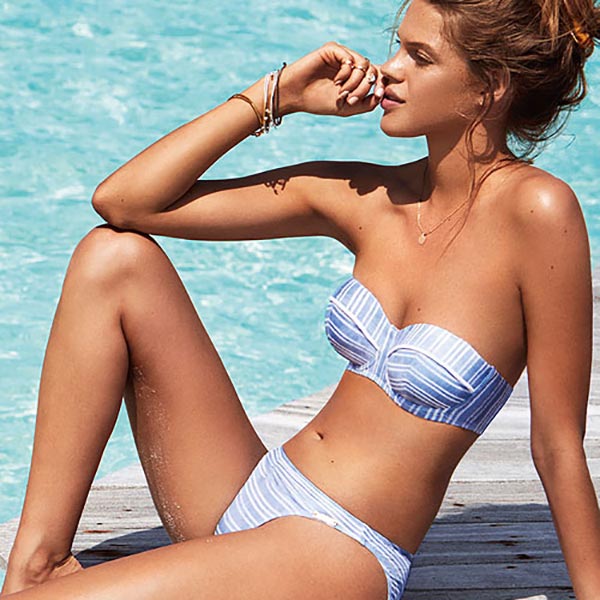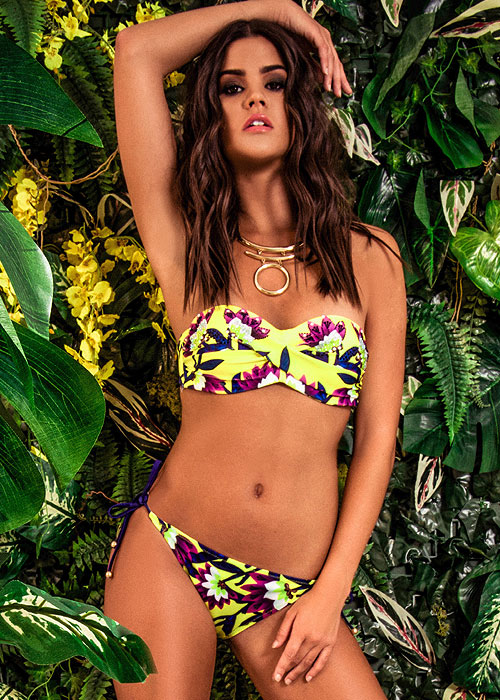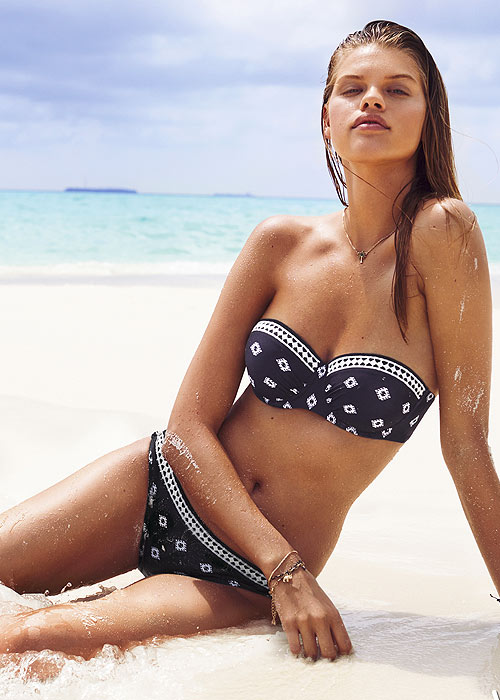 A strapless bikini top looks better in smaller cup sizes and petite women. The reason is, the weight of large busts makes strapless styles less supportive and, so, less flattering. If you're a fan of bandeau bikinis, take a look at our selection of the cutest strapless bikinis of the season. 
The push-up bikini to boost your bust
The push-up bikini is one of our favourite styles for smaller cup sizes. They look stunning in petite girls, as well as A to C cup sizes. The loveliest push-bikini UK Swimwear stocks at the moment happens to be on sale, so it's a good one to invest in. 
Push-up bikinis are a practical choice for fuller cup busts, too, as they boost your top area. However, they may feel a little too much if the pads are too thick, so it's best to go for a natural push-up effect and avoid anything too extreme. 
Hot this season: The high neck bikini top
The high neck bikini is a style close to the halterneck bikini, but right on the spot this season. The top fashion designers are going for the high neck bikini top, because this bikini top style makes your torso looks longer. 
As you can imagine, the high neck bikini top looks ideal in shorter women. It looks amazing both for smaller and larger cups because it's the most flattering bikini top you can find out there. You can have high neck bikini tops with see-through inserts, like the style in the picture, or with an open keyhole, which is a hot trend this summer. High neck swimsuits are very popular, too. 
Now that you have read what are the most flattering bikini tops for you, it's time to browse our bikini tops and, maybe, read our guide to bikini bottoms to keep learning about swimwear fitting! 
PIN ME FOR LATER!
You May Also Like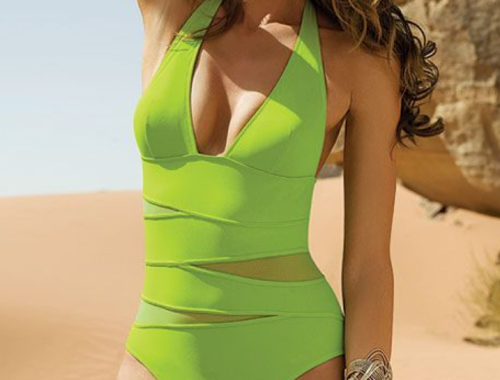 27 April 2011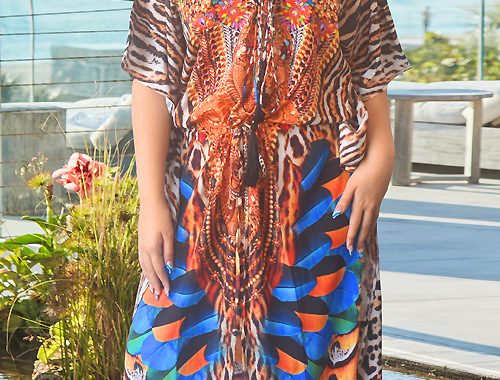 24 November 2021