The Ultimate List Of The 100 Best Beaches In The World
31 October 2023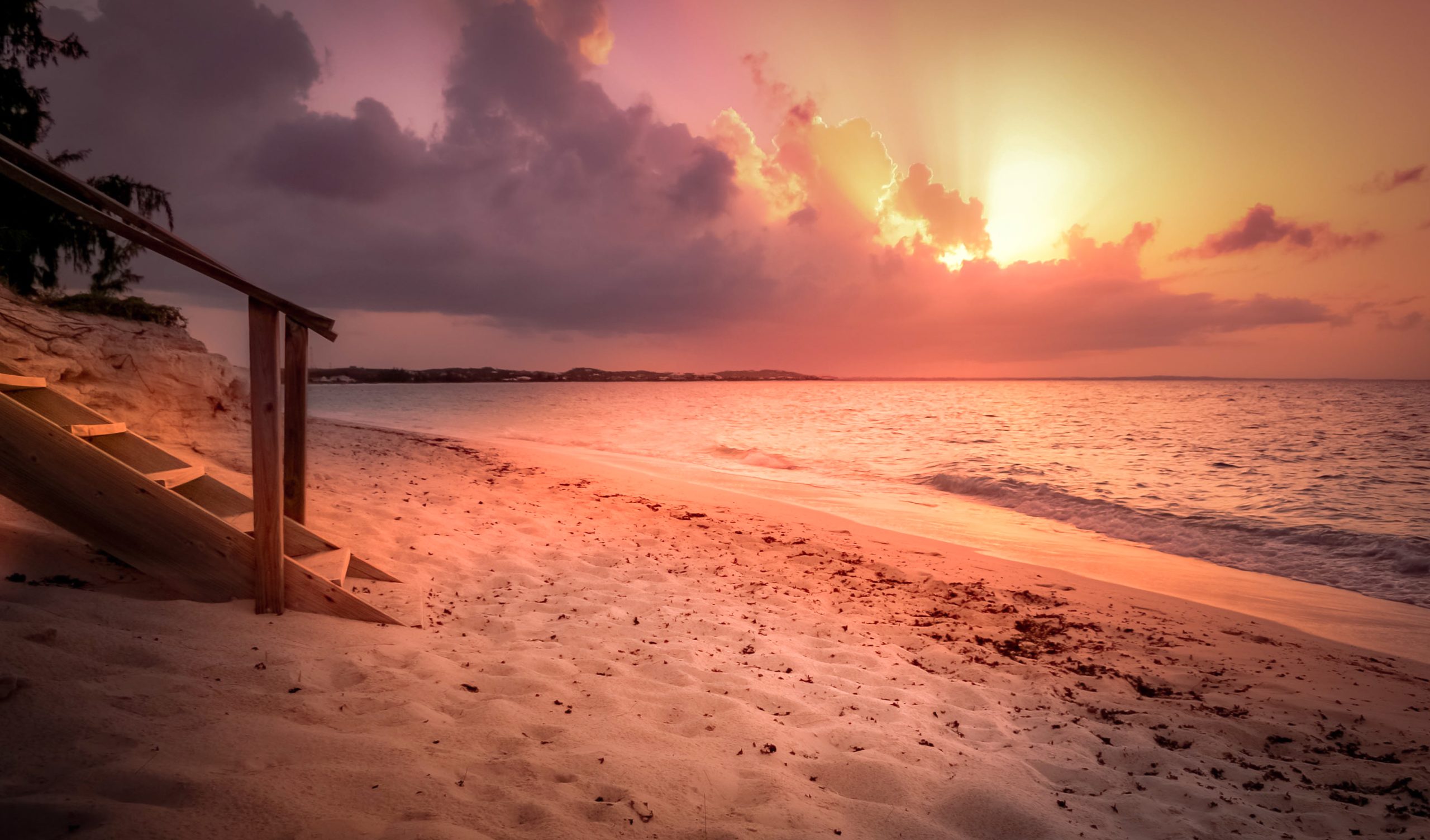 Some swimwear blogs also do a piece on the best beaches in the world. But often it is a token list of 10 or 15 destinations, and only the obvious ones too. But people who are planning a trip need a truly fantastic and definitive list. And that can only mean the 100 best beaches in the world.
So, are you dreaming of sun kissed shores, crystal clear water, and soft sand beneath your feet? Look no further. We have compiled the ultimate list of the 100 best beaches from around the globe. It doesn't matter if you are a lover of balmy climes, a seasonal traveller, or simply seeking inspiration. These stunning destinations are sure to give you a sense of wanderlust.
Please note, these entries are not ranked in any particular order. They are numbered only so that you can keep track of your reading and browsing. It is impossible for use to create a list that is perfectly ranked. And it all depends on what you want out of a holiday destination too. So, here is our list of the 100 best beaches in the world, in no particular order.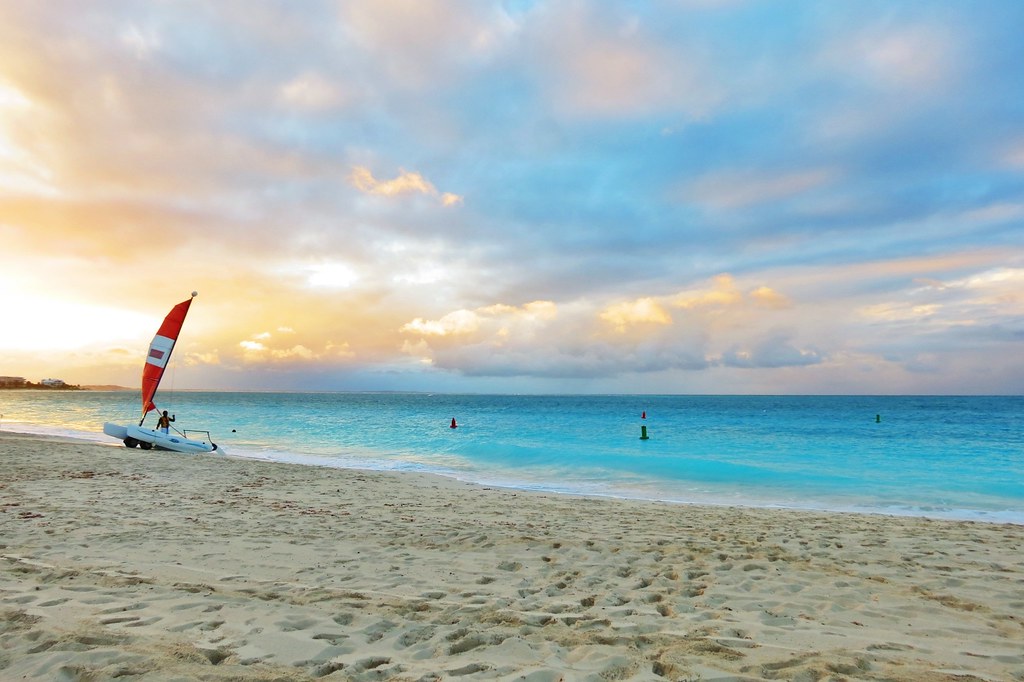 1. Grace Bay Beach, Turks and Caicos Islands
This is the beach pictured both above, and at the top of the article. Was there any wondering Turks and Caicos would appear on this list? It has some of the best beaches in the world, after all. And maybe more than any other in such a small area. Grace Bay Beach is renowned for its unbelievably clear turquoise waters and soft, white sands. Grace Bay Beach is almost a stereotype of a tropical paradise, and that is exactly where you want to be.
2. Whitehaven Beach, Australia
The Land Down Under dominates our list of the best beaches in the world with six entries. And looking at this entry, is it any wonder? Nestled in the heart of the Great Barrier Reef, Whitehaven is one of the most well known beaches in Australia. This location boasts stunning views, powdery sand, and crystal-clear waters. And thanks to it being near the reef, it is easy to go on snorkelling and diving adventures too.
3. Matira Beach, Bora Bora, French Polynesia
An icon of luxury, Bora Bora offers overwater bungalows and a lagoon in the most breathtaking shade of blue. Depending on the resort you stay in, you might even get to stay in one of those floating stilt huts. These are quite popular in the Pacific islands. And what is more, they speak French in the eponymous French Polynesia. So communication may be easier and a bit more ubiquitous.
4. Tunnels Beach, Kauai, Hawaii, USA
Tunnels Beach is renowned for its underwater lava rock tubes. It also boasts some of the most gorgeous marine life in the Pacific. It is absolute ideal for snorkelling enthusiasts who want something on land as well as under the water. Hawaii boasts many great beaches, but this is one of the most distinct and high quality.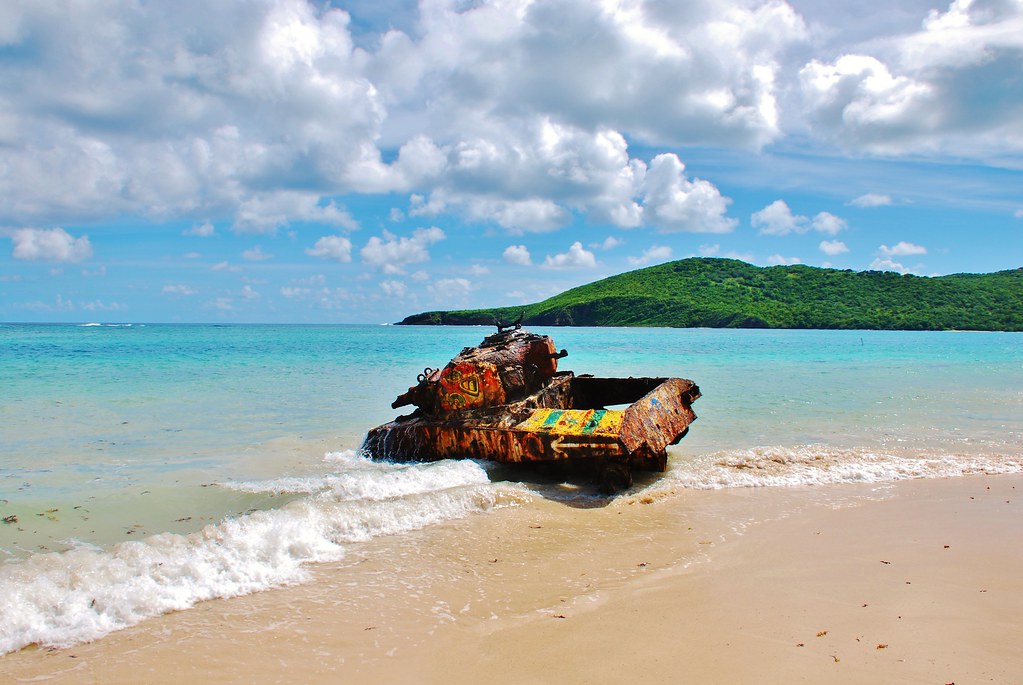 5. Flamenco Beach, Puerto Rico
Flamenco is known for its horseshoe-shaped bay, shallow waters, and vibrant coral reefs. Thanks to the shallows and the sheltered shape of the bay, Flamenco Beach is a snorkeller's paradise. But it is also known for one other highly distinctive feature too. The rusting and artfully graffiti-ridden battle tanks that are stranded on the sand. Why are these here? Puerto Rico was a testing ground for the US Navy for year. They wanted to see how their tanks would handle wet sand. Apparently not too well, as they left them sunken in the sand. This might just be one of the most interesting pieces of public artwork of all time.
6. Black Pebble Beach, New Zealand
This beach is near Kaikoura on the South Island of New Zealand. Shimmering black pebbles blanket this remarkable beach. Light green waters contrast the shoreline too, so it is even more visually exciting. But what really makes it special is the view of the Southern Alps in the background. It is like a shooting location chosen for Peter Jackson's Middle Earth.
7. Lanikai Beach, Hawaii, USA
Hawaii is a great holiday destination, no matter the beach. It is a US state, so it accepts the dollar and the locals conveniently speak English. And the mood is the most cheerful on anywhere on the planet. And yes, they have some of the best beaches in the world too. A tranquil slice of paradise with calm turquoise waters and soft sands against the backdrop of the Mokulua Islands.
8. Lighthouse Beach, Australia
Lighthouse Beach is a coastal gem. It boasts pristine sands, warm waters, and a historic lighthouse backdrop. Perfect for beach combing, surfing, and if you are lucky, whale watching. This beach combines natural beauty with maritime heritage. It really does have everything you would want from a beach. Panoramic ocean vistas, mesmerizing sunrises, and opportunities to spot passing whales. Lighthouse Beach offers an unforgettable Australian coastal experience.
9. Anse Lazio, Seychelles
Another one of the Seychelles most famous spots. Anse Lazio is located on Praslin Island, the second largest island of the Inner Seychelles. A place like this absolutely could not be left of a list of the best beaches in the world. With its granite boulders and palm-fringed shoreline, Anse Lazio is the embodiment of Seychellois beauty.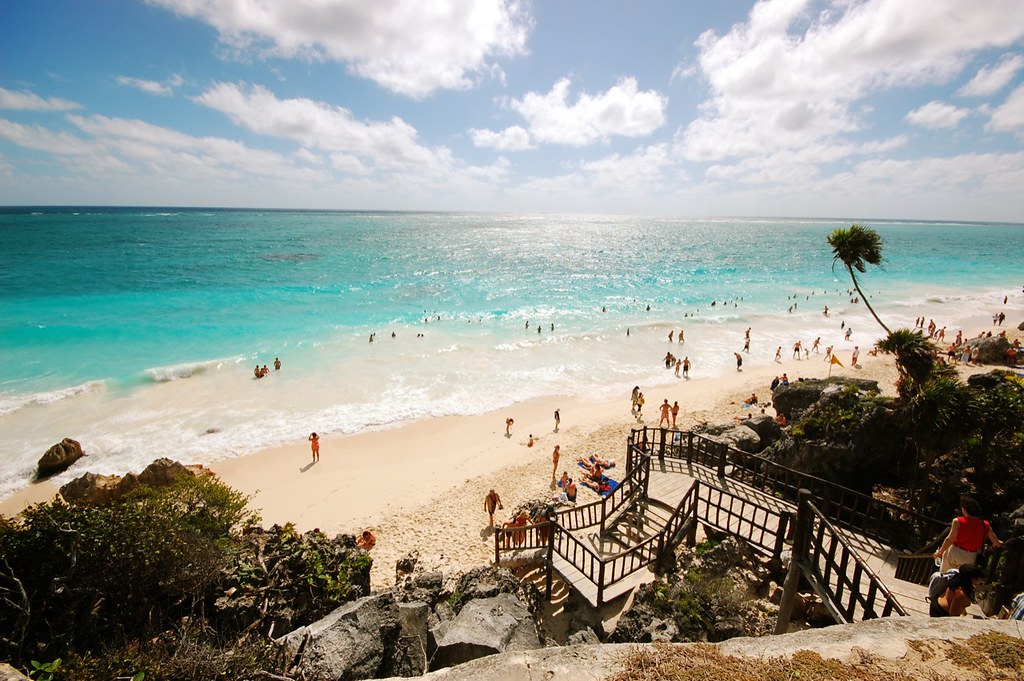 10. Tulum Beach, Mexico
Tulum might just be the most famous beach in Mexico. It is a bohemian paradise with its white sands, ancient ruins, and swaying palm trees. If you love history, try Tulum. If you love the lost world stories of Edgar Rice Burroughs or H Rider Haggard, this is for you. What could be better than a beach with dilapidated stone castles along its shore for those of a fantastical imagination? And you simply more visit the castle ruins that overlook the coast. They are mysterious, magical, macabre, and magnificent.
11. Champagne Beach, Vanuatu
Probably the most far flung place in any list of best beaches in the world. Champagne Beach is named after the bubbles you will see all along the shore. These are formed by volcanic activity, as Vanuatu is part of the Pacific Ring of Fire. This beach offers pristine white sands and clear waters. And it being in Vanuatu, it is a unique location and one of the most isolated and pristine.
12. Seven Mile Beach, Cayman Islands
The name says more than you might realise. Seven Mile Beach is quite literally the entire western coastline of Grand Cayman, the largest in the island group. Those who named it were a little over zealous though, as the beach is closer to six miles. But worry not, there is plenty there to enjoy. It offers a stretch of pristine white sands and very calm waters. It is perfect for swimming and beach front relaxation.
13. Praia Dona Ana, Portugal
Nestled between golden cliffs, Praia Dona Ana is a postcard-worthy location. And it captures the essence of the Algarve's natural beauty. Its unique rock formations, clear waters, and is a moment away from a huge number of restaurants and cafes. Make it one of your must-visit destinations if you are exploring the southern coast of Portugal.
14. Pfeiffer Beach, California, USA
California will appear a few more times before our list is done. It is undoubtedly the best mainland US state for coastlines and boasts some of the best beaches in the world. Pfeiffer Beach, nestled along the rugged coastline of Big Sur, California, is a true gem of the Golden State. Known for its dramatic beauty and iconic keyhole rock formation, this beach offers a unique and awe-inspiring experience. Its powdery purple sand is created by manganese garnet particle and this sets it apart from other beaches. Meanwhile the crashing waves of the Pacific Ocean provide a soothing soundtrack to your visit. Pfeiffer Beach is a sanctuary for nature lovers, photographers, and holiday goes. It is perfect for those seeking a tranquil escape in California's stunning natural landscapes.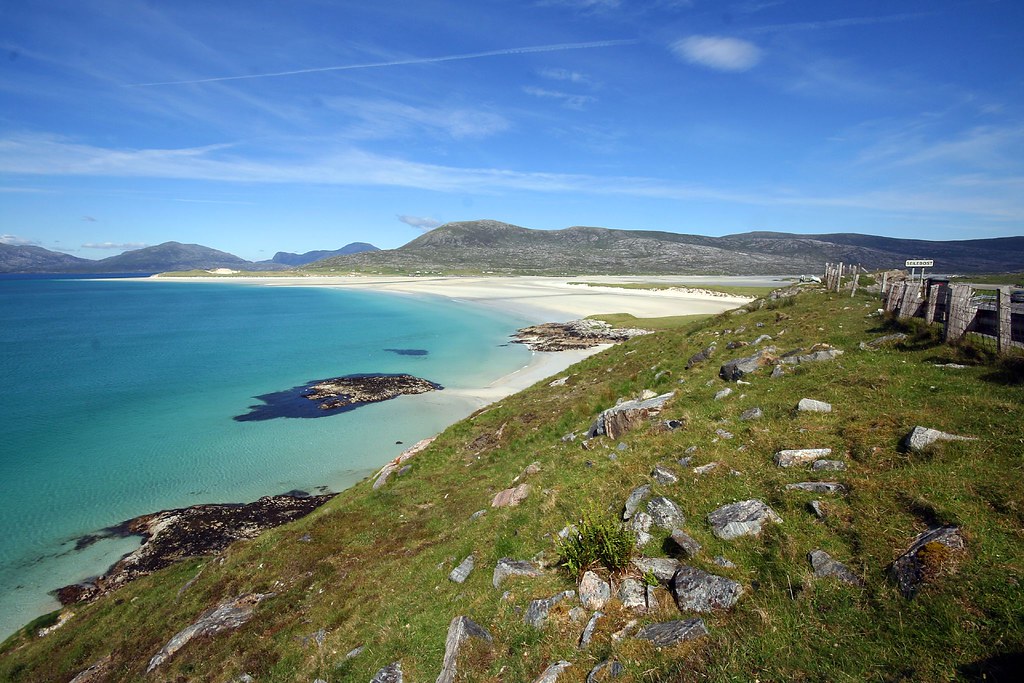 15. Luskentyre Beach, Scotland, United Kingdom
It might surpise you to see Scotland on the list of best beaches in the world. But if you see Luskentyre Beach for yourself, there will be no confusion. Liskentyre is situated on the Isle of Harris in Scotland's Outer Hebrides. It is a breathtaking coastal paradise. With its pristine white sands and clear turquoise waters, it's like a tropical oasis, despite its Scottish location. Stretching along the western shore, Luskentyre Beach offers a sense of seclusion and tranquillity. Perfect for beach combing, picnicking, or taking in the vistas of the Atlantic and the hills of Harris. The ever-changing weather and dramatic skies add to the allure of this remote Scottish gem. It is a must-visit destination for those seeking the natural beauty and serenity of the Scottish Highlands.
16. Banana Beach, Thailand
Thailand is our second most listed destination, with five entries, just after Australia's six. Accessible only by boat, Banana Beach is located on the island of Phuket, Thailand. It is a tropical haven renowned for its natural beauty and vibrant atmosphere. With its powdery white sands and the warm Andaman Sea, this beach offers a perfect blend of relaxation and adventure. The lush greenery surrounding the shoreline provides shade and a sense of seclusion. Banana Beach is a popular destination for water sports enthusiasts. Visitors can go snorkelling, paddle-boarding, and banana boating. Perhaps something to do with the name. The beachside restaurants and bars offer delicious Thai cuisine and refreshing cocktails. Whether you're seeking tranquillity or excitement, Banana Beach delivers the quintessential Thai beach experience.
17. Flamands Beach, St. Barts
Flamands Beach is nestled on the island of St. Barts, and it is a true Caribbean gem. It features soft, powdery sands, crystal-clear waters, and a tranquil atmosphere. This idyllic beach is ideal for relaxation and water activities. It is one of the most calm and peaceful locations on our list. With its scenic beauty and inviting seas, Flamands Beach offers the perfect tropical escape for sun-seekers and nature enthusiasts.
18. Devil's Bay, British Virgin Islands
Devil's Bay, located in the British Virgin Islands, is an awe-inspiring coastal treasure. Its rugged cliffs, pristine waters, and concealed caves are truly enchanting. Perfect for adventurers, snorkellers, and those who want a little tranquil. This hidden gem is a sanctuary of natural beauty and serenity. With its striking landscapes and opportunities for exploration, Devil's Bay calls to those in search of an unforgettable Caribbean escape.
19. Navio Beach, Puerto Rico
Navio Beach is a true coastal paradise. Golden sands, azure waters, and swaying palm trees create a tropical oasis. A haven for beach lovers, surfers, and sunbathers. This pristine stretch of shoreline offers a serene retreat from the more urban and bustling parts of the island. It is full of the best that Peurto Rico's natural beauty has to offer. With its inviting ambiance and opportunities for water sports, Navio Beach is perfect for a memorable Caribbean getaway.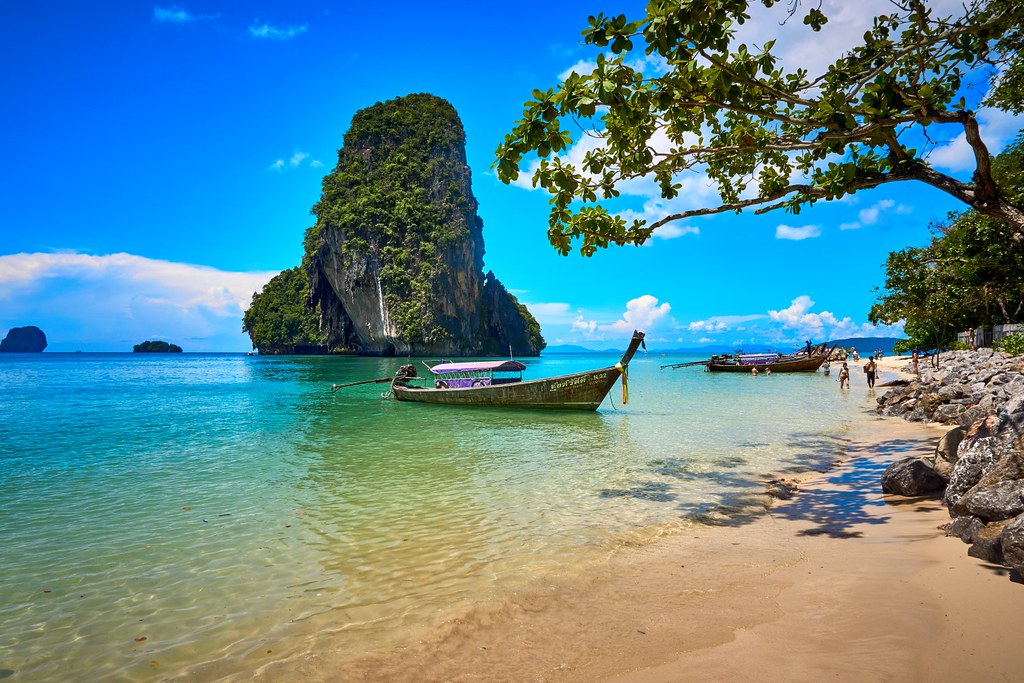 20. Ao Nang Beach, Thailand
Gateway to the stunning limestone karsts of Krabi, Ao Nang Beach is a tropical haven. White sands, turquoise waters, and limestone cliffs, all typical Thai backdrops. Perfect for relaxation, water activities, and sun-soaked moments. This beach provides a tranquil escape amid nature's grandeur. With its striking scenery and diverse leisure options, Ao Nang Beach lets travellers experience the magic of Thailand's coastline.
21. Punalu'u Beach, Hawaii, USA
Punalu'u Beach in Hawaii is a unique coastal wonder. Jet-black sands, coconut palms, and sea turtles all in one place. It is ideal for beach combing, wildlife watching, and cultural immersion. This beach offers a blend of natural beauty and Hawaiian traditions. With its volcanic backdrop and encounters with oceanic wildlife, Punalu'u Beach promises a memorable Hawaiian experience.
22. Ipanema Beach, Brazil
Ipanema Beach is an iconic coastal gem. White sands, vibrant culture, and stunning sunsets create an electric atmosphere. Perfect for beach-goers, music enthusiasts, and scenic strolls. This beach blends natural beauty with Rio's vibrant spirit. With panoramic views of the Two Brothers Mountains, and lively beachside culture, Ipanema Beach is Brazil in a nutshell.
23. Phra Nang Beach, Thailand
Phra Nang Beach is an enchanting coastal paradise. Fine sands, emerald waters, and limestone cliffs define its allure. Ideal for sunbathing, rock climbing, and exploring caves. This beach seamlessly merges nature's wonders with Thai mystique. With its mystical Princess Cave, breathtaking sunsets, and crystal-clear seas, Phra Nang Beach offers a captivating Thai beach experience.
24. Shark Bay, Australia
Shark Bay is a national heritage site that boasts some stunning colours and hues. All of the Australia coastlines offer some form of sea life or another. But with Shark Bay, you can an artist's palette to go with it. It boasts a unique combination of red sand, turquoise waters, and burning earthy cliff sides. This beach is sheltered a little from the mainland too, so it feels like a true hidden gem.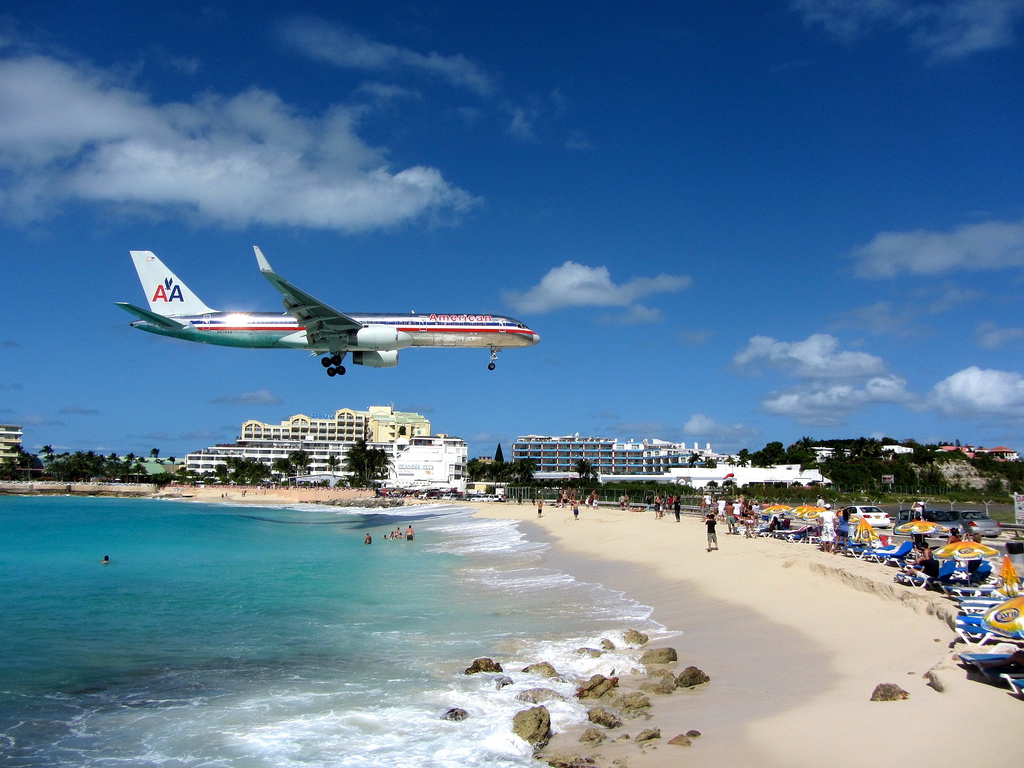 25. Maho Beach, St. Martin
Certainly one of the most curious entries on our list. Maho is famous for the strangest and yet one of the most exciting reasons. Planes fly just a few metres above your head, and land a stone's throw away. It isn't somewhere you want to spend all day, perhaps, although the landings are infrequent enough. It is a unique and  thrilling experience to sit on the beach here, though. So if you visit St Martin, make a trip to Maho Beach, for a unique blend of relaxation and thrills.
26. Hanauma Bay, Hawaii, USA
A protected marine life conservation area, it is teeming with sea life. The beach is a kind of cove, so it is calm and sheltered. It is shallow too, so you can swim across a large array of rocks and corals. It is almost like a seaside park made by Mother Nature to show off her aquatic creations. Hanauma Bay is perfect for snorkelling and seeing an array of tropical sea life.
27. Anse Cocos, Seychelles
Accessible via a scenic hike, this remote beach take a little getting to, but its worth it. There are some stunning views on the hike alone. But once there, you have one of the most pristine beaches in the world. The most interesting part of Anse Cocos is its natural swimming pool. An area protected from the sea by granite rocks, forming a miniature lagoon. It offers some stunning scenery, pure and untouched beauty, and a peaceful escape.
28. Sharm El Naga, Egypt
Sea life is the watchword when visiting Sharm El Naga. It is a snorkeller's and Scuba diving paradise. Known for its coral reefs, vibrant marine life, and clear waters, this place is the Red Sea incarnate. The coast line is long and clear and sandy too. So if you are exhausting from plunging into the waters, relax on the beach itself. It is a scorching and arid one, so it is cool under the shade and the heat is not stifling.
29. Baia dos Porcos, Brazil
Despite translating to "Bay of Pigs", it has no relation to the historic location you may be thinking of. Baia dos Porcos is more famous for its turquoise waters and stunning views than any event. The beach is nestled in an array of volcanic rocks that protect it from the worst of the ocean waves. They are also stunningly beautiful in their own right. Volcanic outcroppings are some of the most striking features you can find on a shoreline. And at Baia dos Porcos, they are numerous and gigantic.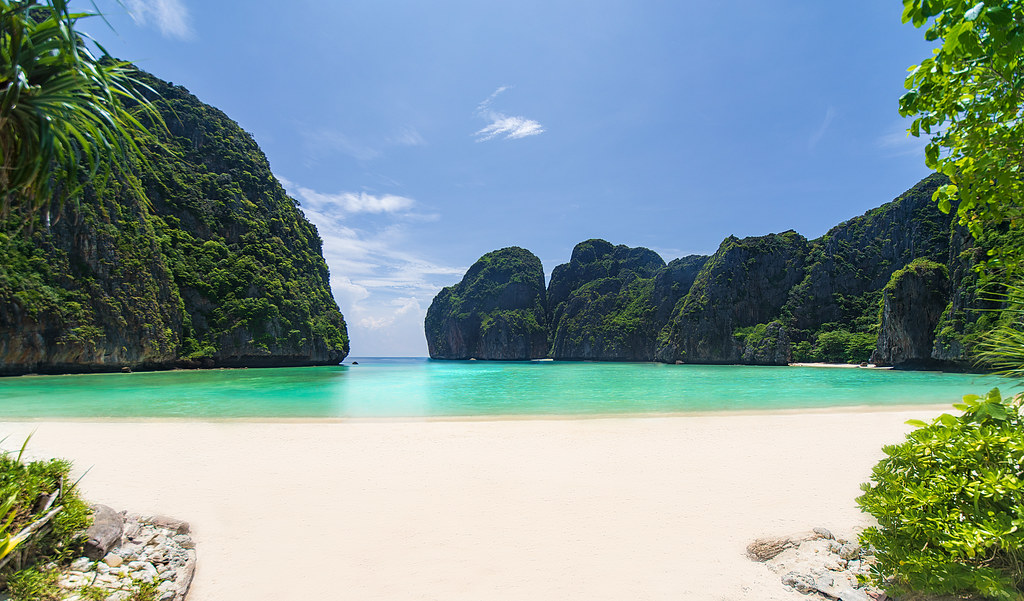 30. Maya Bay, Thailand
A more sheltered and hidden beach you shall not find anywhere on Earth. This location was made famous by the Danny Boyle film The Beach. And it is not hard to see why it was chosen. The plot of the film revolves around a secret commune of like-minded people. They want to find a location that has two key qualities. Seclusion and pristine wilderness. Maya Bay has both. It is a national park and has remained completely free from the influence of the man-made. This stunning bay is surrounded by lush cliffs and clear waters. It is practically immune from the harsh ocean weather and storms from the sea. If you want to feel like you have time travelled to a period before humans lived, here is your destination.
31. Limnara Beach/Kermia Beach, Cyprus
Located on the island of Cyprus, this Mediterranean beach has gorgeous emerald waters and a rugged coastline. The sandy beach consists of a small bay and rock pools at the edges. But the sand itself is not rocky, quite the opposite. If you like soft powdery sand, then this beach is perfect. It's a quiet, peaceful place just a short walk from the Cape Greco National Park. Please note, due to the multiple languages on Cyprus, it is sometimes referred to as Limnara, sometimes Kermia.
32. Honopu Beach, Hawaii, USA
Gigantic mountains behind, wide open spaces in front. Honopu is a stunning and contrasting sight to behold. It is accessible only by boat, or a challenging hike, but it is well worth it. This beach offers pristine sands and a sense of seclusion, thanks to a few soaring cliff faces and archways. It is, however, quite wide open and faces the ocean readily. This means lots of sun and fresh air and crashing waves to feast your eyes on.
33. White Bay, British Virgin Islands
This beach is one of the most vibrant in the Caribbean. It is home to the famous Soggy Dollar Bar, probably the best place for rum cocktails in the Virgin Islands. The beach itself is popular but not overcrowded. It is, like much of the Caribbean, the very definition of the word chill. Will plenty of eateries and shops, and room to stretch out and relax too. It is a fantastic spot for relaxation and beach-front parties.
34. Emerald Beach, Okinawa, Japan
This beach is located on the small Japanese island of Okinawa. Emerald Beach is not one of the best known beaches in Okinawa. It is often overlooked on the list of best beaches in Japan. But one look at Emerald Beach, and you'll wonder why it hasn't acquired more attention. The tropical destination features sunny, warm days year-round and glittering waters with white, sandy shores.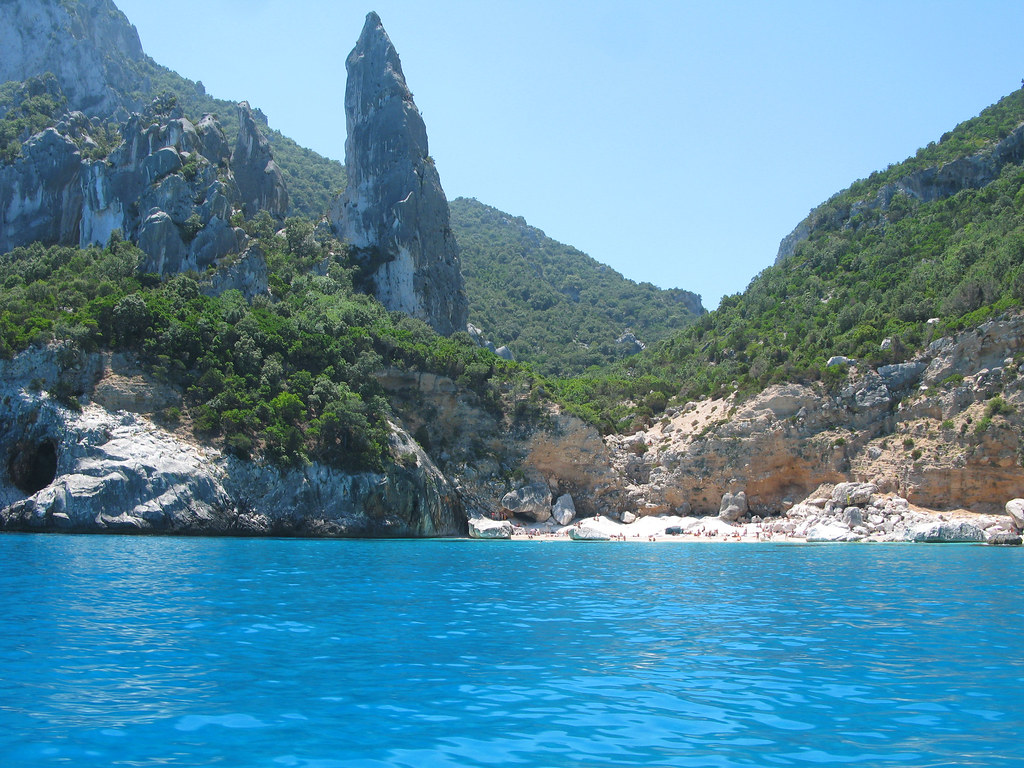 35. Cala Goloritzé, Italy
What a sight to behold. A hidden gem in Sardinia, this beach is known for its limestone column most of all. It is an "aguglia", which means "needle" in English. The sight is stunning, and it really creates a domineering and yet welcoming feeling as you rest of the sand. The other thing that Cala Goloritzé is known for is its gentle and pristine waters. If you have not visited Sardinia, but like Italy, it is the much more affordable and much more rural option. With great seafood and beaches like this, it should be the top of your list for an Italian visit.
36. Waikiki Beach, Hawaii, USA
Waikiki is like Miami, but in Hawaii. Both are world-famous stretch of sand with an urban sprawl of tall hotels and apartments in their backdrop. In this case, it is the eponymous Waikiki neighbourhood in the rear view mirror.  Speaking of the backdrop, another amazing sight is the iconic Diamond Head volcano. It is the perfect mixture of urban and tropical nature in one location.
37. Dueodde Beach, Denmark
A 19-mile long beach of crashing surf and pine trees makes up the underrated Dueodde Beach. Located in Denmark, it is one of our most northerly beaches. While it may be far from the tropics, the beach offers the same peace and tranquillity. The fine sand of the brilliant white beaches are lovely to stroll along in the Danish summer. It is a season warmer than many might think. This, combined with the views and peaceful atmosphere are something very special.
38. Indian Beach, Oregon, USA
Cannon Beach is probably the best known beach on the West Coast. But if you want a break from the crowds but the same arresting beauty, head to Indian Beach. You start by driving through Ecola State Park. Eventually, the spruce trees open up to a quiet and peaceful beach. It is a slice of sunny and sandy California surrounded by deep and dense woodland. And on top of that, there are tide pools and other little curiosities dotted around. They all work to create a feeling of a real undiscovered treasure.
39. Tokeh Beach, Sierra Leone
Located in Sierra Leone, it is one of the few suggestions from the coast of West Africa. But this area of the world offers a number of coastal sanctuaries. Tokeh Beach is a slice of paradise backed by lush green mountains. The dense foliage of the coast contrasts with intense sapphire blue waters and white sand. Tokeh is peaceful and dream-like and a very relaxed experience, and one we highly recommend.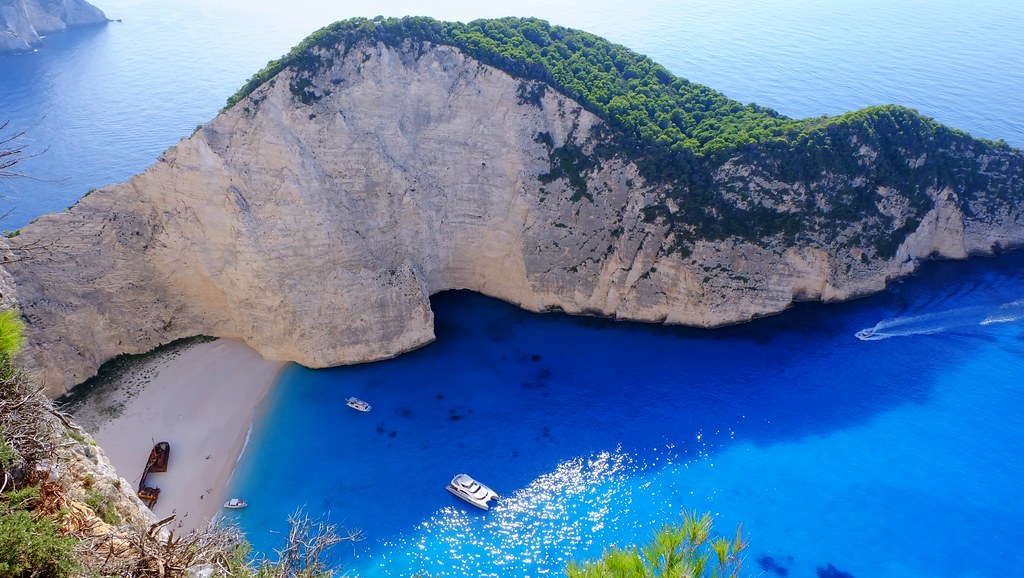 40. Navagio Beach, Greece
This spot is a very interesting one. Navagio means "shipwreck" in Greek. The reason? It is home to the stranded remains of a mysterious ship. The vessel is named the Panagiotis. The funny part is, no one quite knows why it is there. Believed to be a smuggling vessel in its last years, the would-be pirate ship was run aground, maybe on purpose. Its crew likely abandoned the vessel, with the maritime authorities in hot pursuit. There it sits to this day. The beach itself is just as beautiful as its iconic feature is interesting. The golden sands and towering enclosing cliffs are both striking. It is among the most enclosed and secluded beaches for our list. Fantastic for privacy as it once was for piracy, Navagio is peaceful and beautiful and simply fantastic.
41. Seitan Limana/Stefanou Beach, Greece
Mykonos and Santorini reign supreme for well known beaches in Greece. However, if you're looking for something just as beautiful without the tourists, visit Seitan Limania/Stefanou Beach. It is a little difficult to get into the beach proper. You access it through a descending rocky path on foot. But at the bottom of this jaunt, you are treated to the emerald waters of a lovely cove. You will also be surrounded by rock formations for one of the most secluded places in Greece too.
42. Anakena Beach, Easter Island
A true paradise of a location. It is one of our most remote spots too. It is best known for the Moai, the famous Easter Island head statues. They look out over the horizon and the sea in their famous contemplative and stoic way. It is easy to understand why this is one of the most unique places on our list. Where else has such icon features and points of interest? The beach itself is wide and faces the sea boldly. Anakena is every bit as intense and bracing as it is historic and cultural.
43. Cala Macarella, Menorca, Spain
Surrounded by cliffs on two sides, the protective rocks give this Mediterranean spot an amazing sense of peace. To go along with this, the cove has some of the finest sands and clearest waters in Spain. It is a gorgeous spot, and a peaceful one too. We might even say it is the most desirable beaches on the island of Menorca. Quite the boast, but true.
44. Turtle Beach, Oman
Turtle Beach in Oman is a unique coastal sanctuary. Golden sands, azure waters, and nesting sea turtles create a magical setting. Perfect for nature enthusiasts, stargazers, and eco-conscious visitors. This beach is a haven for endangered green turtles and great effort is put into their conservation. With its clear night skies, serene ambiance, and opportunities to witness turtle hatchlings, Turtle Beach is unforgettable.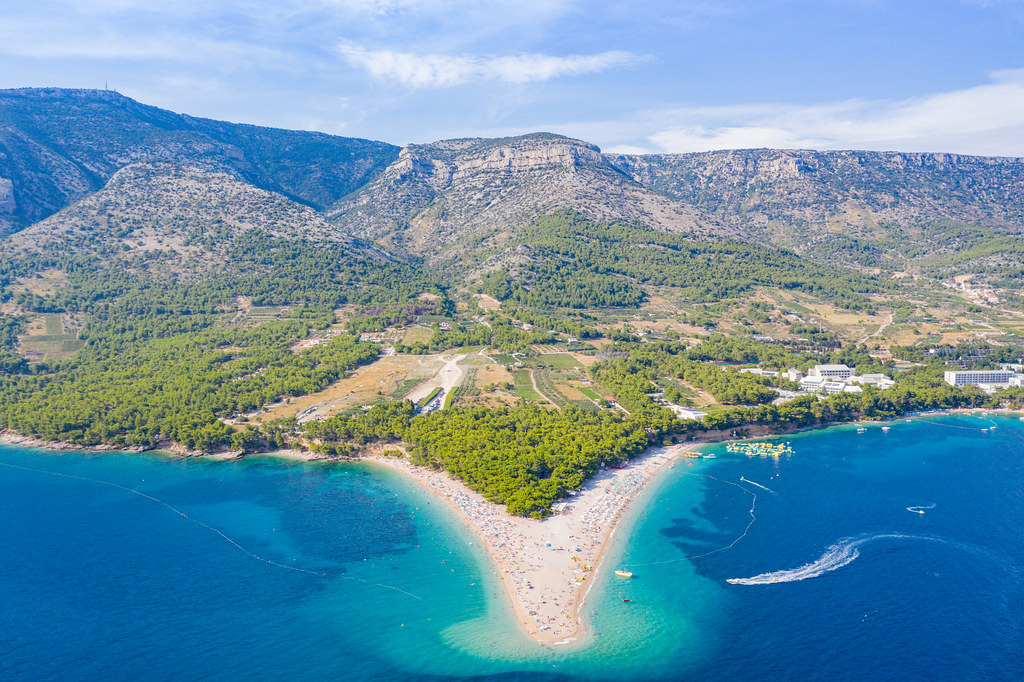 45. Zlatni Rat, Croatia
Zlatni Rat is a striking coastal wonder that looks almost man-made it is so uniform. Its unique shape, pebbled shores, and clear blue waters captivate visitors. It is ideal for windsurfers and those who want to get out on the water itself. With its surrounding pine forests, panoramic views, and diverse water sports, Zlatni Rat has so much. It offers an exciting and picturesque experience that is helping make Croatia an ever more popular holiday destination.
46. Elafonissi Beach, Greece
Elafonissi Beach in Greece is a Mediterranean marvel. Pinkish sands, azure waters, and idyllic dunes are all enchanting. Perfect for families and nature lovers. This beach transforms changes colours depending on the sunlight and time of day. Elafonissi Beach has rare plant species, shallow lagoon, and unspoiled natural beauty. It offers a serene and captivating Greek island experience.
47. Playa del Carmen, Mexico
Playa del Carmen has powdery white sands and dazzling waters. It appeals to relaxing beach goers, to shoppers, and those who want a little nightlife too. This beach is a hub of activity, culture, and natural beauty. Quinta Avenida, a bustling shopping strip, is right near by. It's also a short walk to beach clubs, and to ancient ruins. Playa del Carmen is where very different world's collide.
48. La Pelosa Beach, Sardinia
La Pelosa Beach is a pristine retreat with a Spanish tower backdrop. The historic Aragonese Tower sits firmly on a coastal rock, setting a picturesque scene. Like Tulum, it has that historic and mysterious element that sets it apart form just sun and sea. But worry not, it still has snorkelling, sunbathing, and great sea views too. With its unspoiled charm, La Pelosa Beach shows us all what Sardinia has to offer.
49. Glass Beach, California, USA
Glass Beach in California is a pretty unique place. It is covered neither in sand or pebbles, but beads of sea glass make up its shores. What is sea glass? It is literal glass that ended up in the ocean rather than being recycled. But thanks to erosion and weathering, the glass has turned into smooth rocks. It is not sharp or dangerous at all, but very beautiful and coloured. Old green beer bottled make up emerald looking glass beads and the clear one shimmer and catch the light. This beach is a testament to nature's ability to transform debris into beauty.

50. Reynisfjara Beach, Iceland
We have included a few cold weather beaches on our list. But don't be shy about that. They can be every bit as fun to visit and explore. Reynisfjara Beach is one of them. It has black volcanic sands, basalt columns, and powerful waves. All of this comes together to give Reynisfjara a stark beauty. Perfect for explorers, photographers, and nature admirers. With its puffin colonies and nearby sea stacks, it has a mystical and otherworldly aura.
51. Nacpan Beach, Philippines
Nacpan Beach is almost perfect when you look at it. Cutting a large swatch of sand into the sea, it is uniform like a gentle brushstroke. Perfect for swimming, sunbathing, and beach volleyball Nacpan is a secluded paradise away from the larger crowds. It actually boasts twin beaches, so if one becomes too crowded, head to the other for an equally amazing experience.
52. Anse Intendance, Seychelles
Anse Intendance in the Seychelles is like a picture from a postcard. It is totally pristine with the softest sands and the most bright blue waters. It is also nestled in dramatic cliffs create that create a dizzying backdrop. This beach is a haven for nesting turtles and surf enthusiasts. With its huge granite boulders, diverse marine life, and unspoiled serenity, Anse Intendance has so much in a tiny place.
53. Cala Comte, Ibiza
Cala Comte is in Ibiza, a name that immediately sums up certain imagery. But worry not, it is loud and over the top. Much of Ibiza is a real oasis. This part of the island is especially all about the beaches. Cala Comte has golden sands, crystalline waters, and rocky coves. But if you did go to the island for a little nightlife, worry not. There are still beach parties and a lively atmosphere too. It has some nearby beach clubs, some stunning panoramas, and warm Mediterranean vibes. Cala Comte is a perfectly balanced Ibiza experience.
54. Flaherty's Beach, Australia
Flaherty was recently named Australia's most beautiful beach by one of Australia's biggest news channels. And they are right, Flaherty is really something. This hidden slice of coastline near Point Turton has it all. Blindingly bright white sands and perfectly temperate water. Its shallow waters make it ideal for swimming and for fishing too. And if you have a 4×4, you can even drive down the beach.

55. Hidden Beach, Mexico
Located in a hidden cave on the Marieta Islands, this sandy enclave is about as sheltered as you can get. Perfect for adventurers, snorkellers, and privacy seekers. This beach is accessible only by boat or tunnel, making it never too crowded. With the surrounding Marieta Islands, rich marine life, and sense of mystery, Hidden Beach is unique. It is one of the most mysterious and thrilling Mexican beach locations.
56. Rhossili Bay, Wales, United Kingdom
You may have been surprised with a Scottish entry in the list of best beaches in the world. But you may be even more surprised with this one. That isn't to say Wales doesn't have great beaches. Just that they are often subject to the dastardly British weather. Not all beaches offer year-round perfect weather conditions for sunbathing and swimming, but that doesn't make them any less gorgeous. Such is the case for Rhossili Bay. It has a three mile long stretch of extra wide beach. At low tide, an entirely special view is revealed. The bones of a shipwreck and the tidal island of Worm's Head. It is vast, sweeping, dramatic, and bracing. The perfect compliment to the British Isles themselves.
57. Las Salinas, Ibiza
Las Salinas, like the above entry for Ibiza, is even more of a break from the nightlife of the island. It still has a few fun night spots around, and this beach has a lively vibe to it. It has plenty of places to relax, go for something to eat, or get a cocktail nearby. But it always has plenty of nature present, with its dramatic salt flats and Balearic scenery. Las Salinas might be the best of the Ibizan beaches.
58. Jolly Beach, Antigua
We hesitate to say Jolly Beach is one of the busier Caribbean beaches. That would make it sound like it is over crowded, but worry not. It is the home to many resorts, but all nicely spaced out and secluded. So if you want a luxury all inclusive holiday. Jolly is a popular choice for families and beach enthusiasts. With its calm seas, friendly beach bars, and unspoiled serenity, Jolly Beach offers a relaxed Antiguan holiday spot.
59. Furore Beach, Italy
Located on the Amalfi Coast, Furore is sometimes called "the town that doesn't exist". It is among the smallest beaches on our list. A tiny slice of sand situated right in the middle of a fjord. A very strange and unique situation for a beach to find itself in. But that is part of the appeal. The hovering bridge provides sea views and a look over the beach too. A short walk down some steps and you will reach the small strip of sand. If you're feeling brave enough, you could even indulge in the local sport. Cliff jumping. We cannot recommend this, as we are no experts on extreme sports. But if you know what you are doing and are experienced, you can lands in the clear waters below.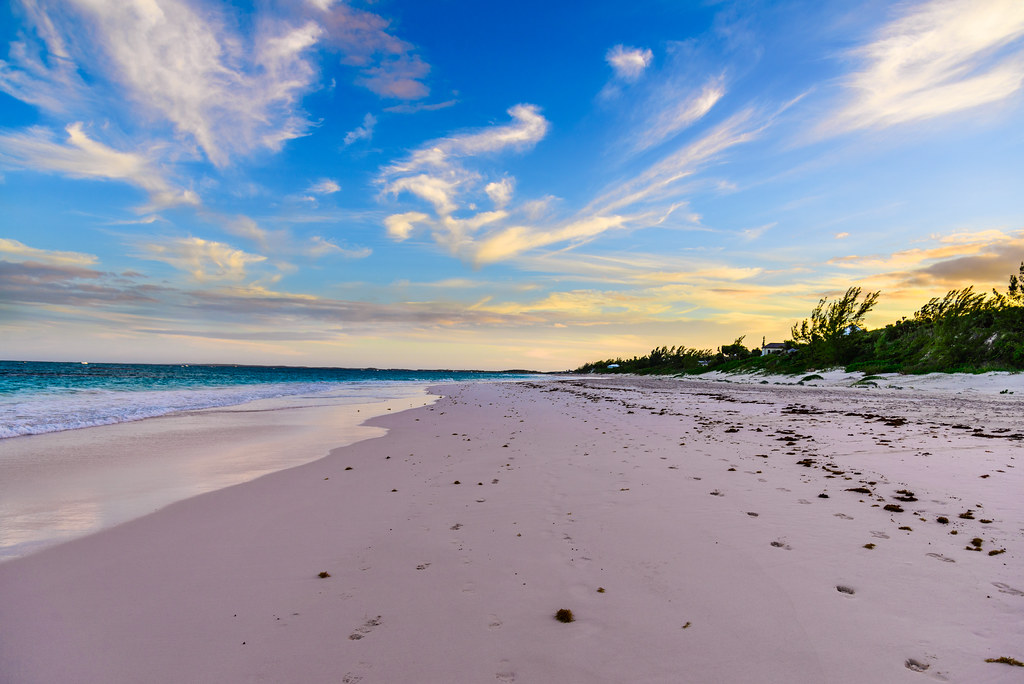 60. Pink Sands Beach, Bahamas
It looks almost photoshopped, doesn't it? Well that is Pink Sands Beach in the Bahamas at its most natural. The colour comes from microscopic sea fauna. They process the minerals on the beach and leave behind only certain types of sand that they cannot eat. Its pinkish blush-hued sands and turquoise waters make it seem like something from a postcode or a vision of heaven. The Bahamas takes great care to make sure this beach remains pristine. Pink Sands is a gentle, lovely, charming, and peaceful location, in a nation island known for its peaceful beauty. A true Caribbean gem.
61. Sharm El Luli, Egypt
Sharm El Luli is more about what is under the water than what is outside of it. Don't get us wrong, it is a gorgeous beach too, but the sea life is why you would go there. Perfect for snorkelling, diving, and relaxing, Sharm El Luli is a haven for marine life enthusiasts. This is partly the Red Sea's natural boast of great marine specimens. But it is also because of the shallow waters across most of the beach. This means that is is great for beginners as snorkelling or skin diving in shallow waters is much less challenging. With its remote location, colourful marine life, and untouched beauty, Sharm El Luli is perfect for aquatic adventurers.
62. Tropea Beach, Italy
Tropea Beach is in Calabria in southern Italy, and it is a captivating coastal gem. It is an unusual shape and structure, and features dramatic cliffs and outposts. But it is also well settled and close to the nearby town. It is historic and it is vibrant with a wonderful atmosphere. It has nature and the man-made in perfect balance, too. The Tyrrhenian Sea in one direction and the Santa Maria dell'Isola Monastery in another. And of course, you cannot walk for five minutes without running into delicious Calabrian cuisine.
63. Radhanagar Beach, India
Indian beaches are often very busy. Both with the large population of India and with the many tourists that visit each year. But with Radhanagar Beach, this stereotype is not the case. Radhanagar is a pristine coastal marvel. Its soft white sands and lush greenery make it a true Shangri-la. This beach is renowned for its serenity and nearby wildlife and jungle backdrop. Perfect for nature lovers.
64. Baia dos Golfinhos, Brazil
Baia dos Golfinhos translates to "Dolphin Bay" and that is because of the amazing marine spectacle in its waters. Its dolphin sightings alone create a magical atmosphere. But it is ideal for relaxation and taking in the jungle backdrop too. Baia dos Golfinhos is not too busy, but not abandoned either. It offers a lively and picturesque Brazilian beach experience and is one of the best spots in the nation.

65. Skeleton Coast, Namibia
Easily the most daring destination of this list. It is also not a real beach goers beach either. It is a stretch of coastline that is almost totally wild, that covers the northern most coast of Namibia. Worry not, it isn't named for some kind of mortal danger you may encounter. Instead, it is called Skeleton Coast due to the large number of shipwrecks that have washed ashore there. One is pictured above. It is famed for its safari and photography opportunities, thanks to its unspoiled wildlife. You can even see lions roaming across the sands, if you are lucky. But with little in the way of infrastructure, it is a long way from a hotel to see the place. This is the black sheep of our list, as it is the least holiday friendly destination. Only venture out here if you are a born adventurer.
66. Pink Beach, Komodo, Indonesia
Another pink sand beach, this is the Pink Beach in Komodo, Indonesia. Although this one has a slightly different explanation behind it. The unique coloured sands are not just created by oceanic bacteria. Instead, they are created by red coral fragments that have been smoothed by the ocean waves. This beach offers a stunning and surreal experience. In different lights it can look more pink or more traditional.
67. Playa Manuel Antonio, Costa Rica
Playa Manuel Antonio in Costa Rica has a very interesting shape. It has a hammerhead shark looking shape, meaning there is a dual beach where there should ordinarily be one. It is a magical enough experience on its own and a gorgeous sight to behold. But then comes the wildlife. The beach lies within the Manuel Antonio National Park, known for its rich biodiversity. Costa Rica takes its national parks very seriously. It has nearby trails, diverse fauna, and breathtaking scenery. Playa Manuel Antonio offers you a perfect slice of Costa Rican beauty.
68. Tofino Beach, Canada
Tofino Beach seems to be custom made for adventurers and nature lovers. Perfect for those who want to be out in the wilderness. It has consistent surf and the perfect waters for sport. Tofino also has a backdrop of temperate forests, with bracing and confronting weather. It is the wild and savage beauty of the Great White North in one coastal location.
69. Patnem Beach, India
Patnem Beach is located in South Goa, and it is one of the least populace beaches in the region. Its a true haven for relaxation. Perfect for practising your newly acquired, or perhaps your more advanced, yoga and meditation skills. This beach has a very laid-back atmosphere and unspoiled beauty. But we wouldn't say it is totally abandoned either. With plenty of close by restaurants and amenities, a beach like this strikes a perfect balance.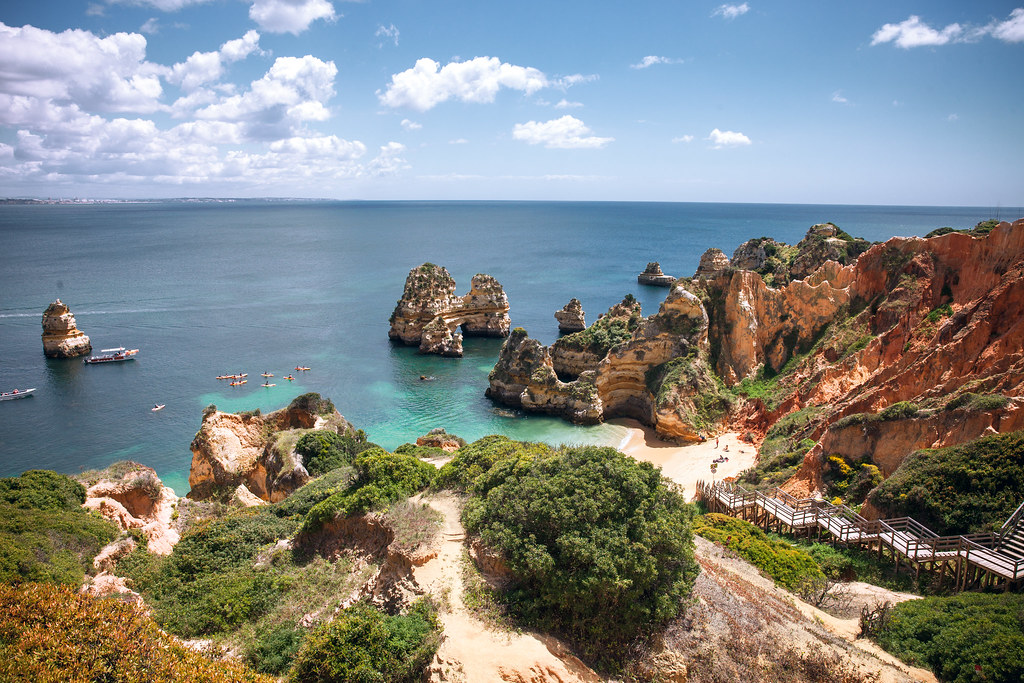 70. Praia do Camilo, Portugal
Praia do Camilo in Portugal is a stunning and sheltered retreat. Its rugged cliffs create a pretty dramatic but also picturesque landscape. This beach is famous for its secluded coves, so it is perfect for small parties of people or solitary travellers. The charming wooden boardwalks tell you just how secluded it is. It also shows you how many cliffs there are for those who want to go on a cliff-top walk. It also has breathtaking views of the Atlantic Ocean and gentle sea breeze thanks to its nestled location. Praia do Camilo offers a captivating and tranquil experience.
71. Santa Monica Beach, California, USA
Santa Monica Beach is pretty darn famous. It is one of the busiest beachest on the list, but by no means the most tiring or dizzying. It has a lively pier, wide swathes of sand, iconic palm trees, and the vibrant Los Angeles backdrop. Perfect for sunbathing, rollerblading, and people-watching. And if you have visited Los Angeles before, this last one is a wild ride all by itself. This beach is famous for its amusement park rides, street performers, and bustling promenade. With its beachside cafes, historic pier, and entertainment options, Santa Monica Beach is California in just 3.5 miles.
72. Cannon Beach, Oregon, USA
Cannon Beach is in Oregon, in the Pacific North West of the US. Like much of this area, it is a breathtaking and haunting coastal haven. Its wide sands, dramatic sea stacks, and scenic surroundings make it a favorite among nature lovers. Perfect for beachcombing, hiking, and photography. This beach is famous for its towering Haystack Rock and lush coastal rainforests. And what is more, it is near some charming towns, art galleries, and wildlife viewing opportunities. Cannon Beach is serene and stunningin equal measure.
73. Shell Beach, Australia
The Aussies really are laconic with their words. Shell Beach is named so for its sands not being sands at all. Something to do with currents and location means it is covered with endless white shells. All from sea creatures that no longer need them that have been washed ashore right on the beach. It is perfect for shell collecting with small children and for seeing something truly unique from Mother Nature.. And what is more, the nearby Hamelin Pool has the bizarre but unique stromatolites with their otherworldly ambiance. Shell Beach offers an unusual and fascinating visual experience.
74. Praia do Sancho, Brazil
Praia do Sancho is another curved crescent moon beach. This makes it a geeat sheltered area with clam emerald waters anddramtic cliffs on each side. This beach has become famous for its secluded location. That may be something of a paradox, but don't worry. Its fame hasn't reach such ddizzying heights that it is a toruist trap. It is also known for its spectacular marine life. With its dramatic cliff accessand vibrant coral reefs, Praia do Sancho is a place that can captivate you for hours.

75. Playa de las Catedrales, Spain
Playa de las Catedrales is like something from a fantasy novel. Huge arches and stacks of rock that create the most dramatic cliffs. It is something your can really marvel at and take your time in apprecaiting. It is also in Galicia, a location in Spain known for its magnificent food. Spend the day at the beach and then head inland for the best beef you have ever tasted. Spain has long been a destination for travellers for all manner of reasons. And this is as good a combo as any.
76. Porto Katsiki, Greece
We have talked a lot about dramatic cliffs in this list, but this one really takes the cake. Or should we say, takes the baklava. This is one of the most sheer and dramatic looking cliff fronts on the list. It means the beach is narrow and quite small, so it never gets super over crowded. Small beaches are so intimate that when they even get half full, you feel you are too close to others. So boldly venture out onto the sands, which are only accessible by stone steps down the coastline. Stake your spot for the day and you will find a perfect balance between privacy and friendly neighbours. Oh and don't worry, the steps are further down the coast. So they aren't anywhere nearly as dramatic or frightening as you might imagine.
77. Grand Anse, St. Lucia
Grand Anse is on the rockier eastern coast of St. Lucia. In fact, the beach is so underrated, it's referred to as St. Lucia's "forgotten beach." It shouldn't be though. It is calm and serene and really made for relaxation. And it is surrounded by the rocky coastline. That means it is silent and no noise from other beaches will interfere with your afternoon nap. Grand Anse has a good bit of jungle behind it too. So it offers an adventure for thsoe who have relaxed a little too long.
78. Daytona, Florida, USA
There's no lack of great beaches in Florida. It makes our decision on thebeast a litte tough. But there are a few obvious contenders that stand out. Daytona is world famous. It might just be the most famous beach in the States. And for good reason. You have everything Florida has to offer in one place. The beautiful coastline. The warmth and humidity. The subtropical wildlife. The fasty paced and affordable amenities. Amazing food and plenty of it. And the attractions that only Flordia has like its amusement parks. And as if we would forget, it is the home of the world famous Daytona Speedway. Put on your ball cap, get a hot dog, and go watch a fast paced race. Then head down to the beach for sunset.
79. Eagle Beach, Aruba
There is a reason Aruba was in the lyrics to that one Beach Boys song. It is a getaway like no other. A long public beach with many resorts on it, it has still maintained its tranquil feel. This is by only having low rise buildings dotted along it. It feels lively but not busy. Full of vibrancy without being dizzying. And it is still has superb natural attraction too. Warm water, powdery sands, amazing sealife, and a feeling only the Caribbean can give you.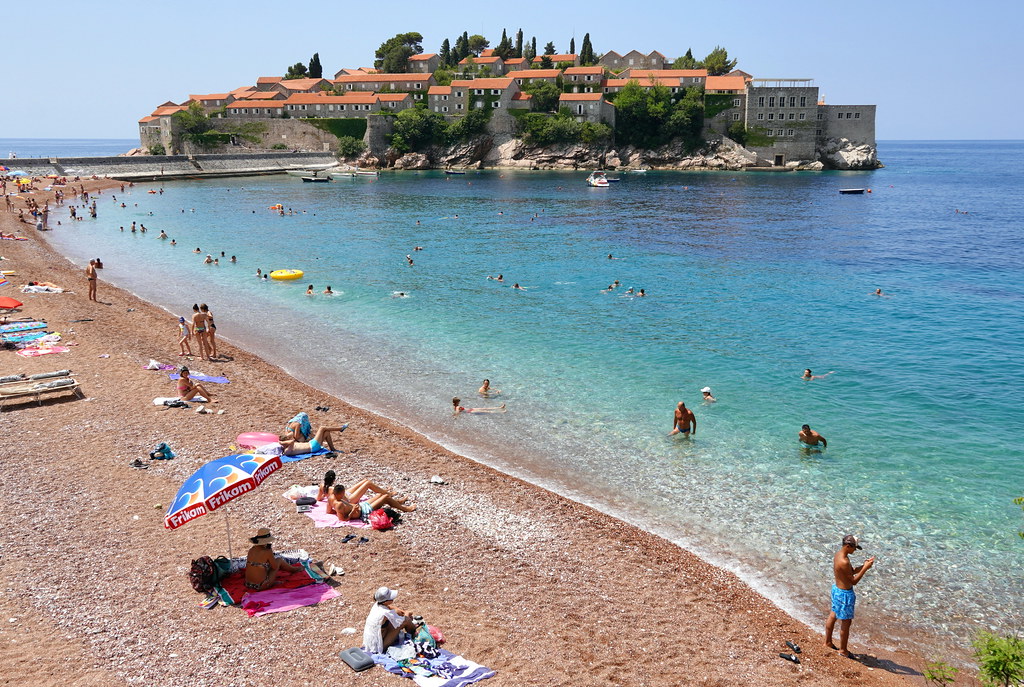 80. Sveti Stefan, Montenegro
Sveti Stefan is one of the most unique configurations of any beaches in the world. It is a pebbly beach, which is not for everyone, be we suggest you try it. The historic islet means for a backdrop to your day that might only be seen in a Bond film otherwise. Perfect for history enthusiasts and luxury seekers. What was once a medieval fishing village is now a high-end resort. With its clear waters, charming red-tiled roofs, and old-world charm, Sveti Stefan is old European charm incarnate.
81. Otto Beach, Nicaragua
Little Corn Island is about as natural as you can get. The island itself has no cars, no roads, or really any infrastructure beyond walking paths and a few structures. Instead, you are suppose to explore the island, take in the calm atmosphere, snorkel, and enjoy the coves. The whole island is an array of beaches really, but Otto Beach is the single nicest. It is clam and easy going, the very picture of a tropical holiday destination. You can enjoy a little coconut, get a cocktail, stretch out on the beach, and forget your troubles.
82. Anse Georgette, Seychelles
Anse Georgette is a little like Otto Beach too. A real picture postcard of a beach. The difference here is, it is attached to much more infrastructure and conencted to some lovely resort destinations. Anse Georgette is all the tropical paradise, but with the ease and quality of luxury hotels too. The Seychelles really speak for themselves. They are the upmarket and upscale for those that want the best trip abroad possible. But don't get us wrong, Anse Georgette isn't just about a resort. In fact, the beach itself is not attached to a resort at all. It is a public, so you can stroll from wherever you are staying and enjoy the picturesque beauty.
83. Pampelonne Beach, Saint Tropez, France
Pampelonne Beach is located in Saint Tropez on the French Riviera. This settlement might just be one of the most exclusive in the world for holidaying. The town itself is tiny, with a population of around 4000 people. But it is all set up around the tourist industry to create an idylic and exclusive vacation experience. That makes it one of the most lovely and stunning destinations in Europe. The main beach in Saint Tropez is a long arcing one called Pampelonne. It may be one large beach but it isn't crowded or overly busy. The quaintness and picturesque beauty of the town of Saint Tropez is reflected in its main beach. Sophisticated, refined, relaxed, elegant, and gorgeous.
84. Grand Anse, Grenada
Grenada is said to be one of the most beautiful of all the Caribbean islands. It is also one of the most underrated. And Grand Anse is a small-ish beach on the island too, but similarly underrated. It is one of its most beautiful spots in the world and yet one of the quietest. Sugar-white sands and a cool ocean breeze are the for any traveller to enjoy. And all this on the Caribbean's least talked about island nation.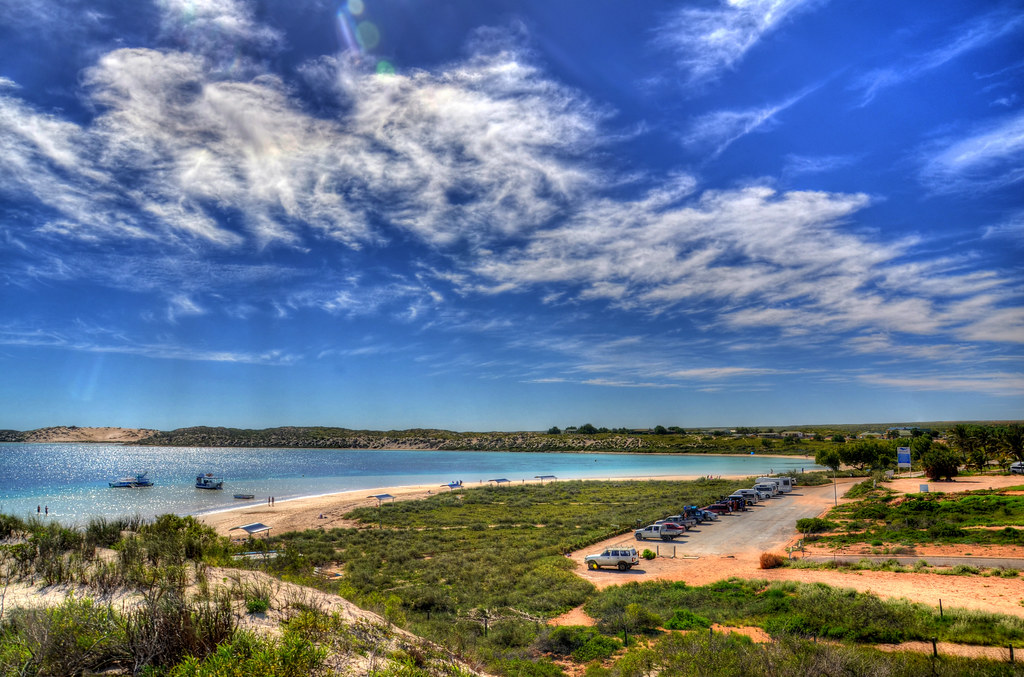 85. Coral Bay, Western Australia
Coral Bay in Western Australia is all about what's under the water. The beach is lovely and relaxing, but its the ocean itself that people love. Sting rays and coral and every other example of exotic sea life can be found at Ningaloo Reef. If you snorkel or scuba dive then there are few places better than the Great Barrier Reef itself in Australia. And if you get bored of the water, there are quad bikes and sand sdune adventurers that await.
86. Polihale Beach, Hawaii, USA
Polihale Beach is what you are likely thinking of when you think of Hawaii. It is all about pure golden sands, crashing surf, towering volcanic mountains, and living without a care in the world. Polihale is on Kauai, one of the smallest of the main islands. It is among the most gorgeous and the most serene too. Kauai has a nice balance of local cuisine and chilled nightlife, and the breathtaking natural wonders of the island.
87. Praia dos Nativos, Brazil
Praia dos Nativos is quite a bit further away from the well known sandy bars of Rio and Sao Paulo. It is more rurala nd unspoiled, but not without nearby restaurants and nightlife. Local markets and friendly hawkers are nearby, but are never too busy or too pushy respectivley. But once you are on the beach proper, you will see what the Brazilian coastline can offer. It is just north of the Reserva Extrativista Marinha do Corumbau, a maritime national park. So not only is the beach quietly beautiful, but the water is teeming full of life. It is one of the best places in South America for scuba diving.
88. Camps Bay, South Africa
Cape Town is often said to be one of teh world's most beautiful cities. It has some magnificent beaches, but Camps Bay may take the cake. It is Cape Town's most popular beach, and it is an urban beach too. That means it has part fo the city behind it. A little different to what we normally go for, but a welcome change. But worry not, it isn't the city itself, but a small neighbourhood of homes and shops. Behind that is Table Mountain and the Twelve Apostles Range, and then just around the corner is Cape Town itself. That means you get the urban expereince like Miami, without having the huge towering buildings behind you. It is perfect for a little seculsion from the city, without leaving it entirely. And it is not a day trip, so you are still close enough for a day of infamous shark diving.
89. Baia do Sancho, Brazil
Baia Do Sancho takes us back to brazil, but is there any wonder? The place has so much to offrer. This beach is situated on the remote island of Fernando de Noronha. The island sits in an active volcanic archipelago. That results in the soil is mineral rich and the jungle foliage is blooming and bursting with life. The island is over 200 miles off the coast of Brazil, so it is a holiday destination all by itself. Emerald waters, soft white sands, colossal cliffs, and wildlife galore, both the land and the ocean kind. The beach can only be reached by boat or by foot on a trail. And you msut pass through a rock wall crevasse. It is like some hidden treasure, because that is precisely what it is.

90. Second Beach, Washington, USA
Second Beach is second in name only. It is a first rate site for setting up camp for the day and enjoying nature. It can only be accessed via a scenic hike that leads you along switchback stairs. Then you will reach the rugged Olympic Coast. Olympic is the right word too, it is epic in every sense. Make the effort to reach Second Beach and you will be treated with the sight of seals and bald eagle. What is more, the iconic sea stacks and the arch are hauntingly beautiful in the mist. The whole beach has a kind of stark wonderful beauty that only the Pacific Northwest can give you.
91. Ngapali Beach, Myanmar
Ngapali Beach is located in the oft-forgotten South East Asian country Myanmar. It constantly misses out on recommendations from it more famous contenders for beach holiday spots in the region. Mostly Thailand or Vietnam. But Myanmar is a superb choice too. Ngapali is a long and straight sand bar with tropical palms and smaller quiet resorts dotting its landscape. It is as warm and balmy like the neighbouring Thai beaches, but significantly less crowded and less orientated towards nightlife. So if you want South East Asia without so many backpackers and party goers, then here you go. This pristine and affordable location is exactly what you need.
92. Railay Beach, Thailand
But Thailand has its secluded nature spots too. Railay Beach is just breathtaking when it come sto showing off Thailand's natural beauty. Railay is amazing with its ocean stone stacks and its tropical jungle backdrop. We have mentioned pictures and postcodes before, but we should really have not cried wold too soon. This is the real stereotypical location on our list. Railay is teeming with great sea life, surrounded by amazing food, is affordable. And is one of the most peaceful and friendly places on Earth. If you are going to the travellers Mecca that is Thailand, you have to find a great beach. And if you have time for only one, make it Railay.
93. Coffee Bay, South Africa
Coffee Bay is located pretty much in the middle of nowhere. Between Cape Town and Durban, Coffee Bay is an isolated part of South Africa. But that just makes this beach almost uninhabited, but with all the natural beauty of a South African coast. That is no small boast. This country maybe has a claim to the top five when it comes to beaches. If you are travelling up and down the country, Coffee Bay is ideal to stop off at. Travelling through South Africa is usually all about the vineyards and wine tours. So drive along, have lunch in a gorgeous spot, and pick up a bottle of wine. Then head on down and enjoy it in Coffee Bay. Perfection.
94. Hollywood Beach, Miami, USA
Not to be confused with the Hollywood in Los Angeles where the movies are made. Miami's famous Hollywood Beach is basically the thing you see in your mind when people say "Miami". Pink and blue buildings lining a long stretch of road. Classic vehicles and sports cars cruising up and down. Neon signs and a warm sunset. It is almost like a scene from that one crime drama from the 80s. Miami is stylish beyond belief, and its beaches live up to this. A long stretch of city-facing sand that has yoga, volleyball, food stands, music, and vibrant Floridian life. It is everything you want in this world famous city all in one spot.

95. Nungwi, Tanzania
Nungwi is as much about nature as it is about local culture. You will find Tanzanians building their traditional dhow boats along the shoreline that is keeping local traditions alive. Nungwi is also home to the Zanzibar Kilosas Conservation Zoo. So you can see the beauty of southern African wildlife up close. Of course, the sea life is still there for you to enjoy in its natural setting. Nungwi is located on the island of Zanzibar, just off the mainland. So the sea life comes from the deeper ocean. More large marine animals and a great variety of them await snorkellers or scuba divers.
96. El Nido, Philippines
El Nido in the Philippines is like something from an adventurer novel. You might expect to find Long John Silver himself on a beach life this one. Huge palms, towering beach cliffs, the sound of all manner of mammal and bird. It is all here. But it is probably the claming pirate lagoons that are most atttractive and gorgeous. The wholoe string of islands are paradise, but El Nido is the most picturesque. There is little in the way of infrastructure too, so peach and quite is guaranteed.
97. Bahia Honda, Florida, USA
How could we mention Daytona and Miami, but not bring up the Florida Keys? And Bahia Honda is idylic even for the Keys, the small chain of islands of the southern coast of Florida. Worry not though, this is not a suggestion that comes with a catamaran trip or some other undertaking. The Keys are connected to the mainland by a bridge. So you can drive the rental car that every visitor to Florida acquires straight to paradise. The beach is easy to find and accessible. And this being the United States, everything you need is a minute away. beautiful Cuban cuisine and soul food abound. Sweet and sour tropical cocktails cannot be avoided. And the most gorgeous location in the American South is everywhere you turn.
98. Le Morne, Mauritius
This si the first and only time we mentioned Mauritius on our list. That might seem like a travesty to some. But even with 100 entries, there is never enough room for everything. Luckily, Mauritius is small, so one perfect beach may be enough to capture its beauty. If you must see only one, make it Le Morne. It is basically perfect. We have not ordered our list by best to worst or vice cersa. But on this occasion, we did save a particular favoruite for late on in the list. This beach is renowned for its world-class golf courses and luxury resorts. It has crystal waters and sand so white you would think it were snow. And if you like to go scuba diving then coral reefs and ocean life abounds under the water too. Whilst Mauritius is a more expensive holiday destination, it is most certainly worth it.
99. Muri Beach, Cook Islands
If you want precisely what we just described above, but in a differnt ocean, here you are. Muri is in the South Pacific rather than the Indian Ocean, on the Cook Islands. Muri Beach is spectacular. It is basically one large lagoon. The waters are kept from crashing upon the shore by a natural underwater barrier. This makes it calm and amazingly serene. And being on the Cook Islands, it is just picturesque. Dazzlingly bright and vibrant with the greenest greenery and the bluest sky and the whitest sands. If you thought Mauritius was tiny, then think again. This is among the smallest group of island on the planet, and the most remote. It is perfect for the lover of nature and getting away to a place of total peace.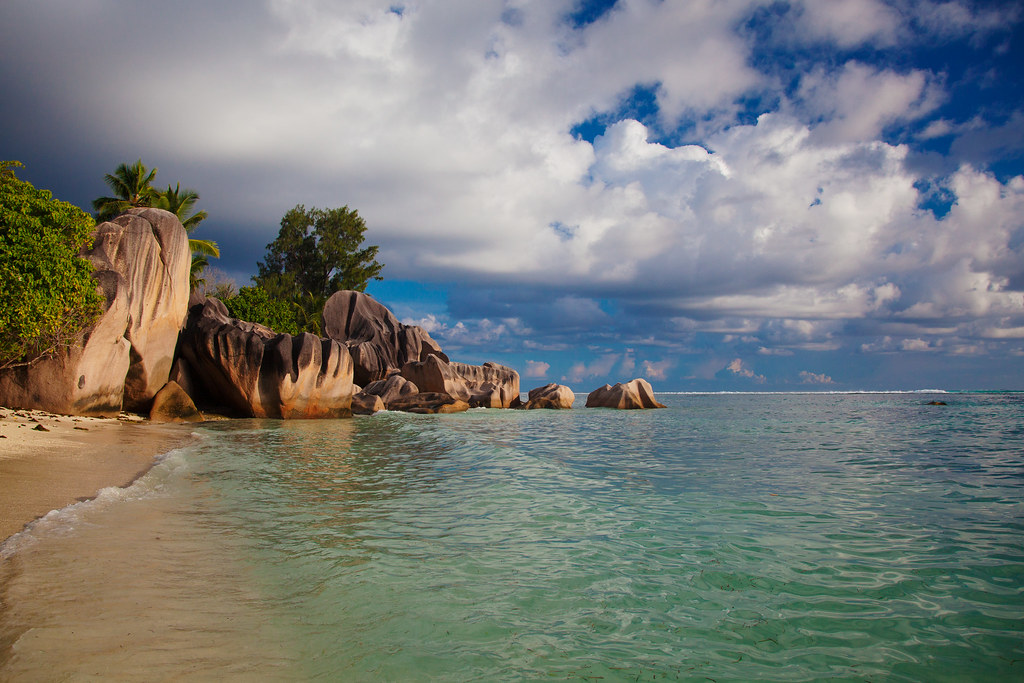 100. Anse Source d'Argent, Seychelles
Anse Source d'Argent is the Seychelles' most famous beach. To say that is an accolade all by itself is an understatement. These islands have more great beaches than there are hours in the day to name them. But Anse Source d'Argent stands out. This stunning spot is like something from a film set. In fact, it may have been used once or twice for exactly that. This beach is pristine and breathtaking. The locals take painstaking care to keep their beaches beautiful and in perfect shape. But really, it is Anse Source d'Argent itself that projects its beauty effortlessly. You cannot become tired of soemthing this beautiful and perfect. We said before that we haven't made this list a build up to the best. But here we are again, saving a particular favoruite for last. If you must visit any one beach in the world, make itthis one.
So Which Of The Best Beaches In The World Will You Visit?
We have gone from the azure waters of the Caribbean to the dramatic cliffs of the Mediterranean. Our list of the 100 best beaches in the world offers an unparalleled range of experiences. Every type is listed, every climate covered, every taste addressed. These are ideal for beach lovers and adventurers alike. Whether you're seeking relaxation, water sports, or exploration, each of these destinations promises a unique slice of paradise. We cannot tell which one to go for, you have to know for yourself what you want. But with all these great locations, there is bound to be at least one for you. So, start planning your bucket list trip now, and you will find your own paradise one of these beaches.
Where To Go Next
We have plenty of other travel articles to read here at UK Swimwear. So, why not check them out over at our travel articles section? And of course, you will need to find some swimwear for your trip to any of these destinations. So see our range of gorgeous swimwear right here and find something you truly love.
You May Also Like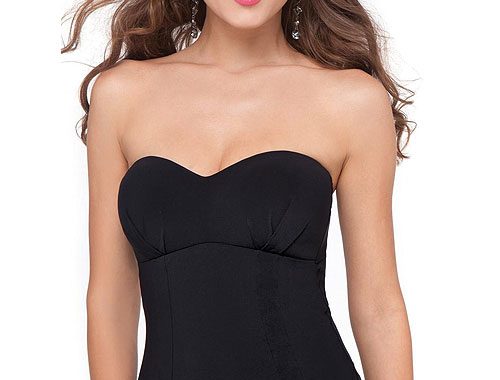 15 January 2014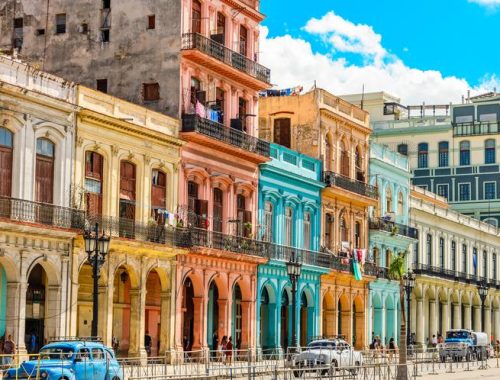 31 October 2022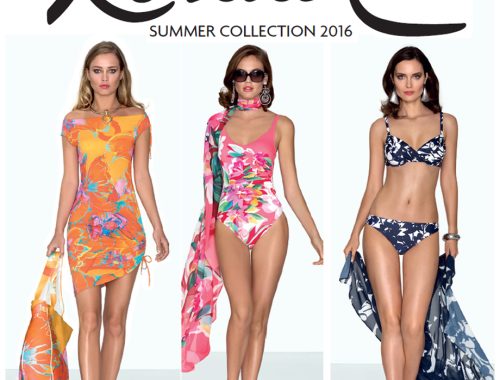 2 December 2015