Miraclesuit 2019 Swimwear Preview
6 September 2018
If you ask anyone at UK Swimwear what's the best brand for tummy-control swimwear, the most common answer is going to be Miraclesuit. We love it. Customers love it. Whoever tries Miraclesuit loves it. Is Miraclesuit UK Swimwear's No.1 of tummy-control swimsuits then? Yes, it is as simple as that. As you can imagine, we live the arrival of all the new styles at the beginning of each season with a dose of excitement. We can't wait to share the news with you. Are you ready to discover what new Miraclesuit 2019 swimwear styles we have ready to buy at UK Swimwear?
Most flattering swimsuits in theMiraclesuit 2019 swimwear collection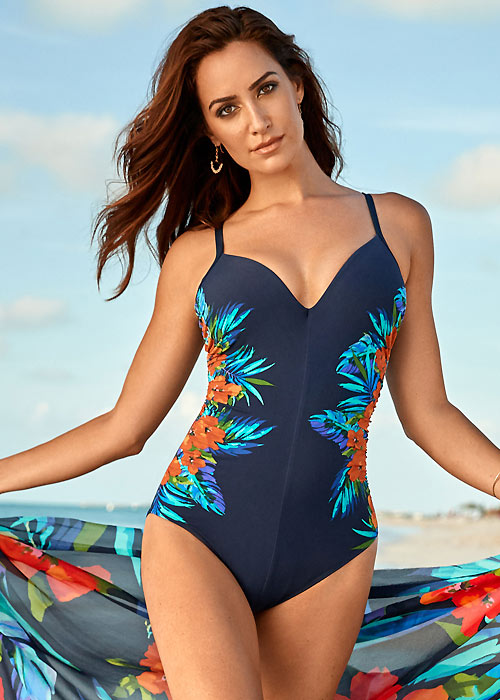 We have two favourite styles this season, the first being the floral-printed Miraclesuit Samoan Sunset Temptation Swimsuit in the picture above. This is the Miraclesuit swimwear UK Swimwear's customers usually ask for the most; the Miraclesuit's signature style that ticks all the options below:
A heart-shaped neckline
Supportive underwire cups
Adjustable straps
Tummy-shaping effect
Hip-smoothing effects
Flattering print for a silhouette-shaping look
What else can you ask in a swimsuit?
Well, maybe you can ask for a seductive animal print. Just like our second favourite swimsuit in Miraclesuit 2019 swimwear preview. Just look at how flattering it looks!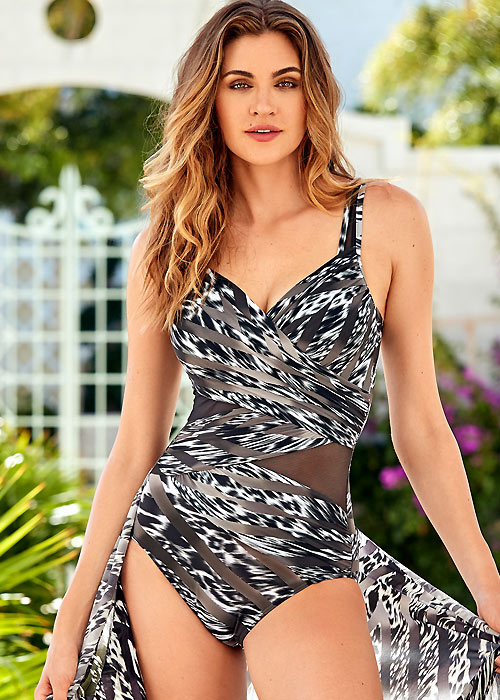 You cannot tell it by the picture, but this style has a built-in underwire hidden in plain sight. What you can see and admire is the lovely combination of a monochrome animal print, with a reminiscence of a leopard print, and diagonal ombre stripes. And what do you say of the sheer panels? This is utterly seductive! Still, as every single style Miraclesuit does, it comes with built-in shapewear, to minimise any humps and bumps.
Why buying Miraclesuit swimwear in Autumn?
Or should we say why wouldn't you think of buying Miraclesuit swimwear in Autumn? Miraclesuit has decided to bring forward its collection for popular demand. Thanks to this, buying women's swimwear for cruises and sunny beach breaks in Autumn is easier than ever before!
You can take advantage of a Miraclesuit swimwear sale!
While we have a dozen new Miraclesuit 2019 swim styles, Autumn is a great time of the year to find a bargain in our Miraclesuit sale section. The elegant Miraclesuit Suit Yourself Ansonia Swimsuit, for instance, is £30 Off at the moment of writing this post, while the Miraclesuit Between The Pleats Palma Swimsuit has a discount of £40, which is an offer you cannot let go so easily!
Miraclesuit swimwear's sister brands
Did you know Miraclesuit has two sister brands? Two seasons ago, Miraclesuit created Miraclesuit Miradonna, which includes elegant swimwear and beachwear with tummy-control features. Amoressa swimwear joined the Miraclesuit family ahead of the 2018 Summer with its minimal-inspired swimsuits, also with slimming features. If you like Miraclesuit, you should check out these two brands, also ready to buy at UKSwimwear.com.
You May Also Like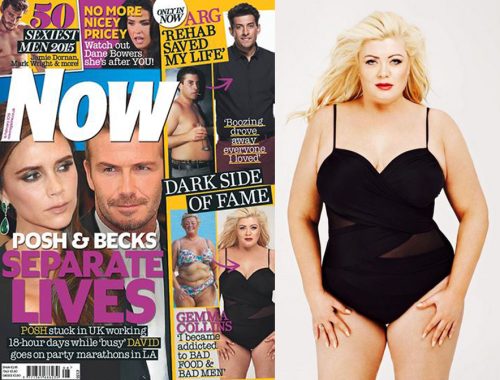 12 February 2015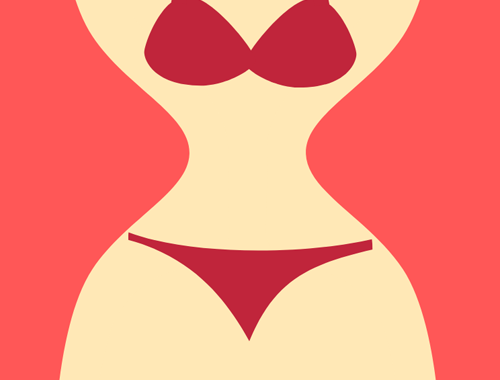 20 November 2020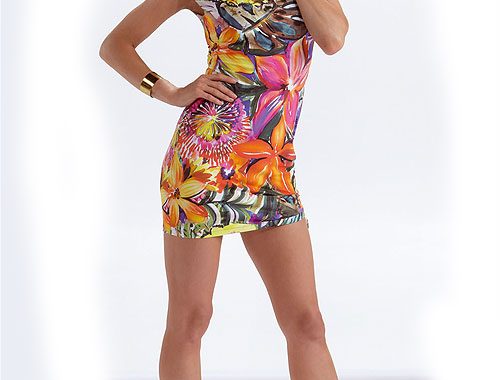 22 March 2013