2018 Swimwear Trends: High-Neck Swimwear
22 December 2017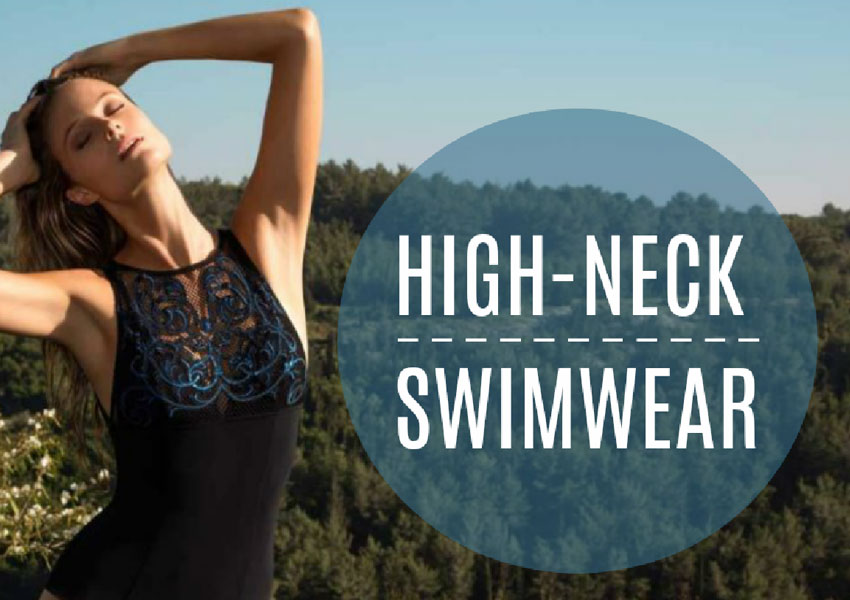 With the new year, it's time to revisit the top trends we loved in 2017. What did you love? What did you hate? It's time for us to talk about the swimwear trends you'll fall for in 2018: The low backs, the beautiful prints, the lace, the embellishments (yes, we said lace and embellished swimwear styles). After all, with so many swimwear styles to choose from, looking at fashion trends can help you make the final decision. Today we're talking about one of those swimwear trends everybody will be talking about in 2018: The High-Neck Swimwear.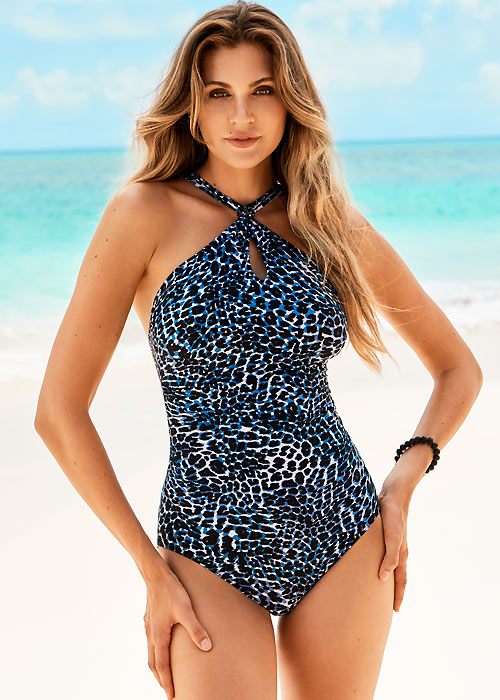 Miraclesuit goes for an elegant version of the high neck swimsuit in some of its 2018 swimwear style. Spoiler alert: it looks fab! As you can see in the picture above, Miraclesuit's high neck style it's a crossed version of a halter neck. We first saw this style in Miraclesuit's 2017 collection and we loved it. If you check out our high-neck swimwear trend edit you'll realise there are more Miraclesuit high-neck swimsuits this season, right? That should give you a clue of how much we love high-neck swimsuits.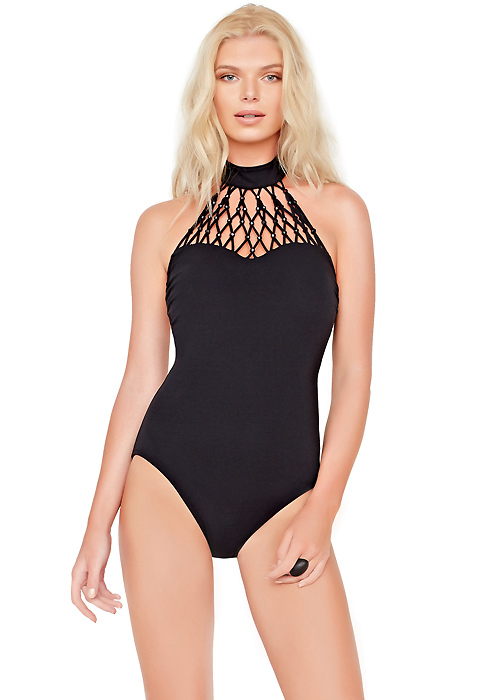 We may have started this post with Miraclesuit, but we must admit nobody does the high-neck trend as Gottex does. Profile by Gottex, Profile Sports by Gottex, Gottex Jewel Box, Gottex Couture and, of course, Gottex Cruise. Every single Gottex collection includes high-neck swimsuits and bikinis. While there's something for everyone, we simply adore high-end swimwear with high necklines. Even more when all the attention is driven to the neckline area, just like these two beautiful Gottex styles.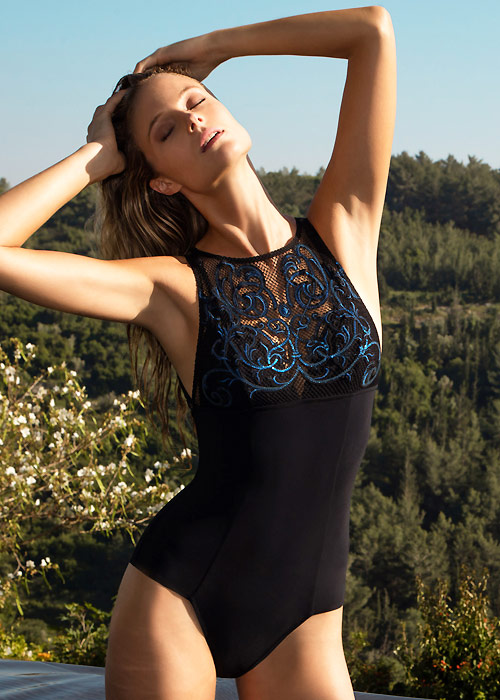 Gottex's exquisite designs are to die for, but that isn't the only swimwear brand for high-neck swimsuits. If you feel like adding a touch of elegance to your beach wardrobe, without spending too much, you also have quite a few pretty options. Just look at the style below. Isn't it a stunning red swimsuit? We welcomed Forever Unique swimwear to the company a few months ago, but it has quickly become one of favorite brands of swimwear whatsoever. The reasons? Great quality, elegant finish and good price! This red high-neck swimsuit below is part of Forever Unique 2017 collection, but there's much more to come in 2018 and, spoiler alert, you'll love it!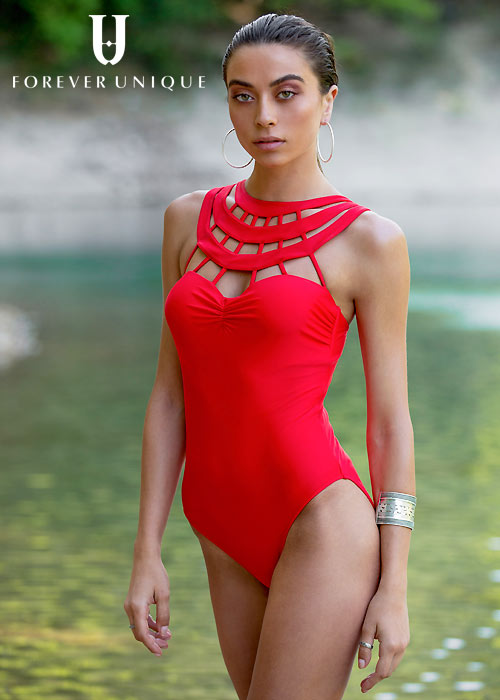 Last but not least, a special mention to one of those attractive budget-friendly brands: Phax. Just like Gottex, Phax went strongly for the high-neck bikini trend in its 2017 collection. While Phax collection included a number of gorgeous high-neck styles, choosing the best one had zero difficulties. Here you have it; our favourite high-neck bikini. Maybe the picture helped us love it so much, but you'll have to agree with this on this: this Phax high-neck bikini is pure perfection!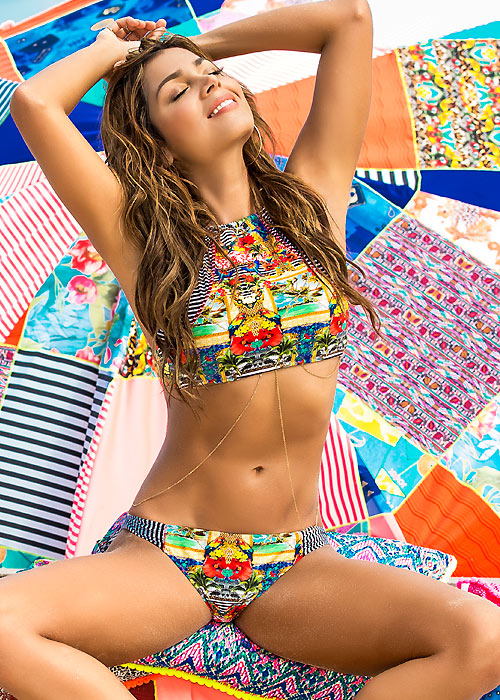 What's your favourite high-neck swimwear style?
You May Also Like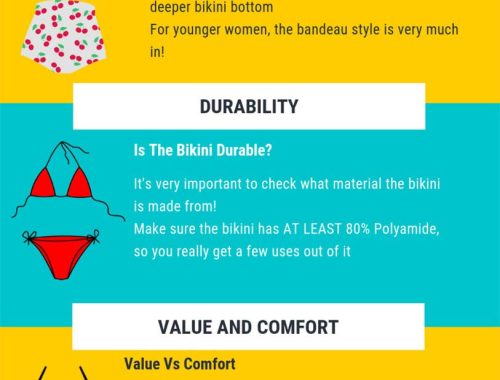 5 July 2019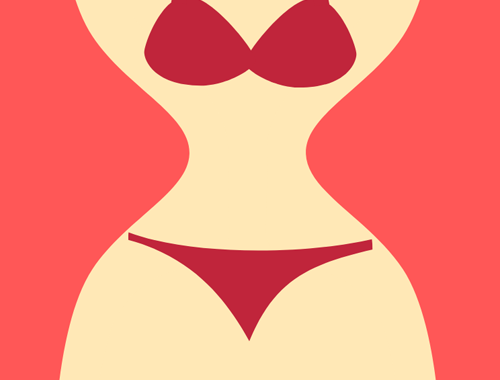 20 November 2020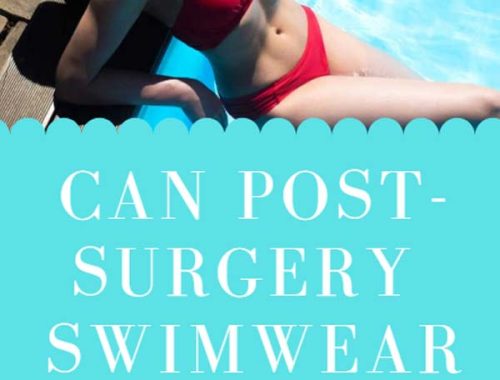 22 October 2018