Ted Baker Swimwear And Beachwear, Our Newest Brand!
21 March 2017
Today we welcome Spring and, with the Spring equinox, brand new collections come to live! We couldn't introduce you to the new Ted Baker Swimwear and Beachwear collection without saying first how excited we are of stocking this brand of luxury swimwear. We, at UK Swimwear, are huge fans of Ted Baker designs and it was about the time we started to sell Ted Baker's stunning bikinis and swimsuits. Defining Ted Baker Spring Summer 2017 Swimwear and Beachwear collection as beautiful feels like underrating it. It is simply stunning! Amazing! Spectacular! How to explain it? Well, just look at the pictures and see with your own eyes!
Ted Baker Entangled Enchantment Collection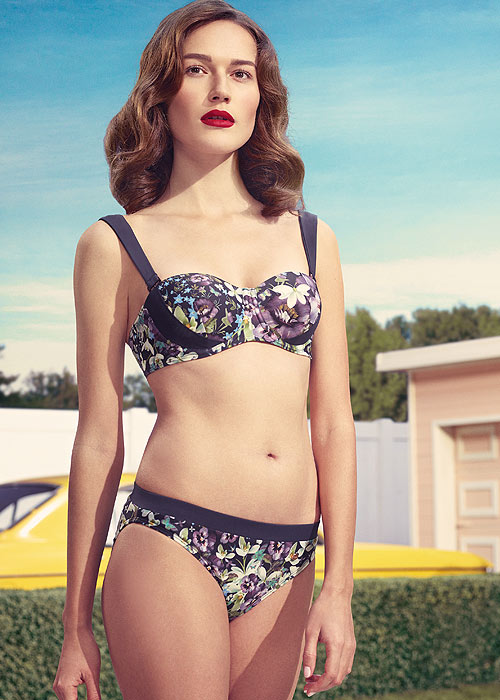 Who doesn't love a good floral print? This one by Ted Baker is truly remarkable. Even more when it comes in a lovely shell, this is a very flattering design with a heart-shaped neckline and moulded underwired cups for extra support. If you don't want any tanning lines on your shoulders, the Ted Baker Entangled Enchantment Sirinea Swimsuit is perfect for you. Straps are both adjustable and removable. If, on the contrary, you are after extra support, you can easily turn it into a racerback swimsuit.
The Ted Baker Entangled Enchantment collection includes two lovely bikini styles, a beautiful swimsuit and a lightweight sleeveless sun dress in matching floral prints. Perfect summer look!
Ted Baker Swimwear Beauties: The Signature One Piece Swimsuit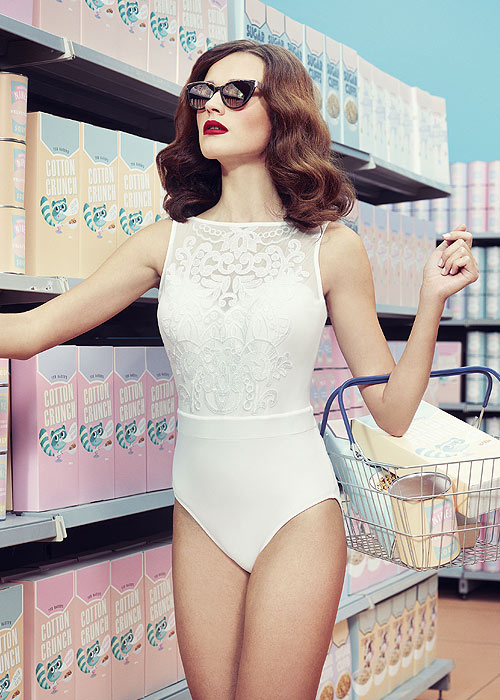 We have found that white swimsuits are a little bit like Marmite; people love them or hate them. What group are you in? We absolutely love a white swimsuit, even more now that it happens to be on trend! This is not a conventional white swimsuit, though. This is much more. The first thing you notice when taking a close look at this piece is its beautiful floral embroidery. Then, the see-through neck detail, which, in our opinion, add a touch of elegance to the swimsuit. This glamorous Ted Baker swimsuit has totally stolen our heart and it will do the same to yours!
Black or White Swimwear? While white swimwear isn't for everyone, this Ted Baker swimsuit proves that black swimsuits look amazing in all skin tones! 
Black swimsuits are always absolutely elegant and very flattering. Well, Ted Baker Laceya Lace Guipure swimsuits aren't the exception to the rule. As all Ted Baker beautiful one-piece styles, this black swimsuit says glamour. No wonder why it has already become one of the season's best-sellers. Its stunning baroque embroidery steals all the attention. However, and this also happens in its white version, it is another feature that we love the most about these two swimsuits. There's a detail you don't get to appreciate in a first look; its lovely V back line. So chic! So elegant! So well designed! That, after all, is Ted Baker's signature style.
Ted Baker Persian Blue Swimwear Collection
It doesn't feel like summer if you don't feel like wearing nautical-inspired prints. Navy and white stripes are always on trend, even more, if you are heading to a cruise or sailing the Mediterranean sea. The Persian Blueprint has a rich finish with feather-like prints, adding a touch of glamour to the whole collection. Whether you go for the bikini, the swimsuit or the matching kimono, one thing is for sure: you will manage to wear it season after season (and it will look like new all season long!).

You May Also Like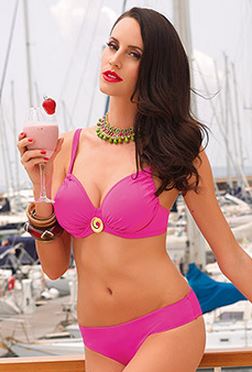 23 September 2014
6 June 2017