2017 Swimwear Trends As Seen On The Catwalks
18 January 2017
New year, new swimwear! It's never too early to think of holidays, right? Many of you may be already planning your next holidays. A few lucky ones are travelling abroad in winter, some of you surely have made plans for an Easter break. Even if you aren't planning any trip until summer, it's never too early to think about your beach outfits. We want to make it easy for you, so we have reviewed the most relevant swimwear shows. Here you have it: the ultimate swimwear guide with the top 2017 swimwear trends, as seen on the catwalks. Happy reading!
Metallic Swimwear: Gold, Silver & Bronze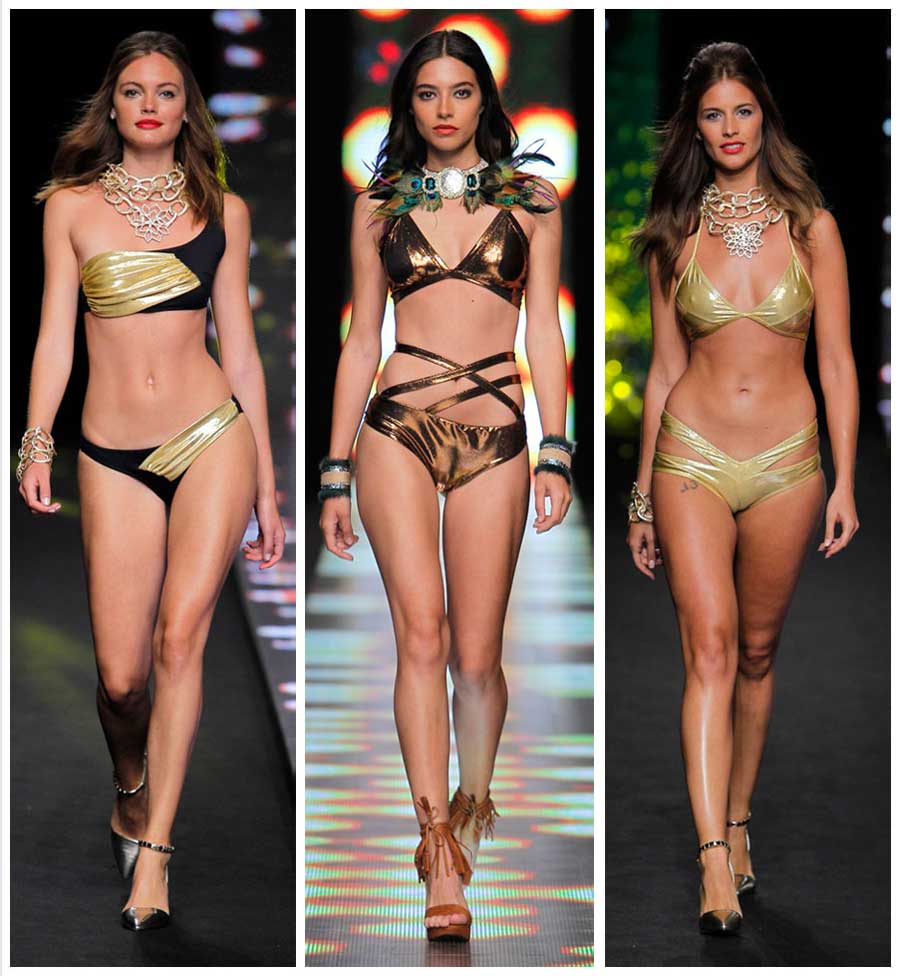 Metallic bikinis by Palmas, Alida Dominguez & Palmas
Golden, silver and bronze bikinis and swimsuits are back to fashion. Inspired in the 80's, we'll see a selection of triangle-shaped bikini top,maillot-like swimsuits with high leg cuts and elastic Lycra fabrics that move with you.
Our pick? The lovely Gottex Silver Agate Deep Plunge Halter Swimsuit in silver, part of the amazing Gottex 2017 Jewel Box collection. If you are into silver sparkles, you should know that the Siver Agate range also includes two stunning bikinis, available at UK Swimwear. The swimsuit is one of our favourites of the season. It's so shiny! Something truly unique.
High Neck Bikinis
The retro swimwear trend is evolving. Last seasons we saw high briefs were highly popular. Banana Moon & Alida Dominguez swim shows recently featured high neck styles in their catwalks. We're going to keep seeing very low and very high waisted briefs in 2017. Furthermore, 2017 is the season of the high necklines. We have seen this trend in some of our youngest brands, such as Phax or Clover Lewis, but also in the more experiences swimwear brands, such as Gottex and Miraclesuit. The high neck trend is also influenced by the success of sports swimwear and activewear. We love this trend. It's so flattering!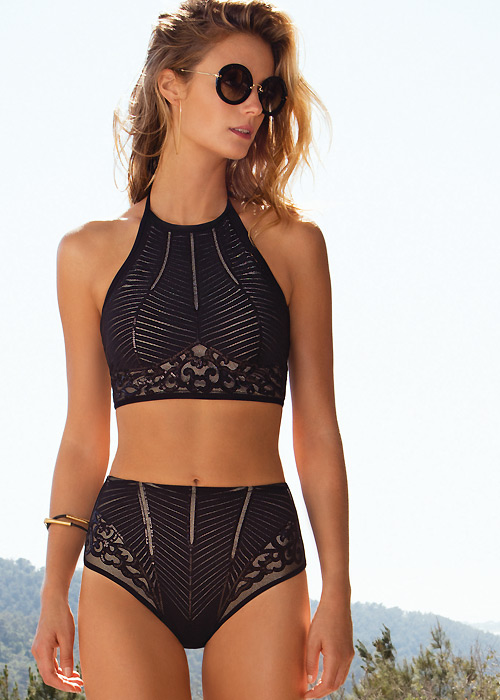 The Gottex Jewel Box Dusk Onyx Laser Cut High Neck Bikini is a collector's piece. We adore it! 
Multi-Strapped Bikinis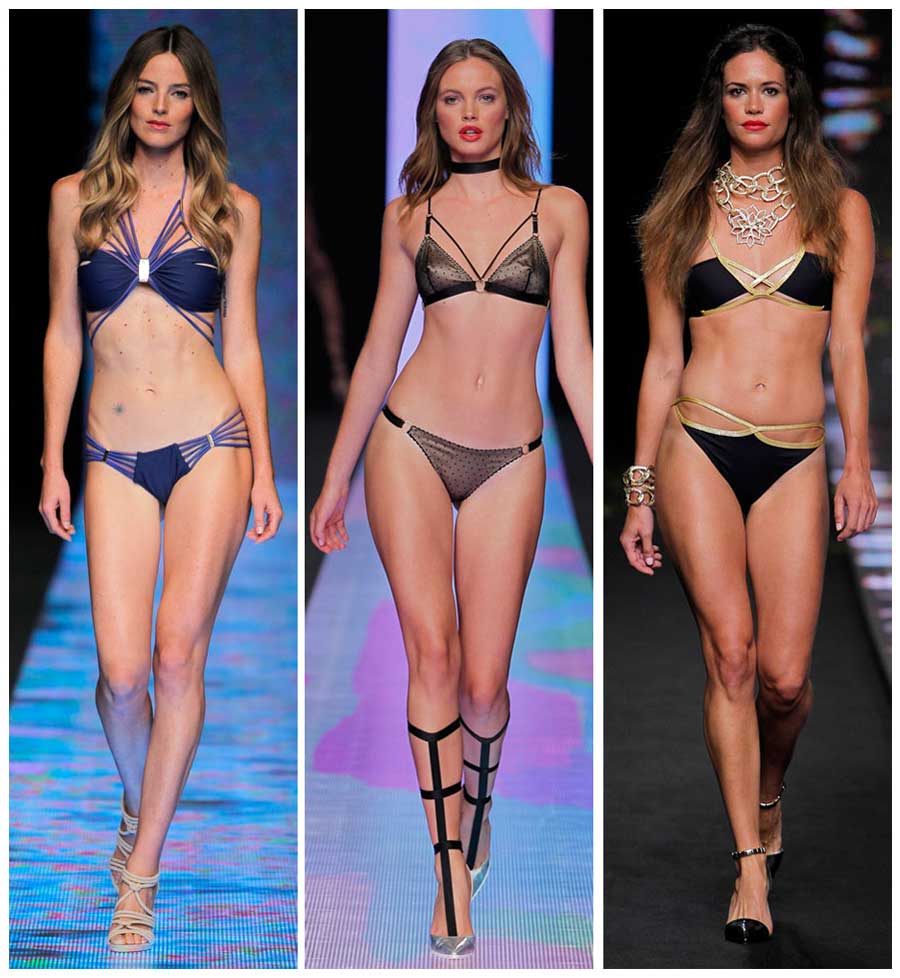 Multi-straps bikinis as seen on Carlos San Juan, Gonzales & Palmas swimwear shows 
When lingerie meets swimwear, bikini designs become sexier than ever. Multi-strap bikinis are going to be a huge swimwear trend in 2017!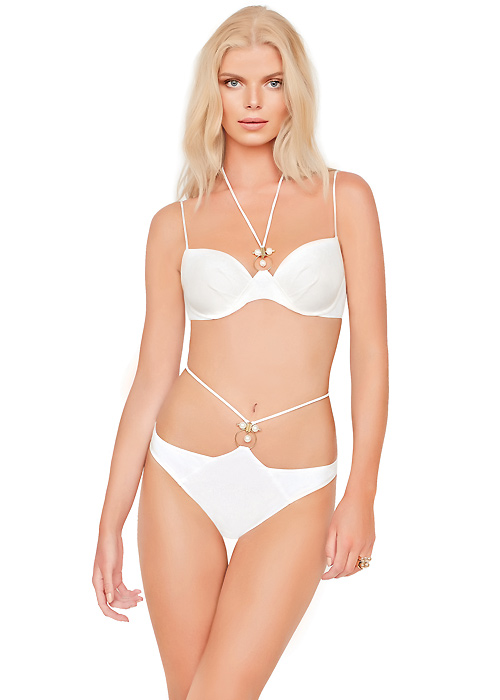 Our favourite multi-strapped bikini is the Gottex Jewel Box South Sea Pearl Moulded Cup Bikini in white 
Funky Animal-Printed Swimwear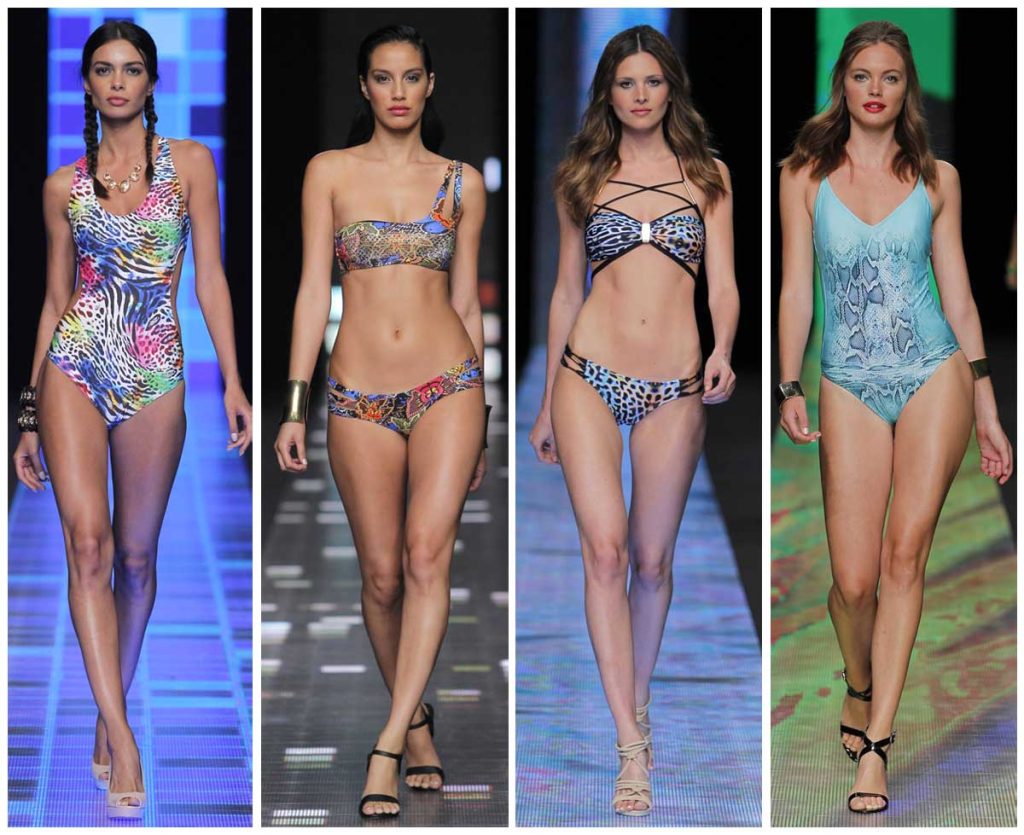 Animal-printed styles on the catwalks: Eclipse, Miss Bikini, Carlos San Juan & Dolores Cortes
Animal printed bikinis and swimsuits are never out of fashion! This season go wild with a funky version of this classic print: Abstract prints, ethnic prints and flowers, beautifully combined with leopard, zebra and snake prints. And don't be afraid of going for multicolour animal prints!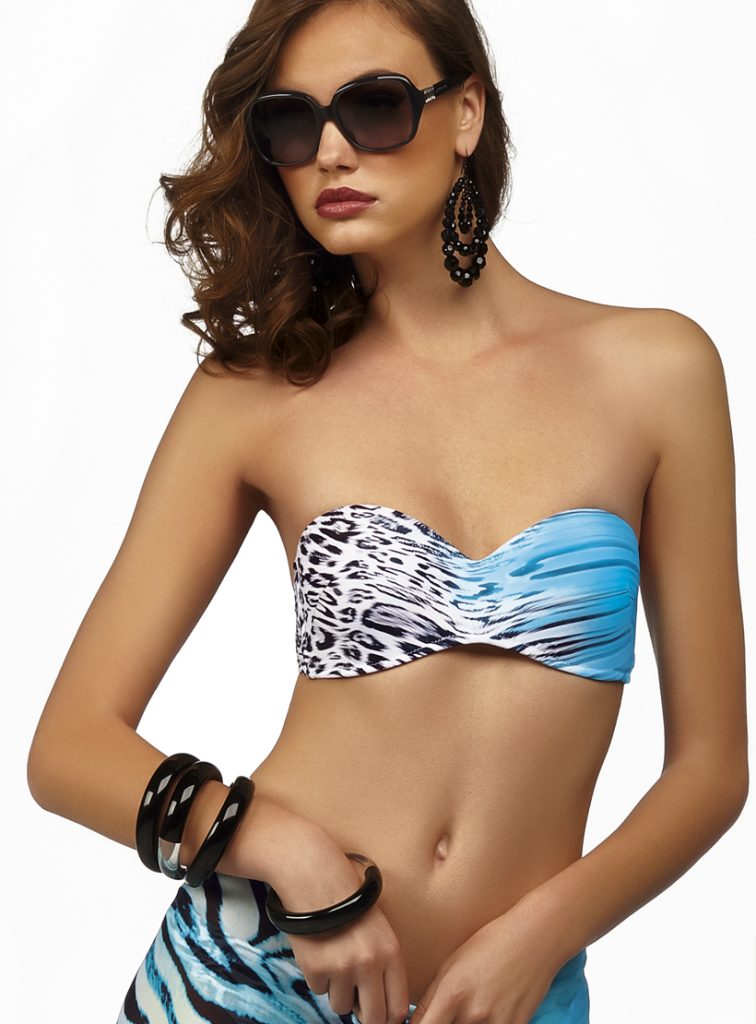 Get the look: Roidal Samoa Eani Bikini 
Plunge Swimsuits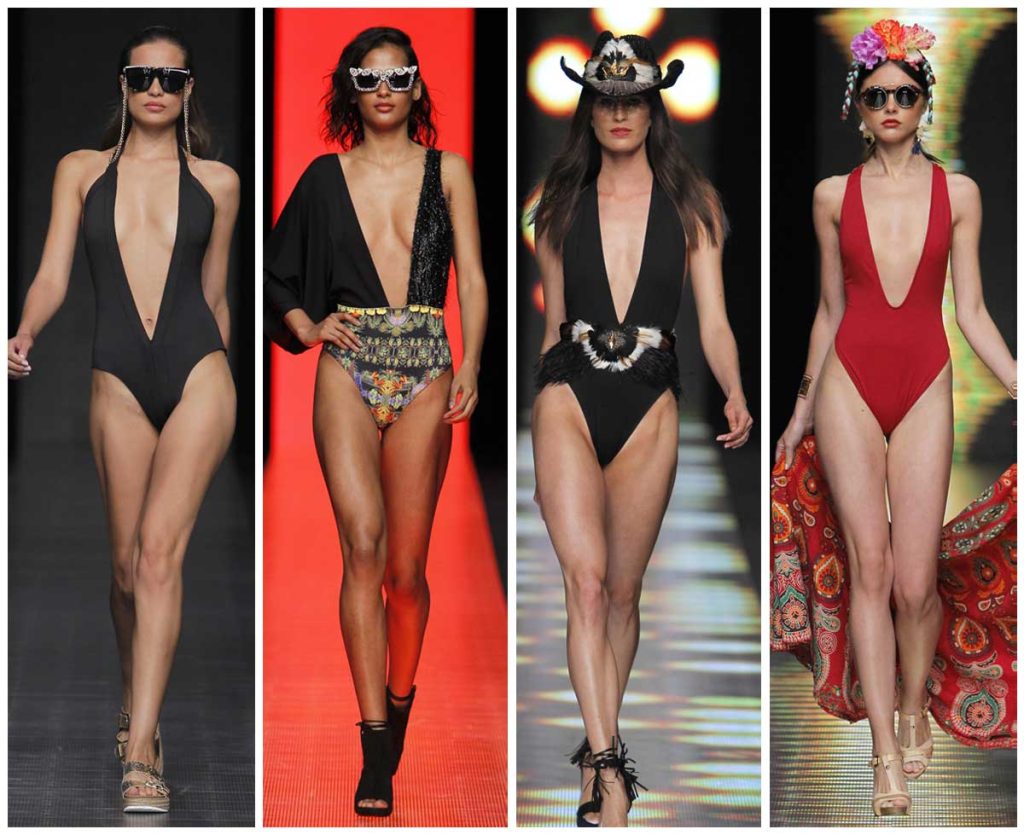 Antonio Sangoo, Hipertrofico, Alida Dominguez & Como La Trucha Al Trucho 
We started to see plunge swimsuits two seasons ago. Do you remember our guide to wear plunge swimsuits? The plunge swimsuit is not a celebrities-only trend. Many swimwear designs are including very deep V necklines in their collections. And none of them is as spectacular as the Gottex swimsuit below!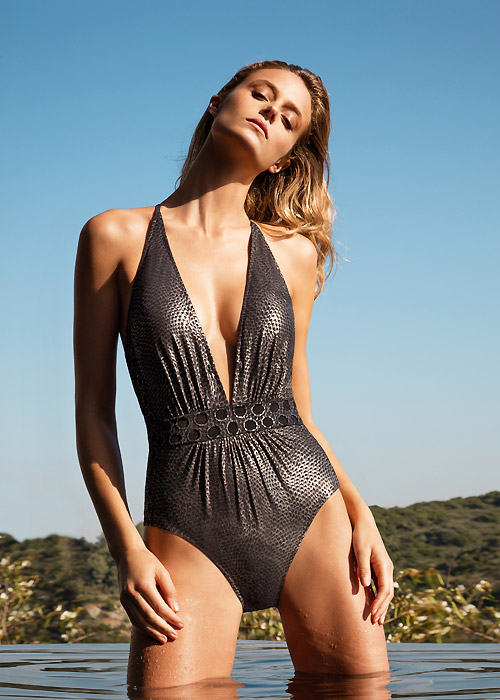 Get the Plunge look: Gottex Jewel Box Platinum Deep Plunge Swimsuit
What of these 2017 swimwear trends are you going to make yours first?
Source: Gran Canaria Moda Calida / Gottex
You May Also Like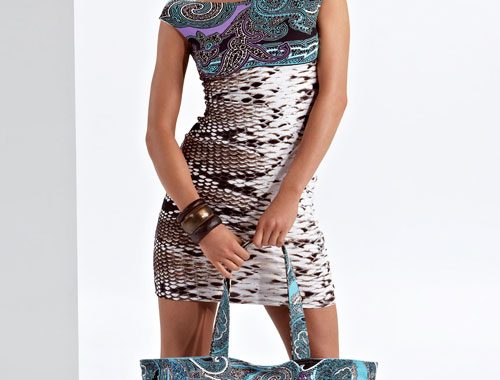 8 February 2013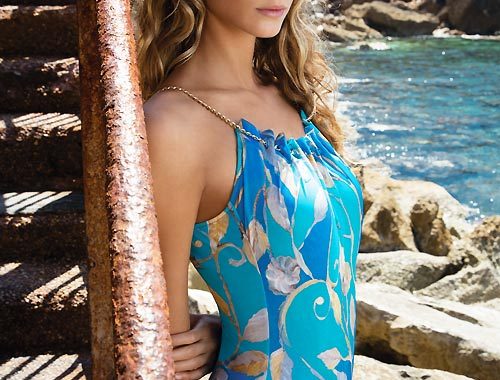 26 October 2016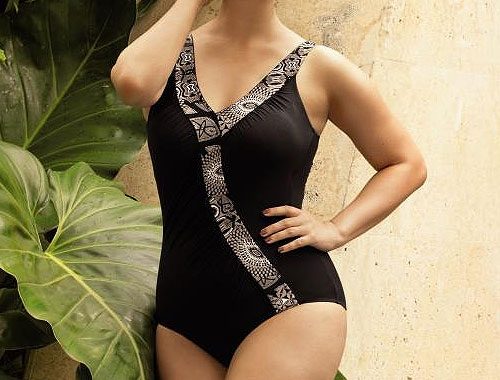 3 May 2013