Dawn's Favourite Five Swimsuits of the Season
20 August 2019
It's always difficult trying the choose the right swimwear. It's never easy when there is so much choice out there. Do I go for an expensive swimsuit and hope it lasts longer? Or do I buy a cheaper one, and, then throw it away after one holiday? These are the questions that everyone woman has asked herself from time to time. If you are thinking of investing in a good-quality swimsuit, maybe it's worth checking out what are the favourite swimsuits of the season, according to the experts.
We have asked the swimwear expert, our founder and Managing Director Dawn Barber, to write a bit about her thoughts and feelings on this matter. She'd like to show you her five favourite swimsuits and why she's lost it for each of these beauties.
A little gem: the Gottex Couture Rania Swimsuit
Gottex has to be my favourite brand, so it's easy for me to find five great pieces in their range, but that wouldn't help you at all if you're not as much of a Gottex fan as I am. If I must choose one Gottex swimsuit, it has to be the Gottex Couture Rania Swimsuit. Now I know you're going to say, 'gosh that's expensive' and you're right. It is. But just take a look at it. It's nothing short of stunning and you'll look stunning in it.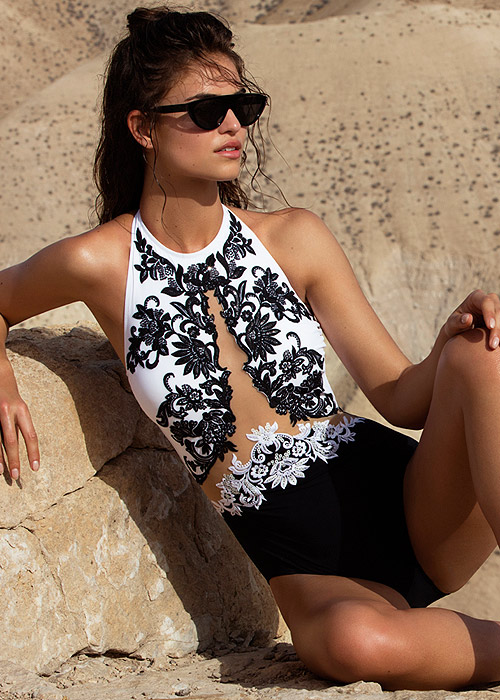 The detail on the front of the swimsuit is spectacular and the placement of the design has been done in such a way that it flatters every inch of your body. The clever use of dark fabric at the bottom of the suit makes you appear slimmer across the tummy and hips and then the flourish of embroidery and fabric at the top leaves you breathless. A truly fine piece from this season's Gottex.
The Roidal Coral range is to-die-for!
My second piece would be Roidal Coral Anna Swimsuit. This family-run company is based in Spain. We've visited their factory and we were very pleased to meet in person a great family firm with wonderful work ethics. Roidal's designer is the daughter of the owner, Mr Roig, and she takes great pride in her work. The print on this beautiful swimsuit is to die for. It's fresh and cool and you simply can't help but think of a sun-kissed beach and turquoise water.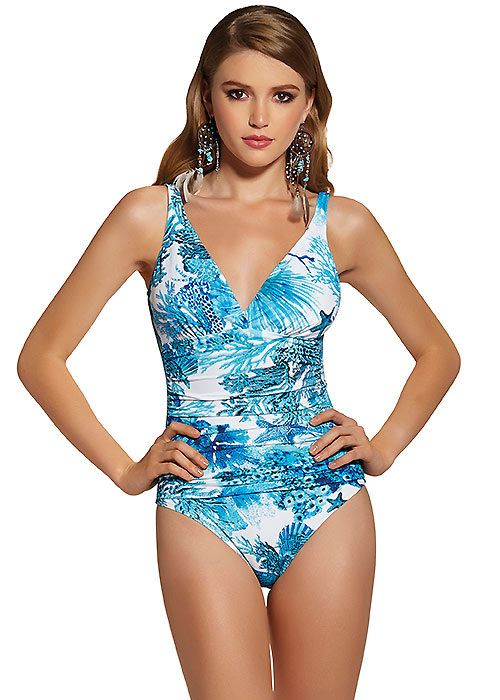 The fit of this one-piece swimsuit is superb and one of the most flattering swimsuits you'll ever buy. There is great coverage across the bust. The wider straps also give much better support to that heavy bosom, so you've not got straps digging in and twisting all the time.
Then, there is the shearing across the torso. This hides a multitude of sins and is slightly adjustable so the perfect suit for a woman like me, who has lumps and bumps that I'd rather keep under control. Great swimsuit at a great price too, considering that all Roidal swimwear and beachwear is hand-finished.
Dawn's favourite Miraclesuit: Monochrome-beauty Castaway Escape
The third of my top swimsuits of the season has to be Miraclesuit Castaway Escape Swimsuit. This is a spectacular swimsuit and ticks all the boxes. Wide straps to give great support, a cut out scalloped neckline to give a plunged look and the most flattering tummy control. Let's be honest, who cannot benefit from a tummy-control swimsuit?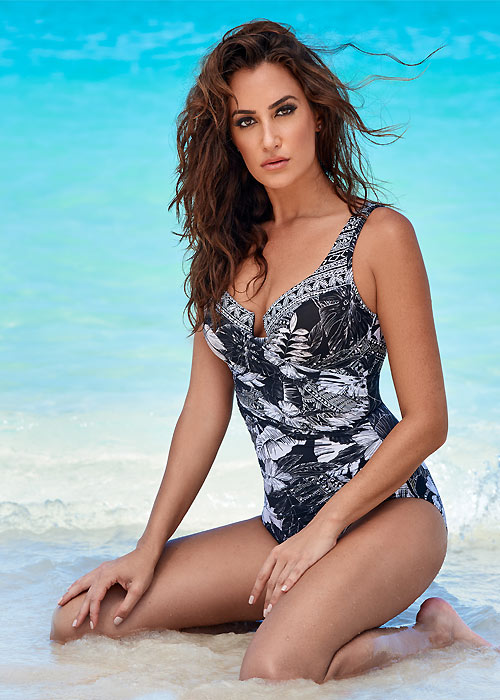 Underwired cups and a scoop back are the perfect addition to this swimsuit. It has a really eye-catching design on the fabric and is monochrome in colour so will not date. I personally love this swimsuit and I feel it's a great price for a quality swimsuit.
Seaspray has some amazing swimsuits as well!
My fourth piece has to be the Seaspray Sophia Sweetheart Bandeau Swimsuit. I truly don't know how they make such amazing swimwear at such a competitive price point. This swimsuit is beautiful. It has removable straps, so you won't have any strap marks across your shoulders when sunbathing. It's got tummy control. It's very supportive and, yet, has soft cups.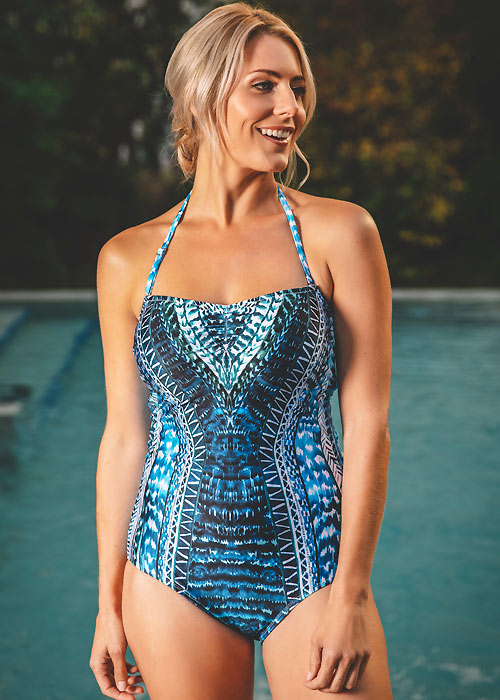 If you love bandeau swimsuits as I do, then this is the right swimsuit for you choose. It's also got a longer-length torso style, so, if you're tall, it will fit you beautifully. The Aztec-inspired design of the fabric makes you feel like you belong on a beach in the Mexican Caribean coast, where it's hot and sunny. A totally irresistible swimsuit at an amazing price.
If you want a minimal timeless style, it has to be an Amoressa swimsuit
My fifth and final choice had to be a timeless style, like the Amoressa The Ramones Stevie Swimsuit. Strange name, I know, but a phenomenal swimsuit, nonetheless. It's simple, to say the least, as it's a plain black swimsuit, but the cut is stunning and the top is beautifully laced with a chunky cord across the bust.
There is a deep V section at the front and then the tie detail goes over the top. Silver coloured metal eyelets give it a designer look and the tummy control help's smooth those problem areas. There is a deep scooped back and a tie at the back of the neck.
I hasten to add that this swimsuit also comes in white, but I much prefer the black one. I think this is just personal preference, though, as the white swimsuit is equally as gorgeous. These style of minimal-inspired swimsuits could perfectly be in any list of swimsuits of the season 2020, 2021, 2022 and more as well. They are the perfect timeless style!
---
I hope you've enjoyed reading a bit about Dawn Barber's five favourite swimsuits of the season. If you need any further help in choosing a swimsuit that will tick all your boxes and provide you with what you need, then don't hesitate to contact us at, UK Swimwear, and we'll do all we can to help. Or you can spare a few minutes reading our articles and guides on swimwear fitting tips here, in the swimwear blog.
You May Also Like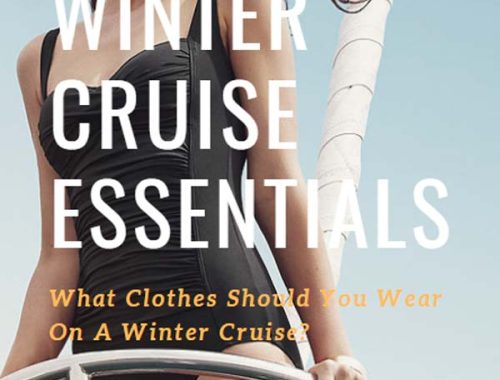 14 November 2018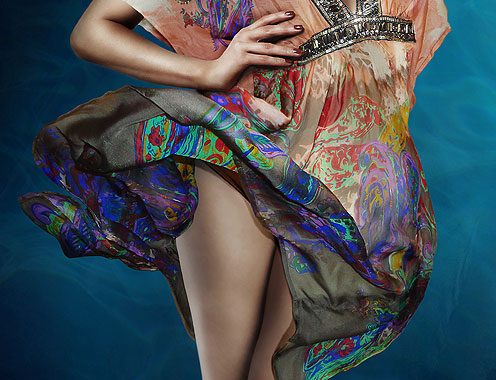 25 January 2013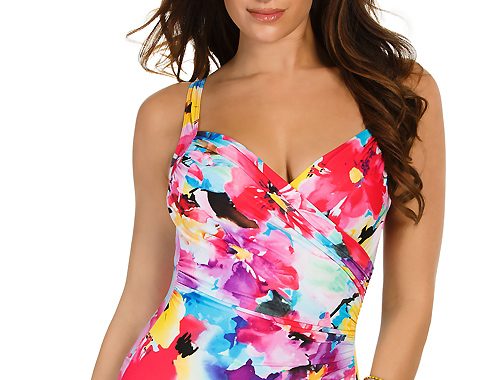 18 November 2015